"You make the truly big money when most sectors and countries are all rising together. That is what a legitimate, rip-roaring bull market looks like."
I wrote that in the January issue of True Wealth Systems. Later that month, we got our "wish."
Twenty-three of the strategies we follow in True Wealth Systems switched into "buy" mode. I believe that was the start of a legitimate, rip-roaring bull market…
[ad#Google Adsense 336×280-IA]When a huge number of those True Wealth Systems indicators switch from "sell" to "buy," you really want to own stocks.
It happened back in April 2009.
The indicators stayed in buy mode until a large number switched to sell in May 2010.
If you'd bought and held shares of SSO (a double-long fund of U.S. stocks) during that time, you'd have made 54%.
It happened again in September 2010… And most indicators stayed in buy mode until June 2011.
If you'd held shares of SSO during that time, you'd have made 35% in nine months.
It's happening this time around, too. Since the end of January, SSO is up about 14%.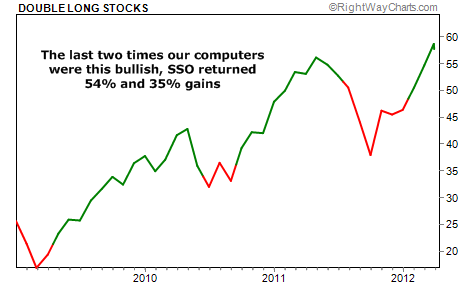 With so many buy signals in January, I believe we're in the middle of a run in stocks "where the truly big money is made."
The trade is still "on" in the stock market. Yes, it's up A LOT in just a couple months. But based on history, there's plenty of upside from here…
Most countries and sectors are rising together. This is when the truly big money is made in investing. We will see hiccups along the way… Investors will get too optimistic and the market will put them back in their place.
Don't get rattled…
The right path today is to set your trailing stops so you know your downside risk… and then, you stay on board in your investments as long as you can stand it.
Good investing,
Steve
P.S. Our True Wealth Systems computers recently turned up an unusual opportunity. It's controversial: The U.S. government created it at the height of the credit crisis. But I believe it could deliver outrageous, "once in a lifetime" gains. You can learn more about it here.
Source: Daily Wealth