We haven't heard much out of Europe lately.
In fact, since Greece secured another bailout a couple weeks ago, it's been downright quiet.
Oh sure, there are some whispers about Spanish unemployment and some new Italian tax program.
But for the most part, Europe has surrendered the headlines… And it's all quiet on the western front.
But not for long…
The euro looks like it's ready to tumble toward new lows for the year. Take a look at this 60-minute chart of the euro currency ETF (FXE)…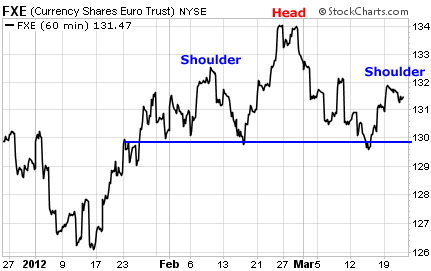 [ad#Google Adsense 336×280-IA]FXE is forming a bearish head-and-shoulders pattern.
This happens when a chart hits a new high – which FXE did in late February – but then fails to make a higher low.
The next rally attempt fails to make a new high, and the chart starts to roll over – which is what's happening now.
FXE does have support at about $129.50. But a drop below that level projects a move all the way down to $125 – which would be a new low for the year.
The interesting thing about this chart is FXE is forming a short-term head-and-shoulders topping pattern on its 60-minute chart (getting bearish) as both gold and silver are forming longer-term head-and-shoulders bottoming patterns on their daily charts (getting bullish). But the gold and silver patterns need one more push lower to create symmetry on the charts.
Weakness in the euro supports a strengthening dollar. A strong dollar usually leads to lower precious metals prices. So if the euro falls in the short term, we might get the necessary push lower for gold and silver to set up their longer-term bullish patterns.
It looks like everything is just about ready to come together. Keep an eye on the euro, and watch for bad news out of Europe to take over the headlines once again. That'll be the first sign that it's time to re-enter the gold and silver markets.
Best regards and good trading,
Jeff Clark
[ad#jack p.s.]
Source: The Growth Stock Wire