You've probably never considered buying shares of Hong Kong stocks… but you should.
Hong Kong is a special region of China, with solid regulatory structures and low taxes. It ranks in the top three financial centers in the world. And as I'll show you, it's easy for U.S. investors to buy…
Right now, we have an incredible set-up in the Hong Kong stock market. Last time we saw this set-up, it was good for 88% gains… and judging by history, that's a worst-case scenario…
[ad#Google Adsense 336×280-IA]We call this set-up the "10/20 Rule"…
To use this rule, all we need to know is the price-to-earnings ratio (P/E) on Hong Kong stocks.
A low P/E ratio shows that stocks are cheap… while a high P/E shows they are expensive.
The P/E ratio of Hong Kong stocks tends to bounce between 10 (cheap) and 20 (expensive).
So we want to buy Hong Kong at a P/E of 10 and sell at a P/E of 20.
The 10/20 Rule triggered six trades over the past 40 years. The results of each trade are below…
You can see how extraordinary the returns can be. But the chart below really tells the story. Take a look…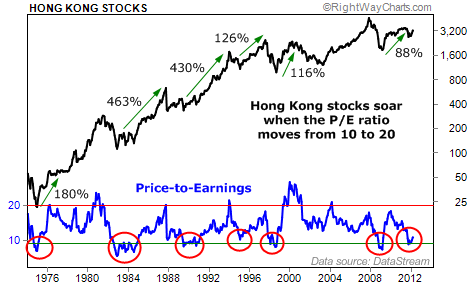 All six trades on the 10/20 Rule were successful. On average, they returned 234% in under three years. The last time the 10/20 Rule triggered, investors walked away with 88% gains.
Right now, the P/E in Hong Kong is 10.8. Yes, that's over 10. But 10 and 20 aren't exact numbers… Hong Kong can bottom below 10 and peak above 20. And Hong Kong stocks are just starting an uptrend and pushing valuations higher.
We want to buy now.
The easy way to invest in Hong Kong is the iShares MSCI Hong Kong Index Fund (EWH). This fund tracks a basket of Hong Kong-listed stocks.
Based on history, we should expect to hold EWH for two to three years and collect triple-digit returns.
Buy today and sell when the P/E hits 20 and our 10/20 Rule triggers a sell.
Good investing,
Brett Eversole
[ad#jack p.s.]
Source: Daily Wealth