In 2004, the price of gold was around $400 an ounce… and a particular 100-year-old gold coin sold for well over $4,000 at the time.
Today, gold sells for around $1,700 an ounce. And yet, as I write, this same coin sells for less than it did back in 2004.
This is crazy… The price of gold has soared fourfold. And yet this coin has gotten cheaper.
"Steve, I know you have written about Saint-Gaudens gold coins for years," my friend Van Simmons told me on the phone yesterday. "But at the current prices, you've got to check these particular coins out…"
[ad#Google Adsense 336×280-IA]As longtime
DailyWealth
readers know, Van Simmons has dealt all sorts of collectibles… including stuffed tigers.
But he's a legend in the rare coin business.
He's a walking encyclopedia of the historical coin prices and coin rarities…
"Steve," Van said to me on the phone… "these coins are less than double the price of the Saints, but they're dramatically rarer."
"Saints" are the Saint Gaudens gold coin, which we've covered in DailyWealth before. But the coins Van was telling me about are the $20 Liberties, which were minted from 1894 to 1907.
Here's why Van is so excited…
These coins are extremely similar… They're pre-1933 U.S. gold coins. They have the same amount of gold in them as your Saints – roughly an ounce. The difference is, the Saints were minted after 1907, and these were minted before 1907.
PCGS [the "Professional Coin Grading Service"] has graded 117,000 of the Saint-Gaudens coins in MS-65 grade. But it's only graded 5,400 of the Liberties in the same grade.
The 1989 high price for the Liberty coins was $18,000 – each – at one point. Today, they're around $4,000. These coins seem like a fantastic relative value to me… Over the next few years, this price-to-rarity relative value should correct.
Here's a rough look at how the numbers break down now:
"MS" stands for "mint state." Coins in MS-65 grade are nearly pristine… and in the past have traded a substantial premium to the "meltdown" value of the gold. But so far, mint state pre-1933 gold coins have not kept up with the bull market in gold…
Over the last three years, the price of gold has just about doubled, from around $850 an ounce to around $1,700 an ounce. Meanwhile, these coins have actually dropped in price.
Take a look at the chart below, which shows the "generic" gold coin index (the blue line) over the last three years. In this case, "generic" just means the most commonly minted pre-1933 coins (like Saint Gaudens and Liberties), graded MS-64 and MS-65. You can see how the price has fallen since 2009…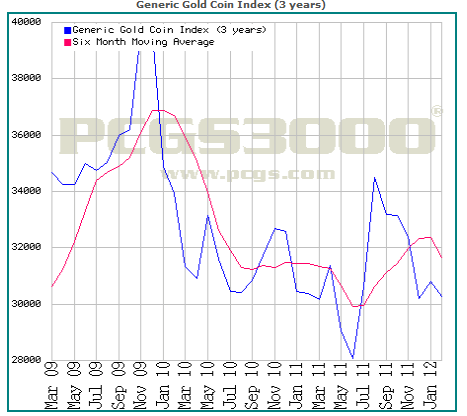 These days, the pre-1933 high-grade coins are so cheap – and Van's favorite, the $20 Liberties graded MS-65, are so ridiculously cheap – "it's an absolute joke," Van told me.
One thing does concern me – as the chart shows, we don't have an uptrend yet. The saving grace is you do have downside protection – in the form of the melt value of the gold in the coins.
Your downside risk is limited to the gold in the coin (which is nearly an ounce). But your upside potential is extreme…
Remember… these MS-65 $20 Liberties sold for $18,000 at their peak in 1989… when gold was closer to $400 an ounce. Today, they're around $4,000 – dramatically less than their peak 23 years ago.
And don't forget, $18,000 is in "1989 dollars," not today's dollars. Because of inflation, the 1989 peak was over $30,000 in today's dollars. That's a near-90% price fall in today's dollars – an "absolute joke."
I don't know when or if these rare coins will soar again. But history shows they have enormous potential.
Good investing,
Steve
P.S. You can reach Van Simmons directly at 800-759-7575 or info@davidhall.com. (As always, I receive no compensation for recommending his services… He has just proven over a very long time to treat my subscribers right.)
[ad#jack p.s.]
Source: Daily Wealth