Get ready for a golden summer.
Precious metals have been selling off lately. Gold is down 10% from its peak last August, including a violent $100 drop last Tuesday. Silver is down almost 30% since its peak last April. It dropped 6% in just one day last week.
But if gold and silver sell off hard today – perhaps in response to the Federal Open Market Committee announcement this afternoon – get ready to buy. A big drop today will set up a bullish chart pattern, which could lead to sharply higher prices by the summer.
Let me explain…
A few weeks ago, I outlined my plan for trading silver this year. Here's an updated chart…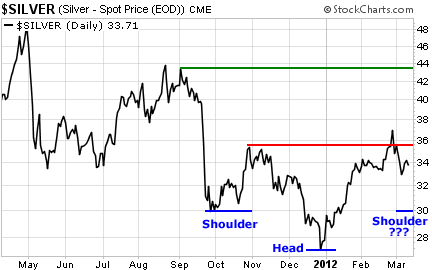 As you can see, the inverse head-and-shoulders pattern is still in play. Silver looks poised to drop down near support at about $30 per ounce. If it can hold that level and bounce, we'll have our inverse head-and-shoulders pattern… and you'll want to own silver in anticipation of much higher prices later this year.
The gold chart shows the exact same pattern. Take a look…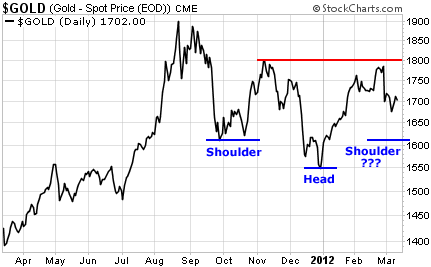 The left shoulder formed following a steep decline last September, which bottomed around $1,630 per ounce. Gold bounced and ran up to $1,800 per ounce before hitting a lower low at $1,550. That is the "head" of this pattern. The metal bounced again and rallied back up to the resistance level of the "neckline."
[ad#Google Adsense 336×280-IA]All that's needed now is for gold to drop to a higher low and form the right shoulder of the pattern.
If that happens – and gold rallies back up to and over the neckline – the pattern projects a move to around $2,150.
There's no way of knowing for sure what gold and silver prices are going to do this afternoon or over the next several days.
But the metals often move sharply following these announcements.
So if Fed Chairman Ben Bernanke says anything today to cause gold to fall down to around $1,630 per ounce, or silver to fall near $30 over the next few days, get ready to buy.
If the inverse head and shoulders patterns play out, this could be your last time to buy the precious metals before a massive rally this summer.
Best regards and good trading,
Jeff Clark
[ad#jack p.s.]
Source: The Growth Stock Wire