One by one, the stock market's most important sectors are showing signs of breaking down.
[ad#Google Adsense 336×280-IA]Two weeks ago, we highlighted the bearish development in transportation stocks.
Now, it looks like the financial stocks are in trouble…
It has been a good year so far for the bank stocks.
The banking index ($BKX) is already up 13% in 2012.
But the sector is overbought and we're starting to see the same sort of warning signs that led transportation stocks to a 4% decline in February.
Take a look at this chart of the financial sector bullish percent index ($BPFINA)…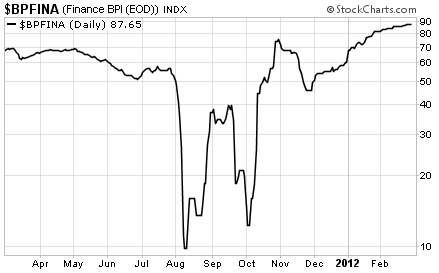 A bullish percent index (BPI) measures the percentage of stocks in a sector that are trading with bullish chart formation.
It's a way of measuring overbought and oversold conditions.
A sector is considered "overbought" when its BPI stretches above 80. Since it's a percentage, the maximum reading for any BPI is 100.
The bullish percent index for the financial sector closed yesterday above 87. That's the highest reading in the past two years… And it's a good indication of just how overextended things have become.
Here's a chart of the banking index ($BKX)…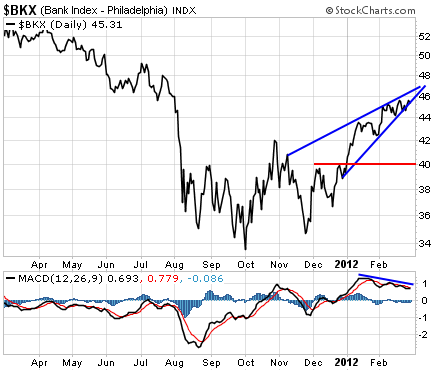 The banking index is on the verge of breaking to the downside of a bearish rising-wedge pattern. You can also see the negative divergence in the MACD momentum indicator. This indicates the recent move higher occurred on falling momentum. That's a negative sign and usually increases the odds of a breakdown.
If BKX breaks down, a reasonable downside target is around $40 per share. That's a drop of about 14% from yesterday's closing price… and it wipes out all of 2012's gains.
We've been on alert for a possible broad stock market correction. If the financial sector breaks down along with the transportation average, the rest of the stock market won't be far behind.
Best regards and good trading,
Jeff Clark
[ad#jack p.s.]
Source: The Growth Stock Wire