You've probably never considered this precious metal before. But you should today…
The last time a trade like this set up, investors walked away with a double in just 10 months. And every similar trade in the last seven years was a winner.
Here's the story…
At DailyWealth, we love "contrarian" investing ideas.
[ad#Google Adsense 336×280-IA]The more an investment idea is hated, the more we're ready to step up and buy.
At the point of maximum pessimism, there probably aren't many people left to sell… and just a little bit of buying interest can turn things around.
That's exactly what's happening in "the precious metal you've never considered."
The chart below shows the price of this precious metal (in black) versus how many large speculators are making bullish bets on the metal through commodity futures (in blue). The lower the blue line, the more hated it is…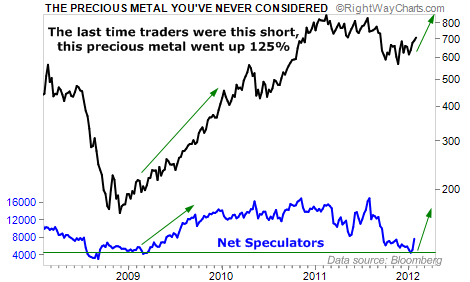 In short, traders hate this precious metal right now. The last time it was this hated was March 2009. Back then, the price increased 125% in just 10 months.
Looking farther back, to 2005, traders have only been this pessimistic four other times. Each of those times marked the start of a great nine-month trade. If you had bought this precious metal each time, on average, you would have made 62%. Every trade was a winner.
With traders this pessimistic, I think it's a great time to buy… especially because there's a big long-term "tailwind" behind this trade…
You see, this precious metal is in big demand by industries, especially carmakers. It's used in practically every gas-powered car you see on the road. And as of now, there is no viable substitute.
Over the next decade, worldwide vehicle demand is going to explode. Right now, India only has 12 cars per 1,000 people. China only has 28. The U.S. has 451. As the world "catches up" to the U.S., carmakers will need more of this precious metal to keep pace.
In 2011, the world's supply of this precious metal was 7.42 million ounces. But demand was over 1.5 million ounces more (8.89 million ounces, to be exact). Recycled scrap makes up the difference for now. But as demand increases over the next decade, supply will have a hard time keeping up.
Supply and demand are Economics 101. When demand is greater than supply, prices will rise. I don't expect it to be different with this precious metal…
I'm talking about palladium. It's a "sister metal" to platinum.
You can invest in palladium through physical bullion. Or you can easily buy it through the Physical Palladium Shares Fund (PALL). Importantly, PALL is fully backed by physical palladium, not financial contracts.
Based on supply and demand, palladium prices could go up by hundreds of percent in the long term. In the short term, we should see double-digit returns this year alone.
Even if you've never considered an investment in palladium before, you should now…
Good investing,
Brett Eversole
[ad#jack p.s.]
Source: Daily Wealth