It's too early to be 100% certain… but a special sector of the stock market could be setting up for thousands of percent gains.
That's right… thousands.
The sector is "junior resource" stocks. And if you're an experienced trader, you should consider getting long immediately.
Here's the story…
[ad#Google Adsense 336×280-IA]The natural resource industry is dominated by giant, multinational mining firms.
These big firms carry market caps of $10 billion… $50 billion… even $100 billion.
My colleague Steve Sjuggerud and I have written about the budding uptrend in these firms, like big copper miner Freeport-McMoRan and Brazilian iron-ore producer Vale.
Firms like to stay in the business of mining… They like to focus on the actual extraction and processing of mineral deposits. They tend to leave "searching for deposits" to small exploration outfits called "junior resource stocks." You can consider these small outfits the "bloodhounds" of the resource industry. They scour deserts, jungles, and any other place they believe could host a big deposit.
It's risky, "hit or miss" work… which makes these companies some of the most volatile stocks in the market. The sector tends to boom and bust like crazy.
You can see it in the chart below… It shows the "junior index" (the TSX Venture Index) since 2003. From 2003 to 2007, juniors soared. In 2008, they suffered a huge collapse. Then they soared more than 300% off their post-collapse bottom. And during last year's "risk off" environment, juniors were hammered again.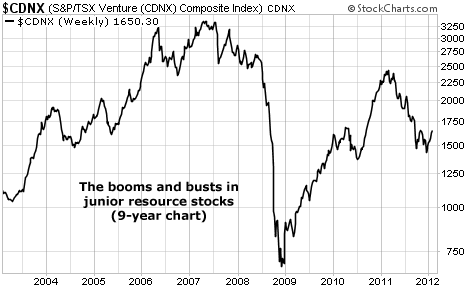 The 2011 selloff brings us to today… and the reasons this sector could be setting up for quadruple-digit gains…
As my publisher Porter Stansberry recently described, the governments of Europe are creating huge amount of credit to stave off a financial collapse. The U.S. Federal Reserve is also desperate to create inflation in order to boost asset prices. This is all bullish for gold, silver, and other commodities. And what's bullish for gold, silver, and other commodities is bullish for resource stocks… both big and small.
In this second chart, you can see how the bullish fundamental picture is causing the beaten-up junior resource sector to get a little "less bad." It's just the past 18 months of the Venture's price action.
While this index is down big from its 2011 peak, its December low was a bit higher than the October low… And the index is very close to breaking out to a short-term high.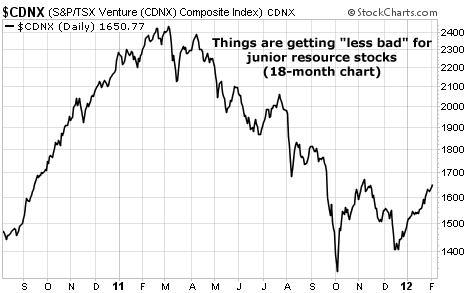 Considering many of my favorite juniors are cheap, how the U.S. and Europe's easy money policies could create inflation, and the improving chart picture… now is an excellent time to get long junior resources.
Should gold climb over $2,000 per ounce in the next year, it could set off a mania here. It's not uncommon for good junior resource companies to jump thousands of percent during big manias.
The great speculator Doug Casey says when the average investor wakes up to the profit potential in this small sector, it's like trying to empty the Hoover Dam with a garden hose. In other words, because this sector is small, just a modest amount of investor money can cause prices to skyrocket.
Again, keep in mind that bigger resource companies like Freeport McMoRan are appropriate for most folks. But if you're an experienced trader, this could be a major opportunity… and it's time to be long.
Good investing,
Matt Badiali
[ad#jack p.s.]
Source: Daily Wealth