After watching the sector fall for most of 2011, resource investors finally have a great opportunity to make money in 2012…
But before I get to the big opportunity, which could lead to 50%-100% gains, here's the backstory…
Around this time last year, resource stocks were still in "celebration mode." They'd enjoyed a huge rally in response to the Federal Reserve's giant "goosing" of the economy in mid-to-late-2010.
The benchmark CRB commodity index soared 32% from its summer 2010 low to early 2011. Stocks in general also soared. In this sort of environment, investors are comfortable piling into riskier assets, like resource stocks.
[ad#Google Adsense 336×280-IA]Major "trophy" stocks like
Freeport-McMoRan
(copper),
Potash
(fertilizer),
Vale
(iron ore), and
Peabody Energy
(coal) climbed anywhere from 25% to 80% during the rally. Smaller, more volatile resource firms gained more than 100%.
But in these hypervolatile times, booms can quickly turn to busts. And 2011 was no exception…
Folks began dumping resource assets due to fears of the European debt crisis… and the ripple effects it would have on the rest of the world. Several of the trophy stocks I just mentioned were cut in half. The lucky ones lost "only" 33%. Small resource stocks, as represented by the TSX Venture Index, were crushed… The index lost 42% of its value in just six months.
Note this big "bust" in major resource player Vale below…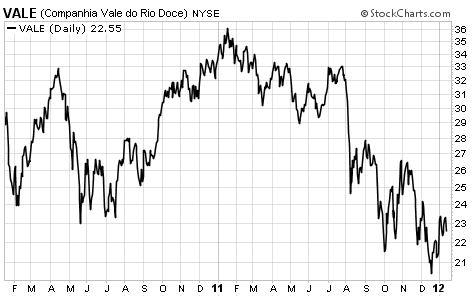 And major player Peabody Energy…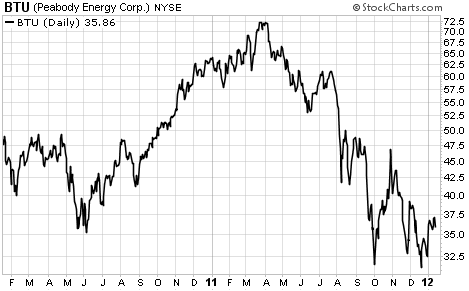 Now… look at those charts again. They made their lows in December 2011.
For traders, that December low is important. It's the price level where value-focused buyers stepped in and bought shares… where they "supported" the market.
If you watch financial television for an hour or read a handful of financial newspapers, you'll probably notice that half the featured "experts" believe the world is headed for a recession in 2012. They'll say Europe is in a deep recession… which will hamstring developing economies like China. The other half will tell you things are going to be just fine… and recession fears are overblown.
I'm not going to pretend I know the future. But I can say that the world has a way of confounding the skeptics and not blowing up. I personally think the global economy could surprise all of the bearish investors and analysts.
To play this idea… but not risk much if we're wrong… we can buy some of the world's premier collections of commodities like agricultural fertilizer, copper, coal, and iron ore… then set a capital-preserving stop loss near those December lows.
If these lows are breached, you can simply cut your losses (which would be less than 10% in some stocks) – no questions asked. But if the recent bust leads to even a small boom, you stand to make at least 50% in many resource stocks.
These are among the world's greatest "boom and bust" sectors… And as Steve has pointed out recently, many are very cheap… and have the potential to rally 50% or 100% in the coming year.
The legendary speculator George Soros (maybe the greatest trader of all time, no matter what you think of his political beliefs), once said the key to winning in the markets is not about being right or wrong, but about making a lot when you are right, and losing just a little when you are wrong. I think he's right… That's the key to a successful long-term trading career.
By taking "risk a little to potentially win a lot" trades like this, you can set yourself up for a big year in 2012.
Good investing,
Matt Badiali
[ad#jack p.s.]
Source: Daily Wealth