At some time in the past few years, you've probably heard a financial advisor say "avoid oil investments because U.S. consumption is falling."
After all, America's gasoline consumption (where the bulk of our oil is used) struck a 12-year low in 2011… a demand decline we can blame on more efficient cars, a usage of other fuels, and a sluggish economy.
But before you get too bearish on oil and gasoline… there's a set of very important numbers you need to consider. And they scream, "The U.S. isn't the only game in town anymore."
In 1965, the United States dominated world oil consumption. We used 42% of the entire world supply… But our share of global oil consumption is plummeting. Take a look at this chart that shows the percentage from 1965 through 2010…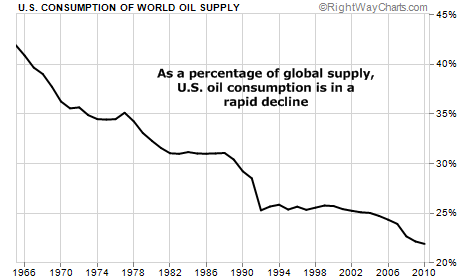 As you can see, the world's largest oil consumer is using less of the world's oil supply every year. Plus, gasoline consumption is falling. Yet the average price of the benchmark West Texas Intermediate crude oil since January 2009… since the end of the financial crisis… is $79 per barrel. The average price in 2011 was a whopping $95 per barrel.
[ad#Google Adsense 336×280-IA]How is it possible that in the most troubled economic period in a generation, with recession in the world's largest petroleum-consuming country, oil prices would rise so high?
It's simple: We're not alone. Over the past 30 years or so, billions of people have entered the modern global economy. They're getting incrementally richer every year. That means they consume more resources, like oil.
Since 1965, global oil demand climbed nearly 220% from 27 million barrels per day (BPD) to 87 million BPD. However, U.S. oil demand grew just 66%, from 11.5 million BPD to 19.1 million BPD.
You can get another picture of this growth by looking at consumption since 2005. The table below shows that developing economies in the Middle East, China, India, and South America are consuming a lot more oil these days…
Clearly, developed nations like Europe, Japan, and the U.S. were using much less oil over that time frame. However, the elephant in the room is still China. China consumes nearly as much oil as all the countries in Africa and South America combined. And it grew that consumption by 30% over the last six years.
To combat that new demand, we turned to more and more expensive sources of oil. Global oil reserves grew 13% since 2005… compared to just 4% global consumption growth. However, those new oil reserves, like Canada's tar sands, come with a minimum production cost of $40 per barrel or more.
That's why oil prices are high today. That's why, even though new stores of "unconventional oil" are being discovered each year, oil prices aren't likely to ease back below $50 per barrel for a long period ever again.
The demand growth from developing economies is absolutely booming. That will force us to find more and more oil at higher and higher costs.
In summary, don't pay attention to folks who only focus on what is happening in the U.S. Sure, gas consumption here is falling… But across the world, it's booming. And if the global economy manages to stay on its feet in the coming years, oil investments will rise on the back of this demand.
Good investing,
Matt Badiali
[ad#jack p.s.]
Source: The Growth Stock Wire