The silver bear market is over.
Silver bottomed two weeks ago at $25.65 per ounce.
It happened during the typically quiet period between Christmas and New Year's.
If you blinked, you probably missed it. But it happened.
The price of the shiny metal fell to more than 33% below its 200-day moving average (DMA) – thereby tagging the bear market target we set last April.
[ad#Google Adsense 336×280-IA]But over the past two weeks, silver has bounced back 10%. That's a big move – especially for such a short time frame.
But it has gone largely unnoticed. No one cares. No one is paying attention. It's as though all the folks who were wildly bullish on silver early in 2011 have gone away.
That, of course, is how bear markets usually end… quietly.
It's not the same with bull markets. Bull markets flame out in a spectacular, parabolic move higher in a rush of popularity… with calls for insanely higher prices. Those were the conditions in the silver market last April.
Back then, we warned that the silver price had run too far, too fast. It was trading 50% above its 200-DMA – a level that had signaled a top for silver in the past. We suggested caution and patience.
And we speculated that silver could drop anywhere from 30% to 50% below its 200-DMA before finally hitting a bottom. That's exactly what happened two weeks ago.
Take a look…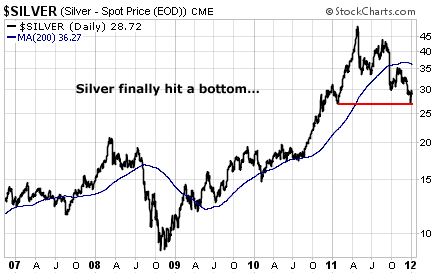 Silver dropped down to long-term support at around $26 per ounce. It's still trading about 30% below its 200-DMA (the blue line).
As you can tell from the chart, silver typically doesn't get much more oversold than this. In fact… except for the decline during the mass-liquidation event in late-2008, this is as oversold as silver has been in the past decade.
But no one cares. No one sees an opportunity here. Everyone seems to think silver's best days are behind it.
I can't say for sure that silver won't drift a bit lower from here. But just as I was confident the action last April was a sign of a top for silver and a time to be cautious, I am equally confident the action over the past two weeks is the sign of a bottom.
Now is the time to buy silver. A new bull market is beginning.
Best regards and good trading,
Jeff Clark
[ad#jack p.s.]
Source: The Growth Stock Wire