1,300… here we come.
Stocks started off the New Year with big gains right out of the gate. The Dow was up 180 points on the first day of trading, and the S&P 500 broke above resistance at 1,267. Stocks held onto those gains yesterday. By the look of things, 1,300 should soon be in the cards for the S&P.
After that, though, watch out. The canary is looking a little toppy.
ExxonMobil (XOM) is one of my favorite leading indicators for the direction of the overall stock market. It's my "canary in the coal mine." As long as the canary looks good and is acting well, the market should hold up just fine.
XOM looked good in December. And it's one of the main reasons I was bullish for the month. But now, the canary may be coming down with a case of altitude sickness. Take a look…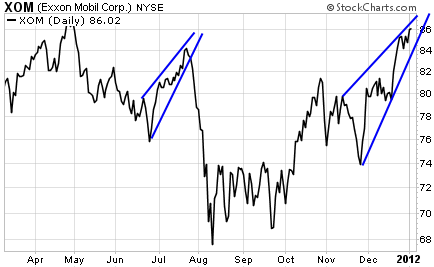 [ad#Google Adsense 336×280-IA]XOM is approaching the peak of a rising-wedge pattern. This is a bearish formation that almost always ends with a big move to the downside. Just look at what happened when the same pattern played out last July. The canary collapsed… And the S&P 500 dropped 17% in two weeks.
There's still some room inside the wedge for XOM to move higher. So stocks should hold up and the S&P 500 should zero in on that 1,300 target. But we probably won't get much more than that.
Keep a watchful eye on this canary. Like I said, it's looking toppy. When it breaks down, you'll want to get out of the market.
Aggressive traders will want to get short.
Best regards and good trading,
Jeff Clark
[ad#jack p.s.]
Source: The Growth Stock Wire