That whole "sell on Rosh Hashanah" thing is playing out really well.
Last Wednesday (the first night of Rosh Hashanah), the S&P 500 closed just above 1,170. Yesterday, it closed at 1,100. That's a 6% drop in just three trading days. So if you followed the old adage and sold on Rosh Hashanah, you're looking good today.
[ad#Google Adsense 336×280-IA]Now, it's time to start focusing on the second half of that equation – getting ready to "buy on Yom Kippur."
In fact, you may want to consider buying a little ahead of time.
You see, Yom Kippur begins this coming Friday night.
But we may get a Volatility Index ("VIX") buy signal as early as tomorrow.
The VIX is the stock market's fear gauge. A falling VIX indicates investor complacency. A rising VIX shows investors are fearful.
Bollinger Bands measure volatility. They indicate the most probable trading range for a stock or index. Whenever a chart trades outside its Bollinger Bands, it indicates an extreme move – a move vulnerable to a sudden and sharp reversal.
Yesterday, the VIX closed above its upper Bollinger Band – indicating an extreme move in investor fear. Of course, we all know the best time to buy stocks is when investors are scared – when they're so frightened of potential losses, they're willing to dump positions at "fire sale" prices.
We've seen this movie plenty of times before – four times already this year – and the ending doesn't change.
Take a look at this chart of the VIX…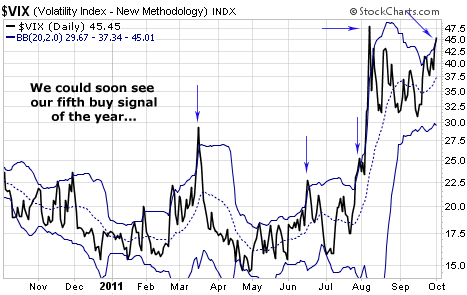 The arrows indicate each time the VIX closed above its upper Bollinger Band. Notice the spikes in fear that occurred in mid-March and again in mid-June. When the VIX fell back inside its Bollinger Band, it triggered a "buy signal" for the broad stock market. In both cases, the S&P 500 rallied about 75 points in just a couple weeks.
The buy signal on August 2 was followed by a sharp spike higher in the VIX and a move lower in the stock market. But following the buy signal on August 9, the S&P 500 rallied 90 points in three weeks.
Three of the four VIX buy signals this year have been profitable. When the VIX falls back below its upper Bollinger Band, we'll have the fifth VIX buy signal of 2011. This one is going to happen while stocks are trading near their lows of the year and just ahead of a seasonally strong period for the stock market.
The old adage says to buy on Yom Kippur. But if the VIX triggers a buy signal, there's no reason to wait until Friday.
Best regards and good trading,
Jeff Clark
[ad#jack p.s.]
Source: The Growth Stock Wire