By now, we all know everything is linked to the dollar — in an opposite sort of way.
When the dollar goes down, we get a rally in stocks, bonds, and commodities.
When the dollar goes up, everything else hits a rough patch. So it's important to keep an eye on the greenback and to look for clues to when it's about to change direction.
Accurate predictions are always hard to make. But we've done pretty well forecasting the dollar moves here in Growth Stock Wire over the past year. We turned bullish on the buck last September and then reiterated that bullish view in November. The greenback rallied 17% in seven months.
On June 8, we turned bearish on the dollar — within one day of the exact top.
Since then, the buck has dropped 12% in four months.
Here's how it looks on the chart…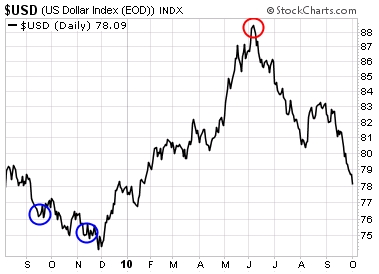 Now it's time for another prediction… The dollar is poised for a strong bounce higher.
Investor sentiment toward the greenback has shifted from wildly bullish to overwhelmingly bearish. It's hard to find anyone who will say anything positive about the dollar. And the most popular trade in the currency market these days is to be short the greenback.
We're basically back in the same position as we were last November. Only this time, the decline heading into this position has been much steeper. So the bounce coming out could be steeper as well. Let's take a different view of the chart…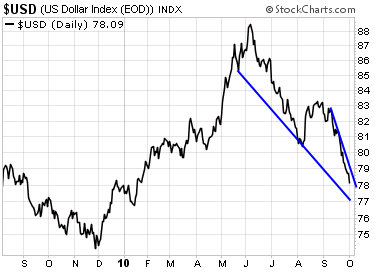 This is a remarkably steep falling-wedge pattern. These patterns usually break suddenly to the upside — and the steeper the pattern, the more violent the move.
[ad#Google Adsense]There's still more room for the dollar to fall a little more before hitting the support line on the chart. But there's a ton of risk for a quick reversal.
If you're buying stocks, bonds, or commodities on the premise of a lower dollar, you may want to hold off on that idea until after we get a strong bounce in the buck.
And if you're looking for a reasonable speculation, buying the greenback right here looks pretty good to me.
Best regards and good trading,
Jeff Clark
[ad#jack p.s.]