Identifying stocks with high earnings growth is a powerful strategy for investors looking to secure high returns. Earnings growth is a leading indicator of a company's financial health and its potential for future stock price appreciation.
The two stocks I highlight here have EPS forecasts greater than 20% annually, boosting long-term stock expectations. Furthermore, they also boast Zacks Rank #1 (Strong Buy) ratings, increasing the odds of near-term strength. Finding opportunities at the confluence of time frames is one way for investors to gain an edge in markets.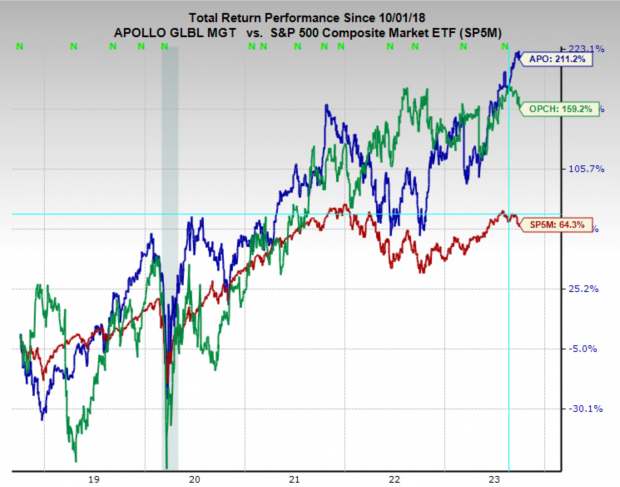 Image Source: Zacks Investment Research
Apollo Global Management
Apollo Global Management (APO) is a globally recognized leader in alternative investment management, specializing in private equity, credit, and real assets. With headquarters in New York City, Apollo employs a contrarian, value-oriented investment strategy in private equity, credit, and real estate sectors, focusing on distressed investments, corporate carve-outs, and opportunistic buyouts.
The firm manages funds on behalf of pension, endowment, and sovereign wealth funds, as well as other institutional and individual investors, enabling it to harness a diversified and substantial capital base. Renowned for its rigorous and meticulous approach to investing, Apollo Global Management has earned a reputation for delivering robust returns, making it a focal point for investors seeking exposure to alternative assets.
Apollo Global Management has had one of its best years in the companies history, enjoying record profits, strong growth and robust positioning for the future. These strong results have prompted analysts to boost expectations of APO earnings giving it a Zacks Rank #1 (Strong Buy) rating.
Current quarter earnings estimates have been raised by 4.1% over the last two months and are projected to grow 34% YoY to $1.78 per share. FY23 earnings estimates have been increased by 4.4% and are expected to climb 29% YoY to $6.73 per share.
Sales for this year and next year are forecast to grow by 22% and 15% YoY respectively and EPS are projected to grow by 22.2% annually over the next 3-5 years.

Image Source: Zacks Investment Research
Apollo Global Management also trades at a reasonable valuation of 14.5x one year forward earnings, which is just above its 10-year median of 12.3x. It also has a dividend yield of 1.9% and raised the payout by 7.5% over the last year.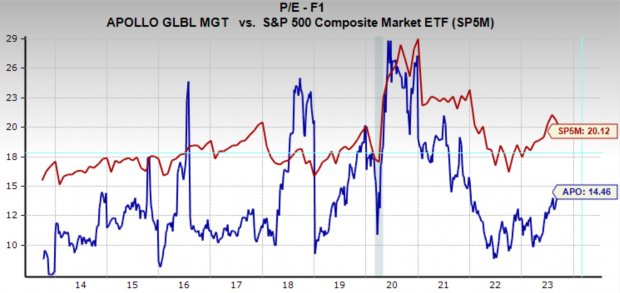 Image Source: Zacks Investment Research
Finally, APO stock has a compelling technical chart pattern to keep an eye on. If the price can trade above the $91.50 level, it should signal a breakout. Below $89 and the price action looks more bearish. However, even if this chart pattern fails, APO has so many bullish factors going for it over the long run, it can still be considered for an investment.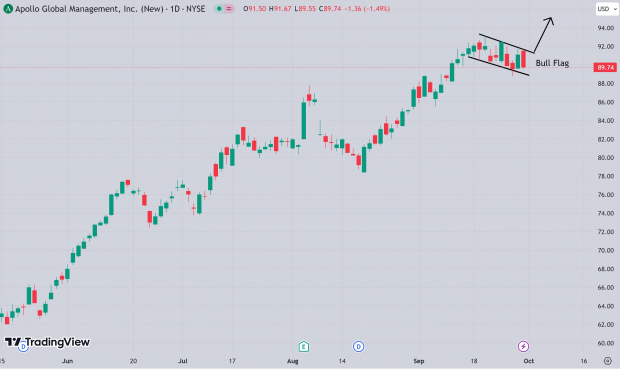 Image Source: TradingView
Option Care Health
Option Care Health (OPCH) is a prominent player in the healthcare sector, specifically in the provision of home and alternate site infusion services. The Company offers products, services and condition-specific clinical management programs for gastrointestinal abnormalities, infectious diseases, cancer, organ and blood cell transplants, bleeding disorders and heart failures.
Option Care Health also has a Zacks Rank #1 (Strong Buy) rating, along with above market EPS growth estimates. EPS are forecast to grow 20.2% annually over the next 3-5 years. This estimate means it is growing its earnings at nearly twice the rate as the broad index.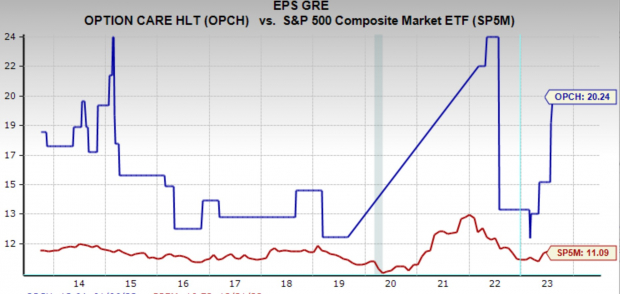 Image Source: Zacks Investment Research
Not only does OPCH have extremely high earnings growth estimates, but it is also trading well below it average historical valuation. Today, it is trading at a one year forward earnings multiple of 23.3x, way below its 10-year medina of 43x.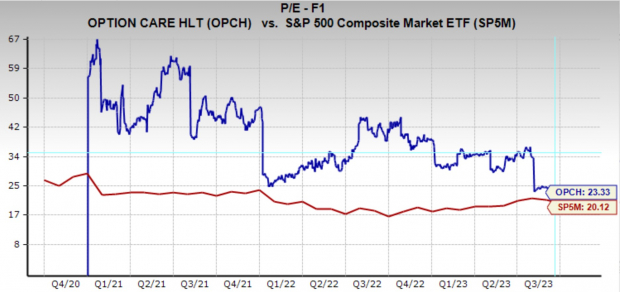 Image Source: Zacks Investment Research
Bottom Line
Finding and investing in stocks with strong earnings growth is key for anyone looking to make substantial returns. The stocks we've looked at in this article are solid examples, showing great potential for future gains.
— Ethan Feller
Want the latest recommendations from Zacks Investment Research?
[sponsor]
Today, you can download 7 Best Stocks for the Next 30 Days.
Click to get this free report.
Source: Zacks