Huron Consulting Group (HURN), a Zacks Rank #1 (Strong Buy), is an independent provider of financial and operational consulting services. The company's experienced professionals employ their expertise in accounting, finance, economics, and operations to a wide variety of both financially sound and distressed organizations. Its clients include Fortune 500 companies, medium-sized businesses, leading academic institutions, and law firms.
HURN shares bucked last year's bear market and have resumed their upward trend in 2023. The highly-rated stock has been widely outperforming the market this year with the backing of a leading industry group. The stock is trading near all-time highs and displaying relative strength as buying pressure accumulates in this market leader.
The diversified consulting company is part of the Zacks Consulting Services industry group, which ranks in the top 44% out of more than 250 Zacks Ranked Industries. Because it is ranked in the top half of all Zacks Ranked Industries, we expect this group to outperform the market over the next 3 to 6 months.
Historical research studies suggest that approximately half of a stock's price appreciation is due to its industry grouping. In fact, the top 50% of Zacks Ranked Industries outperforms the bottom 50% by a factor of more than 2 to 1. It's no secret that investing in stocks that are part of leading industry groups can give us a leg up relative to the market. By focusing on leading stocks within the top 50% of Zacks Ranked Industries, we can dramatically improve our stock-picking success.
Company Description
Huron Consulting Group provides consultancy services and operates in three segments. Its Healthcare segment provides advisory services to national and regional health systems, hospitals, medical groups, and care providers. The Education segment provides administrative and research services to public and private colleges and universities, research institutes, and other education-related organizations. Its Commercial segment offers digital services and software products to a variety of industries such as financial, energy, manufacturing and utilities.
HURN employs more than 5,000 people and boasts both a domestic and international presence. The company was incorporated in 2002 and is headquartered in Chicago, Illinois.
Earnings Trends and Future Estimates
HURN has built up an impressive earnings history, surpassing earnings estimates in each of the last four quarters. Back in July, the company reported second-quarter earnings of $1.38/share, a 40.82% surprise over the $0.98/share consensus estimate. Q2 earnings surged 66.3% year-over-year, while revenues grew 26.9%.
Management was upbeat regarding the quarterly results and raised its full-year EPS forecast. Huron Consulting has delivered a trailing four-quarter average earnings surprise of 21.75%. Consistently beating earnings estimates is a recipe for success.
Analysts covering HURN are in agreement and have been increasing their earnings estimates lately. For the current fiscal year, analysts have bumped up earnings estimates by 9.44% in the past 60 days. The 2023 Zacks Consensus EPS Estimate now stands at $4.52/share, reflecting potential growth of 31.8% relative to the prior year. Revenues are projected to climb 17% to $1.33 billion.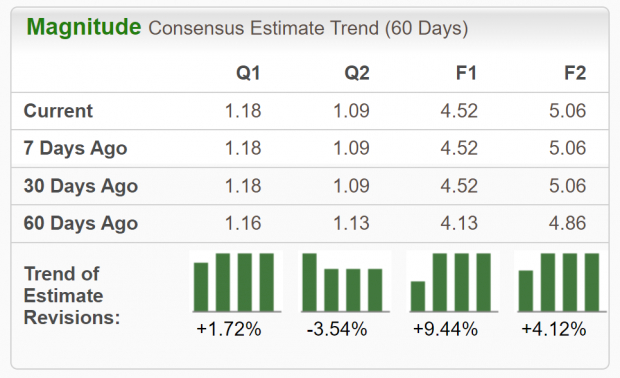 Image Source: Zacks Investment Research
Let's Get Technical
HURN shares have advanced nearly 38% this year. This is the kind of stock we want to include in our portfolio – one that is trending well and receiving positive earnings estimate revisions.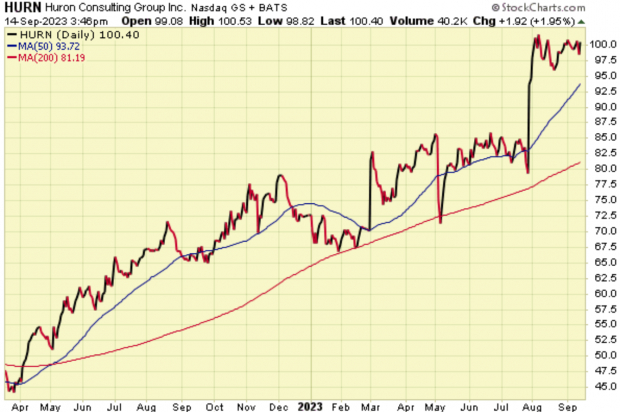 Image Source: StockCharts
Notice how HURN stock outperformed during last year's bear market and has continued along that path this year. Both the 50-day (blue line) and 200-day (red line) moving averages are sloping up. The stock has been making a series of higher highs. With both strong fundamentals and technicals, HURN is poised to continue its outperformance.
Empirical research shows a strong correlation between near-term stock movements and trends in earnings estimate revisions. As we know, Huron Consulting Group has recently witnessed positive revisions. As long as this trend remains intact (and HURN continues to deliver earnings beats), the stock will likely continue its bullish run this year.
Bottom Line
HURN stock is ranked favorably by our Zacks Style Scores, with a top 'A' mark in our Growth category and overall 'B' VGM score. The future looks bright for this highly-ranked, leading company as earnings estimates are on the rise.
Backed by a leading industry group and impressive history of earnings beats, it's not difficult to see why this company is a compelling investment. Robust fundamentals combined with an appealing technical trend certainly justify adding shares to the mix.
— Bryan Hayes
Source: Zacks