Vertiv (VRT) crushed Q2 earnings in early August, confirming the significance of its nearly four-month stay on the Zacks #1 Rank list. The stock has put up an incredible performance, returning 160% YTD and 137% since being upgraded to a top Zacks Rank.
Vertiv is a global provider of critical digital infrastructure and services, offering solutions for data centers, communication networks, and commercial and industrial facilities. The company specializes in designing, building, and servicing essential technologies that enable its customers to effectively manage and optimize their digital operations.
As organizations increasingly rely on digital infrastructure, Vertiv plays a vital role in ensuring the uninterrupted operation of critical systems and applications. Furthermore, as data centers cement a critical role in the Artificial Intelligence revolution, Vertiv is assured to be a beneficiary of the boom.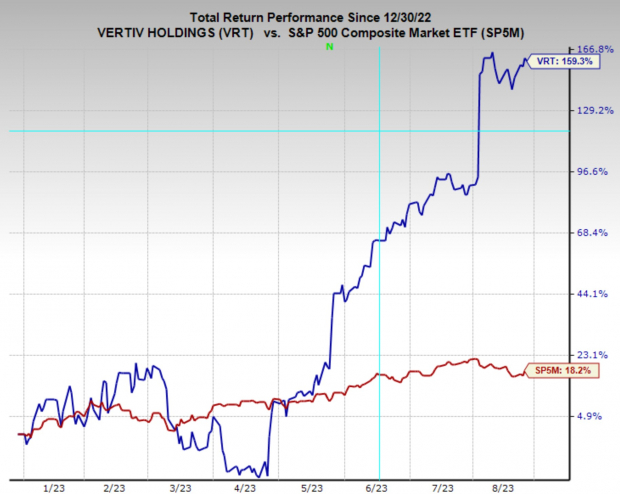 Image Source: Zacks Investment Research
Earnings Go Vertical
During its recent earnings report, Vertiv posted some truly impressive results. Q2 sales of $1.74 billion beat estimates by 7.3% and marked a 24% YoY increase. Additionally, EPS of $0.46 came in handily above analysts' expectations of $0.29 and demonstrated a more than 400% YoY increase.
Furthermore, adjusted operating margins of 14.5% expanded 860 basis points YoY, and management raised FY23 sales, earnings, and free cash flow guidance. CEO Giordano Albertazzi credited a few factors for the exciting performance; a strong rebound in the data center industry, hyper focus on operational execution, and growth acceleration due to the rapidly increasing demand for compute capacity driven by AI.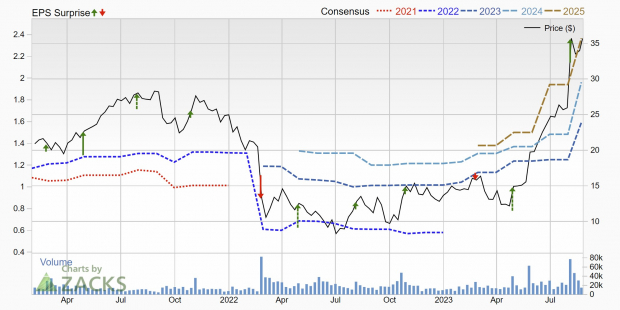 Image Source: Zacks Investment Research
Vertiv's earnings estimates have been climbing higher over the last two months, demonstrated by its Zacks Rank #1 (Strong Buy) rating. Current quarter earnings estimates have been revised higher by 30.3% and are projected to increase 87% YoY to $0.43 per share. FY23 estimates have been boosted by 28.2% and are forecast to grow 200% YoY to $1.59.
Additionally, sales for the current quarter are expected to expand 18.4% to $1.75 billion, while FY23 sales are expected to grow 20% YoY to $6.8 billion.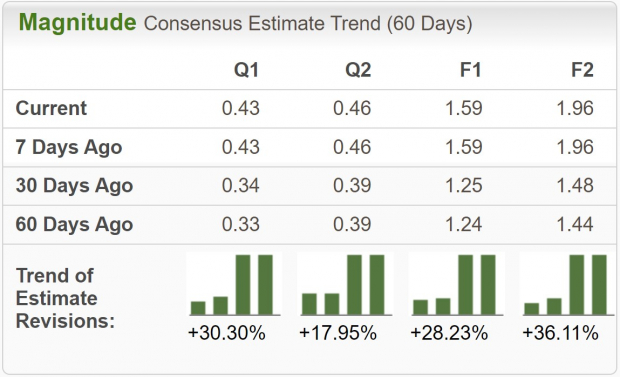 Image Source: Zacks Investment Research
Reasonable Valuation
Even with such stunning sales and earnings growth, Vertiv trades at a very fair valuation. VRT is trading at a one year forward earnings multiple of 22.4x, which is below the industry average of 35.3x, and above its three-year median of 20.7x.
It should also be noted that VRT makes a point to prioritize growing its free cash flow, which is a rarity in young technology companies. Annual FCF has increased from $10 million in 2019 to $371 million today.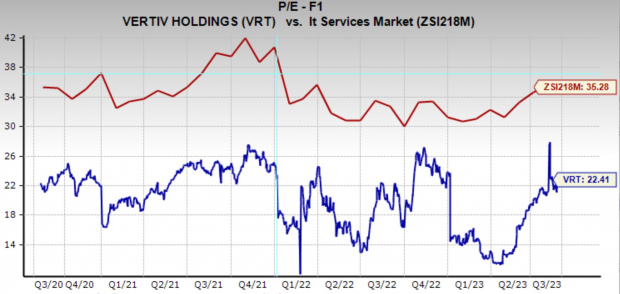 Image Source: Zacks Investment Research
Bottom Line
Vertiv is a standout stock with very strong near and long-term potential. With massive secular tailwinds in the data center and technology sector, a reasonable valuation, responsible management and very strong business economics, VRT is likely to put up durable stock performance going forward.
— Ethan Feller
Want the latest recommendations from Zacks Investment Research?
[sponsor]
Today, you can download 7 Best Stocks for the Next 30 Days.
Click to get this free report.
Source: Zacks