EnerSys (ENS) stock is standing out this earnings season after impressively surpassing its fiscal fourth-quarter EPS estimates on May 24.
As a leader in stored energy solutions for industrial products, EnerSys was able to capitalize on its pricing power and increase organic growth. Notably, the Manufacturing-Electronics Industry is in the top 10% of over 250 Zacks industries which further bolsters EnerSys' Zacks Rank #1 (Strong Buy).
EnerSys remains well-positioned as a distributor of various industrial batteries, battery chargers, and other power equipment along with outdoor cabinet solutions. Already up +31% this year, there could be legs to the rally in EnerSys stock which scores an overall "A" VGM Zacks Style Scores grade for the combination of Value, Growth, and Momentum.

Image Source: Zacks Investment Research
Q4 Review
EnerSys achieved record net sales and operating earnings during the fourth quarter. Impressively, earnings came in 32% above EPS expectations at $1.82 per share compared to estimates of $1.38 a share. Fourth-quarter earnings also soared 51% from the prior-year quarter. On the top line, sales surpassed estimates by 4% at $989.90 million and rose 9% year over year.
The impressive top and bottom line growth during Q4 also helped EnerSys achieve record numbers in annual sales and earnings. Total sales for EnerSys' fiscal 2023 came in at $3.7 billion and increased 10% YoY with EPS of $5.34 jumping 19% from a year ago.

Image Source: Zacks Investment Research
Record Growth Continues
Making EnerSys stock more attractive is that its record fiscal 2023 is expected to be eclipsed going forward. EnerSys' earnings are expected to soar 28% in its current fiscal 2024 and climb another 19% in FY25 at $8.19 per share.
Fiscal 2025 projections represent 82% EPS growth over the last five years with 2021 earnings at $4.49 per share. Total sales are forecasted to be up 4% in FY24 and rise another 4% in FY25 to $4.04 billion.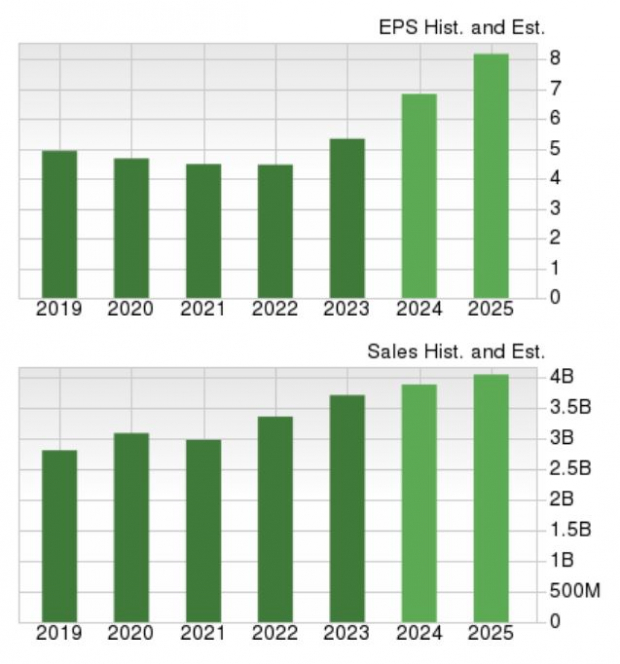 Image Source: Zacks Investment Research
Bottom Line
Now appears to be an ideal time to buy EnerSys stock as the company is poised to continue achieving record growth on its top and bottom lines. While there could certainly be more upside in shares of ENS this year, EnerSys stock is also becoming a very sound investment for 2023 and beyond.
— Shaun Pruitt
Source: Zacks