Hubbell Incorporated (HUBB) is a leading manufacturer of utility and electrical solutions that's poised to benefit from two megatrends that are still in their early stages in the U.S. and globally: electrification and grid modernization.
HUBB stock has more than doubled the S&P 500 over both the last 20 years and the past five. Hubbell smashed our quarterly earnings estimate in late April and provided significantly upbeat guidance.
HUBB also broke back above some key technical levels recently on its way to fresh highs, without overextending its valuation.
Supplying Critical Growth Areas
Hubbell is a top manufacturer of utility and electrical solutions with an established track record that is set to benefit from the critically pressing need for grid modernization and the wave of electrification. Expanding and revamping electrical grids is vital as the U.S. and many countries around the globe roll out more alternative energy sources in the coming decades.
Hubbell is a more stable, proven stock to help benefit from the booming growth of solar, wind, nuclear, EVs, and beyond. Hubbell is also exposed to the ongoing expansion of broadband networks and service.
Hubbell has been in business for 135 years and it boasts a very solid history of earnings and revenue growth. HUBB splits its business into two major categories: Utility Solutions and Electrical Solutions.
Digging a little deeper, Hubbell's product categories include lighting and controls, wiring and electrical, power and utilities, and datacom. Meanwhile, its solution offerings feature energy savings, safety and security, extreme environment, wire and cable management, and more.

Image Source: Zacks Investment Research
Recent Growth and Outlook
Hubbell grew its adjusted earnings by 70% in Q1 to top the Zacks estimate by 47% on the back of 11% revenue growth. HUBB also boosted its operating margin by 7% YoY to 19.4%, driven by "price realization, lower raw material costs and improved productivity."
Better still, Hubbell provided upbeat guidance that helps it land a Zacks Rank #1 (Strong Buy) right now. HUBB's FY23 consensus earnings outlook has jumped 23% since its first quartet release, with its FY24 figure now 19% higher.
The recent positivity extends HUBB's trend of upward earnings revisions that began early last year. "Utility Solutions orders remained strong, leading to another quarter of backlog build as customers actively invest in grid hardening and resiliency initiatives, smart grid applications and broadband deployments," CEO Gerben Bakker said in Q1 remarks on April 25.

Image Source: Zacks Investment Research
"In Electrical Solutions, industrial end markets and strategic growth verticals highlighted by renewables were strong, while commercial markets were more modest, and the residential market remained soft as expected."
Current Zacks consensus estimates call for Hubbell to post another 30% adjusted earnings expansion in 2023 and 8% higher sales to see it pull in $5.36 billion. These projections follow 18% sales expansion last year and 14% growth in 2021, alongside double-digit EPS gains.
Hubbell is set to expand its top and bottom lines again in 2024 even as it faces this tough-to-compete-against stretch. And it has beaten our quarterly earnings estimates in 17 out of the last 20 periods.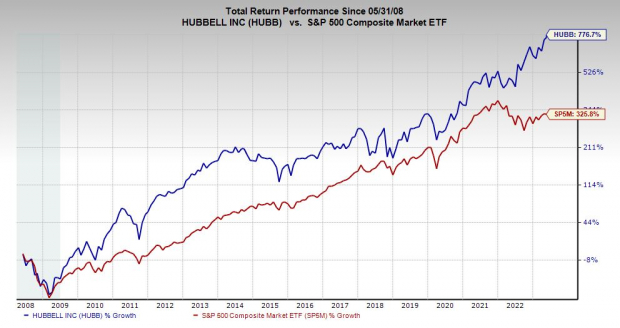 Image Source: Zacks Investment Research
Performance & Valuation
Hubbell stock has climbed roughly 735% in the last 20 years, with a total return of 1,300% vs. the S&P 500's 330% and 575%, respective gains. HUBB also outshined its Zacks Industrial Products sector on both metrics over these timeframes. HUBB's outperformance remains firmly intact over the last 15- and five-year time periods as well.
Hubbell shares are up 155% in the last five years and 50% in the past 12 months. This run includes a nearly 30% climb since early April, boosted by a big post-earning release surge.
HUBB's recent run helped the stock rebound back above both its 200-day and 50-day moving averages. The stock could face some near-term selling pressure with it trading right near fresh all-time highs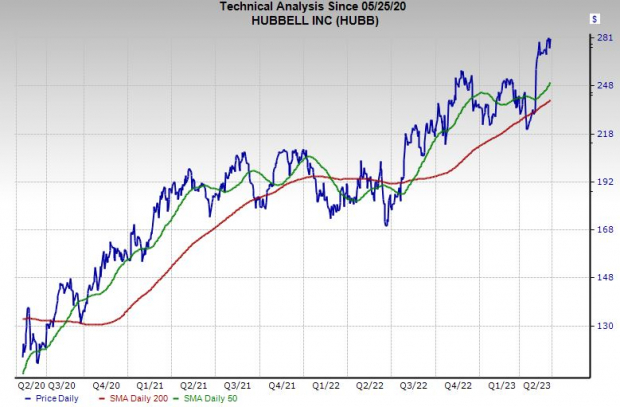 Image Source: Zacks Investment Research
Despite Hubbell's recent pop, its long-term outperformance, and the fact it trades near its peak in terms of price, HUBB's valuation hardly appears stretched. HUBB is trading right around its 10-year median at 19.7X forward earnings, which also marks a 16% discount to its own highs. And Hubbell is trading roughly in line with the Zacks Machinery-Electrical Market.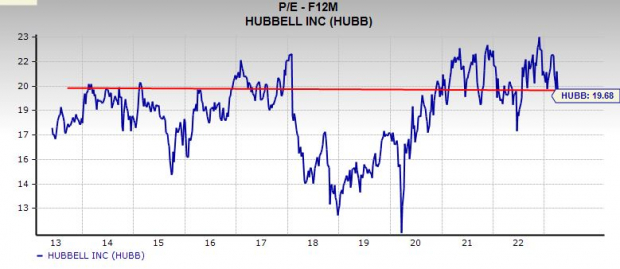 Image Source: Zacks Investment Research
Bottom Line
Hubbell should continue to benefit from the changing energy landscape, electrification, the broadband buildout, and more for decades to come. On top of that, the company raised its dividend (by 7%) for the 15th straight year in 2022, with it yielding 1.6% at the moment.
Hubbell boasts a rather sturdy balance sheet that should help it keep boosting its dividend and buying back more stock, and possibly continue to expand its business down the line through strategic acquisitions.
— Benjamin Rains
Source: Zacks