This past weekend, we had "Woodstock for Capitalists".
That's what the annual shareholders meeting for Berkshire Hathaway (BRK.B) is sometimes affectionately called.
There were plenty of nuggets of wisdom to absorb from Warren Buffett and Charlie Munger.
But a few tidbits stood out to me.
One excellent point came from Buffett, where he recounted being told the secret to business by legendary executive Thomas Murphy: "The secret to business is to buy great businesses."
It's as simple as that.
But how do you find great businesses?
There are many ways to go about doing that.
But my favorite, tried-and-true method is by employing the strategy of dividend growth investing.
This is a strategy whereby you buy and hold shares in businesses that are so great, they're able to pay out reliable, rising dividends to shareholders.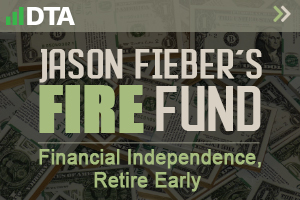 Those reliable, rising dividends are funded by reliable, rising profits.
And reliable, rising profits come about when you're running a great business.
See how that works?
The Dividend Champions, Contenders, and Challengers list contains invaluable information on hundreds of US-listed stocks that have raised their dividends each year for at least the last five consecutive years.
I've used this strategy for myself to great effect, building the FIRE Fund in the process.
This is my real-money portfolio, and it produces enough five-figure passive dividend income for me to live off of.
This strategy has been so effective, it allowed me to retire in my early 30s.
I share in my Early Retirement Blueprint exactly how I was able to accomplish that.
Suffice it to say, much of my success can be attributed to investing in many great businesses over a long period of time.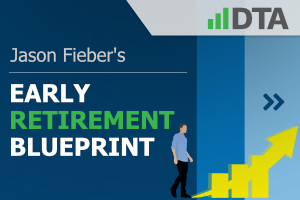 But that's not all.
The valuation at the time of investment is also super important.
See, price is only what you pay, but it's value that you actually get.
An undervalued dividend growth stock should provide a higher yield, greater long-term total return potential, and reduced risk.
This is relative to what the same stock might otherwise provide if it were fairly valued or overvalued.
Price and yield are inversely correlated. All else equal, a lower price will result in a higher yield.
That higher yield correlates to greater long-term total return potential.
This is because total return is simply the total income earned from an investment – capital gain plus investment income – over a period of time.
Prospective investment income is boosted by the higher yield.
But capital gain is also given a possible boost via the "upside" between a lower price paid and higher estimated intrinsic value.
And that's on top of whatever capital gain would ordinarily come about as a quality company naturally becomes worth more over time.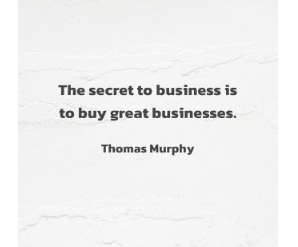 These dynamics should reduce risk.
Undervaluation introduces a margin of safety.
This is a "buffer" that protects the investor against unforeseen issues that could detrimentally lessen a company's fair value.
It's protection against the possible downside.
Buying high-quality dividend growth stocks when they're undervalued is an excellent way to heed Warren Buffett's sage business advice.
And this advice is even easier to heed than you might think, as valuation isn't an extremely complex concept.
Better yet, my colleague Dave Van Knapp has made valuation even easier to understand.
He did this with Lesson 11: Valuation, which is part of an overarching series of "lessons" on the ins and outs of dividend growth investing.
With all of this in mind, let's take a look at a high-quality dividend growth stock that appears to be undervalued right now…
Williams-Sonoma, Inc. (WSM)
Williams-Sonoma, Inc. (WSM) is a multi-channel retailer of high-quality home products and furnishings.
Founded in 1956, Williams-Sonoma is now an $8 billion (by market cap) niche retail player that employs over 16,000 people.
The company's reporting segments break down by brand: Pottery Barn, 41% of FY 2022 sales; West Elm, 26%; Williams Sonoma, 15%; Pottery Barn Kids and Teen, 13%. Other, which includes international franchise operations, accounted for 5%.
Almost all of the company's sales are US-based.
Retailing has never been more difficult or competitive than it is now.
In order to succeed, a modern-day retailer needs two important aspects in order to thrive.
I'm not saying these two aspects are all a retailer needs.
But I am saying they're critical ingredients – without them, a retailer will almost certainly fail.
One of those aspects is differentiation.
If there's no differentiation, a retailer cannot stand out and get the attention of consumers.
Well, Williams-Sonoma sets itself apart by providing unique brands within a specialized niche.
The company sells a range of high-end home furnishings that offer a certain value proposition relative to the quality.
The other aspect is a coherent, cohesive omnichannel strategy.
Regarding this point, Williams-Sonoma has been, arguably, better than any other retailer out there in terms of managing channels.
The company's e-commerce channel has long been both its largest and fastest-growing channel.
Williams-Sonoma has been generating more than half of its sales through its e-commerce channel for years.
This channel accounted for approximately 66% of sales for FY 2022.
The prescient management of channels positioned the company extremely well for the pandemic, which allowed Williams-Sonoma to hit another gear and accelerate its way through – and out of – the pandemic.
Meantime, the physical retail stores complement the e-commerce channel by showcasing products in the best light possible.
With the work-from-home trend showing evidence of sustained popularity, and with home renovation being something that never really dies out, Williams-Sonoma's foresight is now paying off in a major way.
Because Williams-Sonoma has mastered the two aspects I touched on earlier, the company is thriving when many retailers are just trying to survive.
And I fully believe that Williams-Sonoma will continue to thrive, which should translate into many years of growth across the company's revenue, profit, and dividend.
Dividend Growth, Growth Rate, Payout Ratio and Yield
Indeed, the company has increased its dividend for 18 consecutive years.
Williams-Sonoma is well on their way to becoming a Dividend Aristocrat one day.
The 10-year dividend growth rate is 13.2%, and there has been consistent double-digit dividend growth here.

For example, the most recent dividend raise, which was announced in March, came in at 15.4%.
This huge dividend growth is layered on top of the stock's market-beating yield of 3.1%.
By the way, that yield is 80 basis points higher than its own five-year average.
Best of all, the payout ratio is only 22.1%.
It's unusual to see a dividend growth rate this high supported by a payout ratio this low, but that just shows us how much growth the underlying business has been producing.
In the face of a possible upcoming recession, this low payout ratio, and the cushion it provides, is encouraging.
I like dividend growth stocks in what I like to call the "sweet spot" – a yield of between 2.5% and 3.5%, paired with a high-single-digit (or higher) dividend growth rate.
The yield is on the higher end of its range, while the dividend growth rate is quite a bit higher than I'd usually look for.
Very, very sweet.
Revenue and Earnings Growth
As much as I like these dividend metrics, they're mostly looking at the past.
However, investors are more concerned with the future, as today's capital is risked for tomorrow's rewards.
As such, I'll now build out a forward-looking growth trajectory for the business, which will be very useful when the time comes to estimate fair value.
I'll first show you what the business has done over the last decade in terms of its top-line and bottom-line growth.
I'll then reveal a professional prognostication for near-term profit growth.
Blending the proven past with a future forecast in this manner should allow us to roughly gauge where the business may be going from here.
Williams-Sonoma raised its revenue from $4.4 billion in FY 2013 to $8.7 billion in FY 2022.
That's a compound annual growth rate of 7.9%.
Strong.
Meanwhile, earnings per share grew from $2.82 to $16.32 over this period, which is a CAGR of 21.5%.
Extremely impressive.
This kind of bottom-line growth is right up there with some of the world's biggest and best tech companies, yet this is a home furnishings business.
It's quite remarkable.
A combination of substantial margin expansion and prolific share buybacks conspired to drive a lot of the excess bottom-line growth.
Regarding that latter point, the outstanding share count has been reduced by nearly 30% over the last decade.
Moreover, Williams-Sonoma announced a $1 billion buyback program in March – more than 13% of the market cap.
Looking forward, CFRA sees a -3% CAGR for Williams-Sonoma's EPS over the next three years.
I must say, that's quite the change of heart.
I last looked at CFRA's three-year EPS CAGR projection for Williams-Sonoma back in the fall of 2022.
It was 20% at that time.
Was 20% too aggressive?
I think so – and I argued as much back then, which you can go back and see.
All the same, though, this new forecast might have swung the pendulum way too far to the pessimistic side.
There's no doubt that 2023 is a tough environment, and that could even bleed through into next year.
If a recession hits, it's obviously quite easy to hold off on discretionary home furnishings purchases.
But three years is actually quite a decent chunk of time, recessions tend not to last for years on end, and this business has shown itself to be very special.
Williams-Sonoma bills itself as "the world's largest digital-first, design-led, sustainable home retailer".
It's a thoughtful meshing of design, convenience, quality, and value.
The differentiation really does allow Williams-Sonoma to uniquely stand out in the marketplace.
I'm cautiously optimistic about the near-term possibilities.
But I'm wildly enthusiastic about the business's prospects over the next decade or so.
Even if growth is basically flat over the next year or two, the dividend can still grow at a decent clip – thanks to a very low payout ratio.
And then, once things normalize again, double-digit dividend growth could return.
Averaging things out, it's hard to imagine Williams-Sonoma not being good for at least high-single-digit dividend growth over the long run.
Plus, you're kicking things off with a 3%+ yield.
I think that's compelling.
Financial Position
Moving over to the balance sheet, Williams-Sonoma has a stellar financial position.
The company has no long-term debt.
It's a pristine balance sheet.
Profitability, for a retailer, is exceptional.
Over the last five years, the firm has averaged annual net margin of 9% and annual return on equity of 47.9%.
I mentioned margin expansion earlier.
To that point, net margin was routinely in the 6% area at the beginning of the last decade.
It's rare to see a retailer produce high returns on capital, but this is yet another way in which Williams-Sonoma stands out.
I see almost nothing to dislike about this business.
And the company does benefit from durable competitive advantages, including brand strength, a successful omnichannel strategy, economies of scale, and vertical integration.
Of course, there are risks to consider.
Regulation, litigation, and competition are omnipresent risks in every industry.
Competition is always intense in retailing, although the differentiation does insulate Williams-Sonoma somewhat.
There are effectively no switching costs in place, but the company's brand strength should mitigate this risk somewhat by creating a more loyal customer base.
There is exposure to the broader economy, in general, and the housing market, in particular.
Since the company's products are mostly discretionary in nature, Williams-Sonoma would be highly exposed to a recessionary downturn.
Ongoing kinks in the global supply chain could weigh on near-term results.
The company also faces volatility around input costs.
Most of these risks are pretty standard for a retailer, even though I don't see Williams-Sonoma as a standard retailer at all.
And with the stock down more than 35% from its recent high, the attractive valuation is anything but standard…
Stock Price Valuation
The stock's P/E ratio is sitting at 6.9.
That's incredible.
It's well below the broader market's earnings multiple.
It's also less than half of its own five-year average P/E ratio of 14.4.
And the yield, as noted earlier, is significantly higher than its own recent historical average.
So the stock looks cheap when looking at basic valuation metrics. But how cheap might it be? What would a rational estimate of intrinsic value look like?
I valued shares using a dividend discount model analysis.
I factored in a 10% discount rate and a long-term dividend growth rate of 7.5%.
This is very conservative when you compare it to what Williams-Sonoma has proven out in terms of its EPS and dividend growth over the last decade.
Even the most recent dividend raise came in twice as high as what I'm modeling in.
However, I think it's right to be a bit cautious right now.
We're in the middle of an unprecedented period for rising rates, which introduces plenty of unknowns about the results of this.
The business has been holding up extraordinarily well in the face of so much pressure and change.
But the big turbulence could still be ahead of us.
Simply put, I'd rather be pleasantly surprised than unpleasantly disappointed.
The DDM analysis gives me a fair value of $154.80.
The reason I use a dividend discount model analysis is because a business is ultimately equal to the sum of all the future cash flow it can provide.
The DDM analysis is a tailored version of the discounted cash flow model analysis, as it simply substitutes dividends and dividend growth for cash flow and growth.
It then discounts those future dividends back to the present day, to account for the time value of money since a dollar tomorrow is not worth the same amount as a dollar today.
I find it to be a fairly accurate way to value dividend growth stocks.
Even after a rather careful valuation, the stock still looks pretty cheap.
But we'll now compare that valuation with where two professional stock analysis firms have come out at.
This adds balance, depth, and perspective to our conclusion.
Morningstar, a leading and well-respected stock analysis firm, rates stocks on a 5-star system.
1 star would mean a stock is substantially overvalued; 5 stars would mean a stock is substantially undervalued. 3 stars would indicate roughly fair value.
Morningstar rates WSM as a 5-star stock, with a fair value estimate of $211.00.
CFRA is another professional analysis firm, and I like to compare my valuation opinion to theirs to see if I'm out of line.
They similarly rate stocks on a 1-5 star scale, with 1 star meaning a stock is a strong sell and 5 stars meaning a stock is a strong buy. 3 stars is a hold.
CFRA rates WSM as a 3-star "HOLD", with a 12-month target price of $130.00.
Quite a range. I'm somewhere in the middle. Averaging the three numbers out gives us a final valuation of $165.27, which would indicate the stock is possibly 32% undervalued.
Bottom line: Williams-Sonoma, Inc. (WSM) is one of the best retailers in all of America. Through differentiation and a successful omnichannel strategy, as well as a pristine balance sheet, the company is set to continue thriving for years to come. With a market-beating yield, a double-digit dividend growth rate, a very low payout ratio, nearly 20 consecutive years of dividend increases, and the potential that shares are 32% undervalued, dividend growth investors should be taking a close look at this name right now.
-Jason Fieber
P.S. If you'd like access to my entire six-figure dividend growth stock portfolio, as well as stock trades I make with my own money, I've made all of that available exclusively through Patreon.
Note from D&I: How safe is WSM's dividend? We ran the stock through Simply Safe Dividends, and as we go to press, its Dividend Safety Score is 80. Dividend Safety Scores range from 0 to 100. A score of 50 is average, 75 or higher is excellent, and 25 or lower is weak. With this in mind, WSM's dividend appears Safe with an unlikely risk of being cut. Learn more about Dividend Safety Scores here.
Source: Dividends & Income