Right now, a vaunted Dividend Aristocrat looks very undervalued…
I'm talking about Medtronic plc (MDT) — a global medical devices company with a market cap of $109 billion.
Yes, we've all been hearing about the potential for an upcoming recession. But here's the thing: Healthcare is in secular growth mode. Healthcare demand does not correlate with economic cycles. If one is in need of healthcare, it doesn't matter whether or not the economy is in a recession – the health issue is all that matters to that person at that point in time.
Well, this plays right into the hands of Medtronic, which is in the business of providing devices ranging from heart valves to insulin pumps. That's a big part of why Medtronic has been racking up dividend raises for decades.
The medical devices company has increased its dividend for 45 consecutive years.
The 10-year DGR of 10% pairs very well with the stock's current yield over 3%. Keep in mind, this isn't the kind of stock that usually offers a yield this high.
Then again, there has been some deceleration in recent dividend growth, and rates have risen. So a higher yield, to some degree, makes sense to me. A payout ratio of 51.4%, based on midpoint guidance for this fiscal year's adjusted EPS, indicates that Medtronic will continue to do what it's been doing with the dividend for decades already.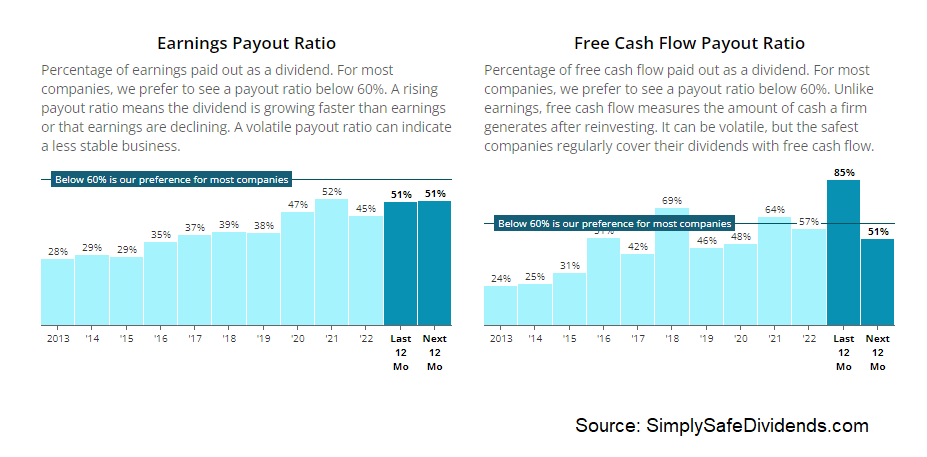 Just days ago, this Dividend Aristocrat was down as much as a shocking 28% from its 52-week high.
When a high-quality Dividend Aristocrat suffers a drawdown like this, you start to ask questions. Was it extremely overvalued? Is there a structural shift in the business? Is there a some kind of short-term shock occurring? In my view, it's more of that last scenario than anything else. At the 52-week high of $114.31, the stock did get slightly ahead of itself.
But the bigger story is that Medtronic benefits from certain elective procedures that aren't emergencies, and many of these procedures were postponed as a result of the pandemic. Recent quarters have shown a rebound, however. And with the stock now priced below $90, it looks severely undervalued relative to our estimate of intrinsic value of $111/share that we worked out in our last analysis of the business. Don't underestimate Medtronic.
— Jason Fieber
P.S. If you'd like access to my entire six-figure dividend growth stock portfolio, as well as stock trades I make with my own money, I've made all of that available exclusively through Patreon.