Note from DTA: To access Jason's entire dividend growth stock portfolio, as well as stock trades he makes with his own money, he's made all of that available exclusively through Patreon.
Over the past several days, I've been telling you about high-quality dividend growth stocks that have pulled back significantly from their 52-week highs. Today, I'm profiling NextEra Energy (NEE) — an American energy utility holding company with a market cap of $146 billion. NextEra Energy is the largest electric utility holding company in the US by market cap. This utility is just a monster. And it's not just a monster in traditional energy terms but also renewable energy terms.
Hence, the name of the company – it's preparing for the next era in energy. In fact, NextEra Energy is also the largest renewable energy producer in the US. But there's more to like than scale and energy source diversification. There's also the footprint. NextEra Energy is the major electric utility provider in Florida, where the company is headquartered. And what do we know about Florida? It's growing like gangbusters, which is helping the dividend to grow like gangbusters.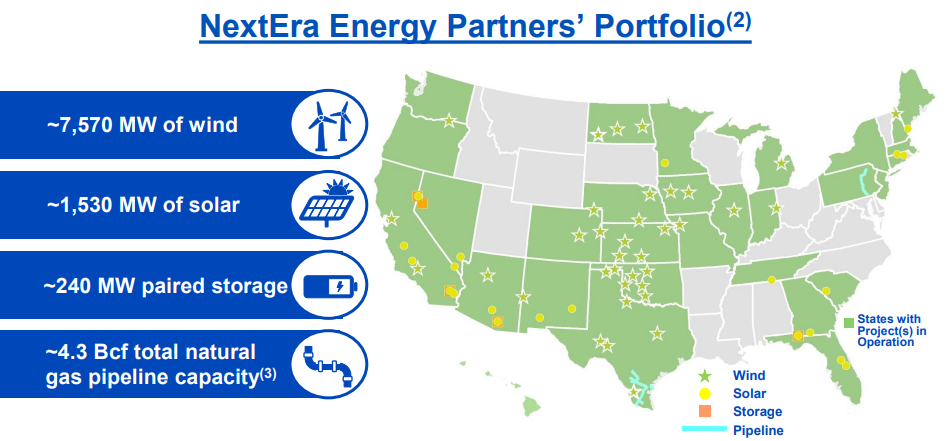 The utility company has increased its dividend for 29 consecutive years. That makes NextEra Energy a Dividend Aristocrat. It's one of only three utility companies that is a Dividend Aristocrat, making this company rarer and more special than you might initially think.
Also unique is the growth. The 10-year DGR of 11% blows away the kind of growth you usually get from a utility. The most recent dividend raise was 10%, which is precisely what management has been guiding for in terms of near-term dividend growth. The stock also yields a respectable 2.6%. Not super high for a utility, but the growth more than makes up for that. And even after the recent 10% dividend raise, the payout ratio remains a comfortable 61.1%, based on midpoint guidance for this fiscal year's adjusted EPS.
NextEra Energy isn't cheap. It never really is. But after a ~17% drop from its 52-week high, the valuation looks quite reasonable.
Now, if you're comparing NextEra Energy to a typical slower-growing utility, you're already doing it wrong. Like I just said, it's unique in a number of ways. Consider the stock's five-year average P/E ratio of 38.9. Yeah, it always looks a bit crazy. But it looked especially crazy at the 52-week high of $91.35.
The stock's fall to the $75 area has made things more reasonable. Circling back around to that aforementioned adjusted EPS guidance, at the midpoint, for this fiscal year, the forward P/E ratio is 24. If this were an ordinary utility, I'd say that's way too high. For NextEra Energy and its quality, footprint, growth rate, renewables exposure, and Dividend Aristocrat status? I think it's more than acceptable.
— Jason Fieber
P.S. Shares of NextEra Energy (NEE) are certainly more attractive today than they have been in a while, but there are much better deals out there right now. In fact, there's one dividend growth stock in particular I've been aggressively buying in recent days… and if you've got room in your portfolio for this name, I'd be hitting the gas pedal here. Now is one of the best times you'll ever see to invest in a business like this, in my view. For the full details on my latest purchases, as well as access to my entire stock portfolio, I invite you to join me over at Patreon.