Note from DTA: Thanks to the panic selloff across banking, there's one dividend growth stock in particular Jason has been aggressively buying this week. He initiated a new position in the stock Monday… and then he bought shares again yesterday. For the full details on this purchase — as well as a handful of other bargain dividend stocks he's been buying — we urge you to consider signing up for Jason's Patreon. Read on for another idea to consider right now.
One of the greatest dividend growth stocks of all time could be offering a rare buying opportunity right now…
Automatic Data Processing (ADP) is a human resources management software company with a market cap of $88 billion. Love this business model. Automatic Data Processing provides HR/payroll software to more than a million clients across just about every industry imaginable. Automatic Data Processing estimates that its payroll software is responsible for one in six US workers getting paid. While that's neat, what's really great about the business model is the "float".
See, it collects a float similarly to how an insurance company collects a float. There's a time delay between payroll capital being collected and checks actually getting cashed. And that delay allows the company to earn a return on this capital. It's a recipe that has allowed Automatic Data Processing to build up one of the most enviable dividend growth track records in existence.
The human resources company has increased its dividend for 47 consecutive years.
This is a vaunted Dividend Aristocrat. The 10-year DGR is 11.7%. And check this out: The most recent dividend increase came in at a whopping 20%. We're talking about one of the greatest dividend growth stocks of all time here.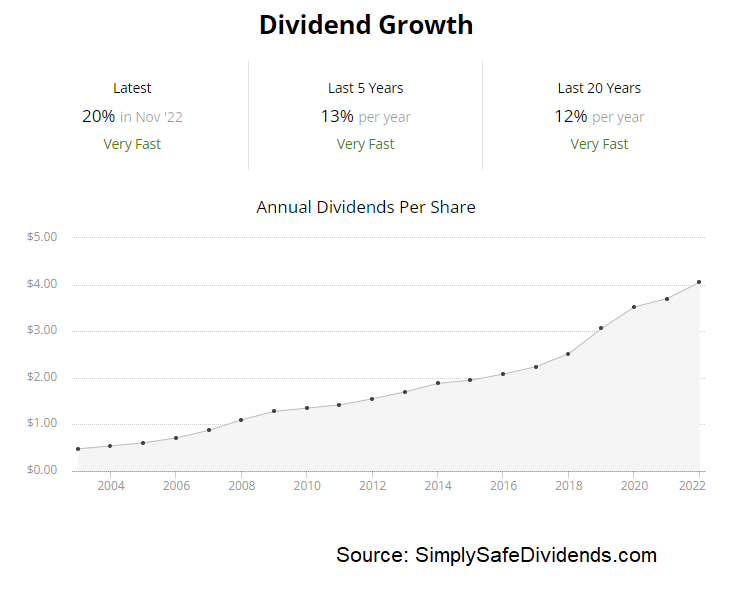 Now, the 2.3% yield won't knock you dead, but this is a high-quality compounder, not a high-yield junk stock. And that 2.3% yield is 30 basis points higher than its own five-year average. The payout ratio sitting at 80%, based on TTM GAAP EPS, does look high, but this business is a free cash flow machine, due to very little CapEx, and the dividend is easily covered.
The stock's 22% drop from its 52-week high may have created a rare buying opportunity.
This is the kind of stock that just looks consistently expensive and rarely buyable. Years can go by without a buying opportunity. But its drop from the 52-week high of $274.92 down to the $213 area may have created one such opportunity. Most of the basic valuation metrics are now at or below their respective recent historical averages.
The P/E ratio of 28.4 compares nicely to its own five-year average of 32.9, for example. Is the stock cheap? Not really. But I think it's quite reasonable relative to the quality and growth. The company is guiding for 15% to 17% YOY adjusted EPS growth for FY 2023. If you pull up the max chart on the stock, going back to 1983, it's up more than 10,000%. It's a monster over the long run. Don't underestimate this one.
— Jason Fieber
P.S. As much as I like ADP — and it is indeed one of the holdings in my personal portfolio — there are better deals out there right now. In fact, there's one dividend growth stock in particular I've been aggressively buying this week… and if you've got room in your portfolio for this name, I'd be hitting the gas pedal here. Now is one of the best times you'll ever see to invest in a business like this, in my view. For the full details on my latest purchases, as well as access to my entire stock portfolio, I invite you to join me over at Patreon.