Who's the greatest investor of all time? The Michael Jordan of investing?
Well, I think most of us can agree that it's Warren Buffett. We're talking about a legendary investor who's racked up 20% compound annual returns for more than 50 years.
Nobody has done it better, for longer. So when Buffett allocates capital, us mere mortals become very curious.
Well, through his conglomerate, Berkshire Hathaway Inc. (BRK), Buffett oversees a $350 billion common stock portfolio. And the 13F highlighting the portfolio's third quarter moves just got released. In this form, we can see that Buffett's firm has been loading up on stocks. And one of these stocks is particularly interesting for us dividend growth investors.
Today, I want to tell you about a bank stock that Buffett's firm loaded up on in the third quarter of 2022.
Ready? Let's dig in.
So which bank stock is Buffett's firm buying hand over fist? It's Ally Financial Inc. (ALLY).
Ally Financial is a bank holding company with a market cap of $11 billion.
With over $180 billion in total assets, this regional bank is among the largest banks in the United States. Based out of Detroit, Michigan, Ally Financial's roots can actually be traced back to General Motors Company. Ally Financial was originally GMAC, which was the financing arm for General Motors, before going public as an independent entity through an IPO in 2014.
The bank is now standing tall on its own. 
To be honest, it was tough going out of the gate. Ally Financial reported a pretty heavy loss for FY 2015. But the last five years have been really good, with the bank posting up strong numbers across the board since FY 2017.
Here's why I'm highlighting Ally Financial.
In Q1, Berkshire Hathaway first initiated their position in Ally Financial, picking up slightly less than 9 million shares. Now, here we are, just one quarter later, and they're boosting that position big time.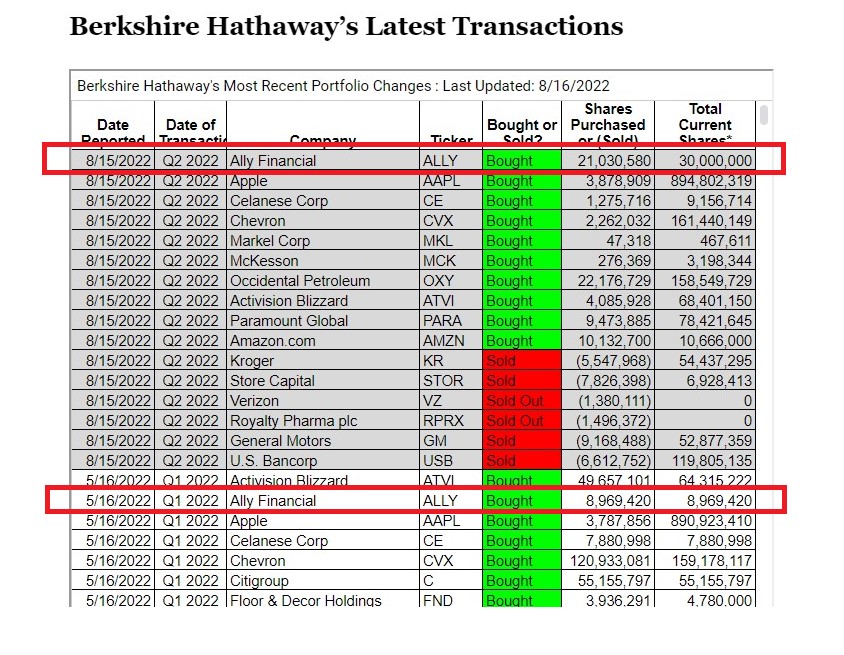 Buffett's firm now owns approximately 30 million shares of Ally Financial.
This means they increased their position in the bank, in terms of share count, by more than 200% last quarter. Berkshire Hathaway's position in Ally Financial is now worth over $1 billion. To be fair, it's quite possible, even likely, that one of Buffett's lieutenants – Todd Combs or Ted Weschler – did the buying here, but that makes it no less interesting. Moreover, even if Buffett wasn't the architect, he's still impacted all the same, as he's the largest single shareholder of Berkshire Hathaway.
Getting back to that business performance, Ally Financial's growth since FY 2017 has been strong.
The bank compounded its revenue by 2% annually between FY 2017 and FY 2021, while EPS compounded at an annual rate of 41.7%. That latter number is obviously very impressive, but it's also somewhat misleading – taking reserves and releasing reserves over the last two years, due to the pandemic, have skewed results.
But that's not totally fair, either. Ally Financial is putting up great numbers this year.
If we take the bank's most recently reported $1.40 in GAAP EPS for Q2 FY 2022 and extrapolate that out to an annual run-rate, the bank's bottom-line growth has been exceptional. For perspective, Ally Financial printed $2.04 in GAAP EPS for the entire year of FY 2017. They're now doing almost that in a single quarter.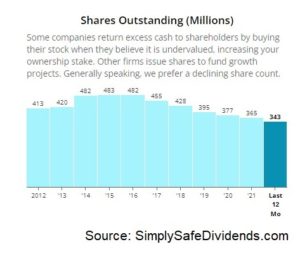 Big buybacks have definitely helped.
The bank's outstanding share count is down by 20% over just the last five years.
Pretty incredible.
But the bank is just plain better than it used to be, with improved profitability metrics now almost across the board compared to the IPO.
Exceptional EPS growth has helped to fuel exceptional dividend growth.
We all know that Warren Buffett loves dividends.
But not just dividends. Growing dividends. Buffett is basically the world's wealthiest and most successful dividend growth investor. He tends to invest heavily in businesses that pay reliable, rising dividends, because he knows that only reliable, rising profits can fund that kind of activity over the long run.
Indeed, Ally Financial has increased its dividend for seven consecutive years.
Seven years is basically as long as the track record could be, based on the IPO date. And get this: Ally Financial's five-year DGR is an astounding 40.6% – almost right in line with EPS growth over that time frame. Also, Ally Financial just increased its dividend by 20% earlier this year. With a payout ratio of only 14.6%, we already know where this dividend is headed – up.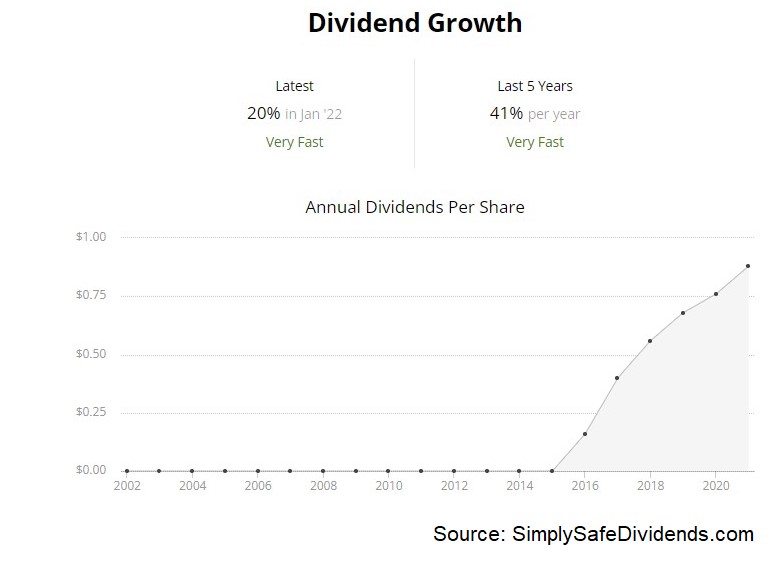 Plus, the stock gives you income right now.
Ally Financial's stock yields 3.4% here. That's actually not far off from a number of utility stocks that I know of. And utilities, in general, are not growing anywhere near as fast as Ally Financial. This 3.4% yield is more than twice as high as what the broader market yields. It's also 120 basis points higher than its own five-year average, although it's worth pointing out that the dividend's youth makes it challenging to make this comparison.
What else do we know about Buffett? He loves value for money.
To that point, Ally Financial is downright cheap based on almost every single basic valuation metric I look at. I'll give you a few numbers. The P/E ratio is 5. Let me repeat that. The P/E ratio is 5. Yes, 5. The stock's five-year average P/E ratio is 9.6. We're at almost half of that here.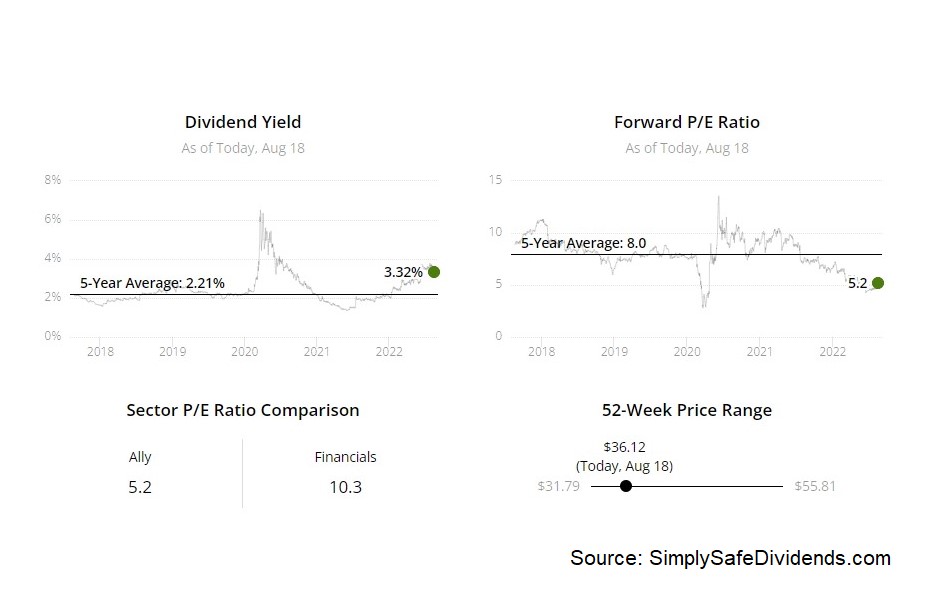 This has never really been an expensive stock. But it's especially inexpensive now.
The P/B ratio is 0.9, which is right in line with its own five-year average. Most banks tend to command P/B ratios between 1 and 2, based on their individual quality and growth, as well as overall market valuations. Ally Financial's stock is lower than the low end of that band.
Could the stock get cheaper? Sure. There's no rule against cheap getting cheaper.
But the long-term risk/reward setup would seem to skew toward the reward side of things, based on this low valuation. Warren Buffett has said that he'd rather step over one-foot bars than try to jump over seven-foot bars. Ally Financial looks like a one-foot bar.
Should you follow Buffett and his team into Ally Financial? 
Well, that's ultimately up to you. However, there's a lot to like about Ally Financial for long-term dividend growth investors. You get a market-beating yield, double-digit dividend growth, a low payout ratio, solid business growth, improving profitability, big buybacks, and an extremely undemanding valuation. Being invested alongside Warren Buffett is icing on the cake.
I'll see you next time.
— Jason Fieber
P.S. If you'd like access to my entire six-figure dividend growth stock portfolio, as well as stock trades I make with my own money, I've made all of that available exclusively through Patreon.
Source: Dividends & Income