It's hard to believe, but there actually is a 10% dividend sitting right under investors' noses—even now, when the typical S&P 500 stock dribbles out a pathetic 1.3% payout.
That 10% payer is a closed-end fund (CEF) called the Liberty All-Star Equity Fund (USA). We're going to put this fund in the spotlight today, so we can see how it offers such a large dividend in these income-lean times, and whether it may be for you.
Let's start with performance: USA has delivered a total return far larger than that of the market in the last five- and 10-year spans (as well as in the last three years, one year and for 2021 so far). That's just not something conventional "wisdom" says it's possible—most actively managed funds, the thinking goes, underperform. But here we are:
Actively Managed CEF Crushes the ETF
The best part of this track record is that, thanks to USA's huge dividend, most of this gain was in cash. And speaking of dividends, here's something else most people think is impossible with a payout this big: not only has USA sustained its payout over the long run, it's actually increased it by a whopping 75% in the last five years, thanks in large part to a generous dividend policy where USA hands over 10% of its NAV as payouts.
Big Yields and Big Pay Hikes in 1 Buy
Aside from USA's impressive history, there are three other reasons why now is a good time to give this CEF strong consideration.
Reason #1: The US Economy Is Cranking Out Jobs
As the ticker suggests, USA specializes in American companies, and that means it will rise with a strong domestic economy. And that's exactly what we have right now.
Jobs Recovery at Full Throttle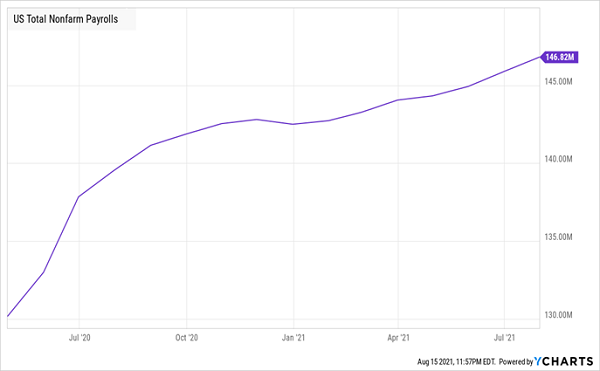 July saw the best jobs data we've probably ever seen, at least in our lifetimes, with nearly a million new jobs added in a month, plus upward revisions in May and June, with the rate of jobs growth accelerating.
We're not at pre-pandemic levels yet, but we are getting there, and companies desperate to hire are giving workers more pay and more incentives to work. That, in turn, boosts consumer spending and corporate sales and profits. And as we'll see in a moment, the companies best positioned to absorb that higher spending are the very ones inhabiting USA's portfolio.
Reason #2: Vaccination Rates Are Rising Again
Vaccine hesitancy has been a problem in the US, but things are starting to look better on this front, with vaccination rates rising and the number of American adults who have had at least one shot climbing above 72% (if we keep up the current rate of vaccinations, we'll hit 80% by the end of September).
This will help more consumers feel more at ease traveling, going to restaurants and spending money in general. And that, of course, is great for US companies.
Reason #3: USA Boasts a Portfolio of the Strongest American Companies
The final reason to buy USA is its holdings. With PayPal (PYPL), Alphabet (GOOGL), Adobe (ADBE), Visa (V) and UnitedHealth Group (UNH) as its largest positions, USA is primed for this moment in American economic history.
Let's start with UNH, a health-insurance firm that's directly benefiting from a red-hot jobs market, where Americans are more concerned for their health than ever. That puts pressure on employers to offer good health benefits if they want to attract talent, and it's a prime driver behind this chart.
Rising Talent Demand = Rising Benefits Demand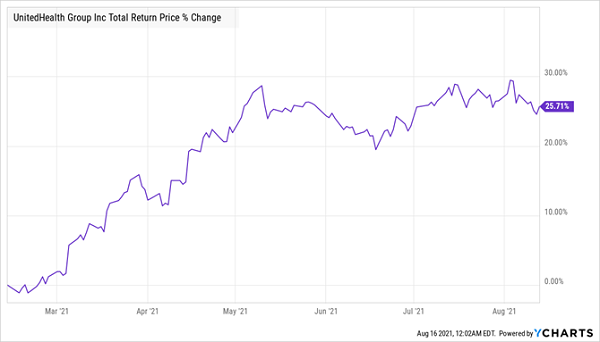 Then when we think of PayPal, Alphabet, Adobe and Visa, one word comes to mind: marketing. While Google is the company small businesses depend on to market their products, Adobe gives them the tools to provide the best marketing possible. PayPal and Visa, meanwhile, are the firms businesses rely on to help them seal the deal by processing payments. All of this has been translating into strong performances for these USA picks;
USA's Holdings Soaring
This is where an actively managed CEF like USA really outshines an index fund: its managers can recognize emerging trends and get out in front of them. That, in turn, drives this fund's impressive returns, plus a 10% dividend that's been growing for years.
— Michael Foster
5 More Huge Dividends (up to 8.3%!) Set to Soar [sponsor]
USA is far from the only CEF that's tuned to the economy of the future. In fact, as strong as this fund is, it doesn't make my list as one of my top high-dividend CEFs for you to buy now.
For that, look to the 5 other CEFs I'm pounding the table on today. They yield an outsized 7.3%, on average, with the highest yielder of the bunch dropping an 8.3% payout! And here's where they really stand out—these 5 funds are cheap now, which has set them up for 20%+ price upside in the next 12 months!
Add it all up and you could easily be looking at a 27%+ total return here, by this time next year!
Now is the time to buy these 5 superb income-and-growth plays. Go here and I'll give you everything you need to know about them: names, tickers, best-buy prices, my complete analysis of management and much more.
Source: Contrarian Outlook