Dividend growth investing is such a fantastic long-term investment strategy. It almost guarantees you success. This strategy acts like a filter, directing you toward only the best businesses in the world.
After all, it takes a special business to be able to hand out ever-larger dividends, year after year, for decades on end.
Those growing dividends prove growing profit. Can't fake cash. Certainly can't fake a pile of cash that gets bigger and bigger. And what does a growing pile of cash mean?
Financial freedom. If you can get yourself a pile of growing cash that's large enough to cover your bills, you're home free.
See, while passive income is great, you really need growing passive income. Inflation increases the costs of goods and services over time. And you have to make sure that your passive income can keep up with, or even exceed, the rate of inflation.
Dividend growth investing covers this angle for you.
Today, I want to tell you about three dividend growth stocks that just increased their dividends.
Ready? Let's dig in.
More Money Stock #1: KLA Corp. (KLAC)
The first dividend increase you should know about came from KLA Corp. (KLAC). KLA just increased their dividend by 16.7%.
How would you like to wake up and see that you just got a 16.7% pay raise for doing absolutely nothing other than hold stock? That sure beats bacon and eggs, or any other breakfast I can think of. Rise and shine, indeed.
This marks the 12th consecutive year of dividend increases for the semiconductor manufacturing company.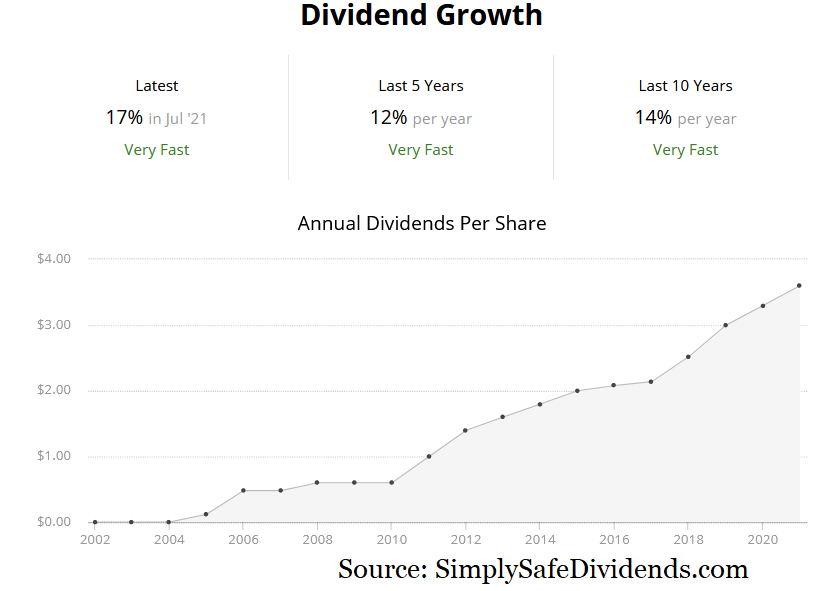 And this dividend increase was outsized, comparing very well to their 10-year dividend growth rate of 15.9%. The stock only yields 1.3%, so this is more of a compounding play than an income play. But they're definitely delivering on the growth side – and beating inflation handily. With a low payout ratio of only 31.4%, there's room for plenty more double-digit dividend increases to come.
This stock is up more than 25% YTD, and the valuation looks a bit stretched.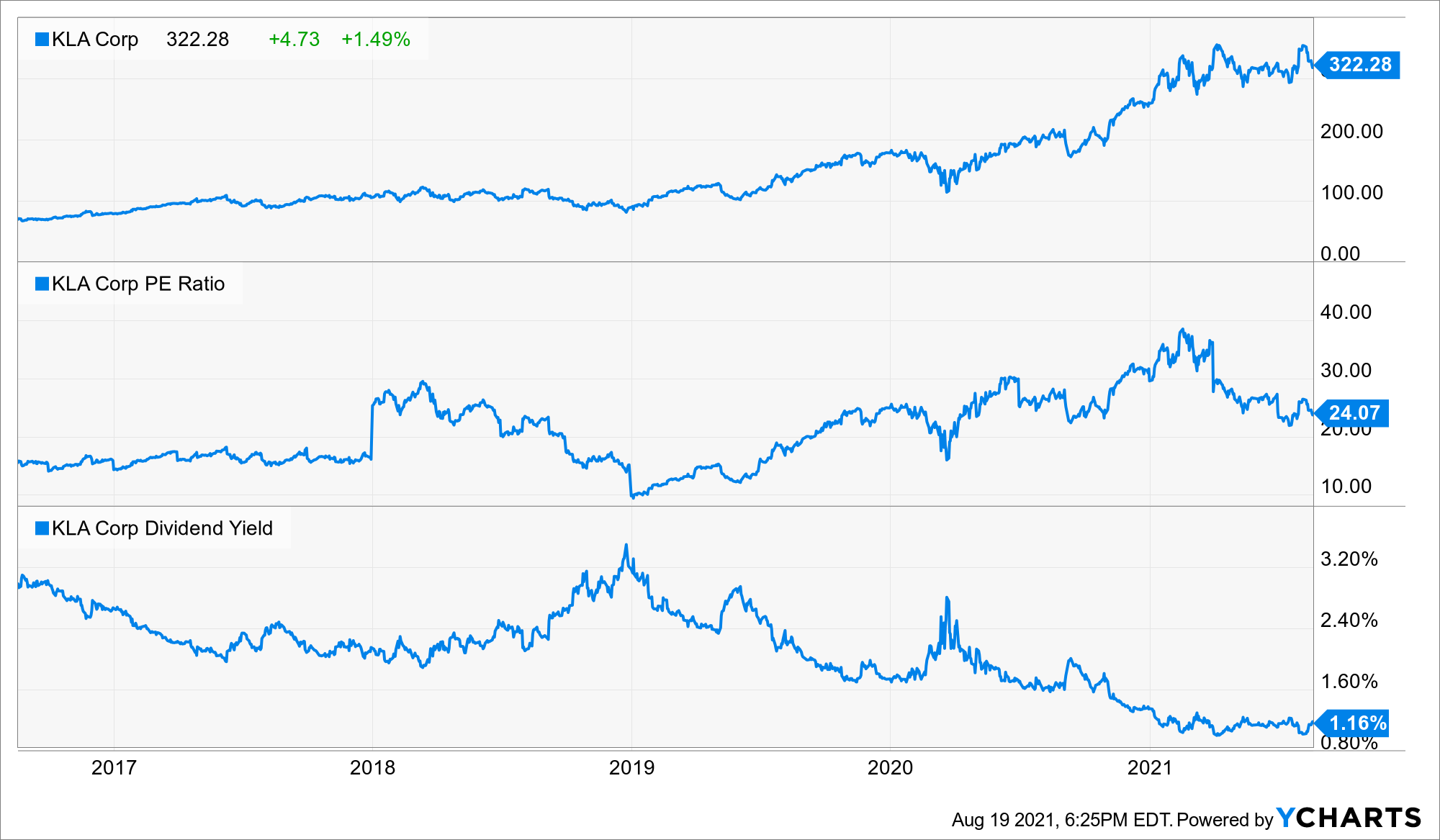 It's a market of stocks, not a stock market. Even in a market near all-time highs, there are deals to be had. All the same, though, when the market is near all-time highs, you also know that there are some valuations out there that are a bit hot.
Well, with most of its basic valuation metrics quite a bit higher than their respective recent historical averages, this stock looks like it's running hot. But a good 10% or so correction could make this a very interesting business to consider. Keep in mind, this stock is up more than 350% over the last five years alone. Like I said, it's a compounder.
More Money Stock #2: Broadridge Financial (BR)
The second dividend increase I have to tell you about came from Broadridge Financial (BR).
Broadridge just increased their dividend by 10.3%.
Another dividend growth stock. Another double-digit increase in passive dividend income. You can almost set your watch to some of this stuff. It just doesn't get any easier than that.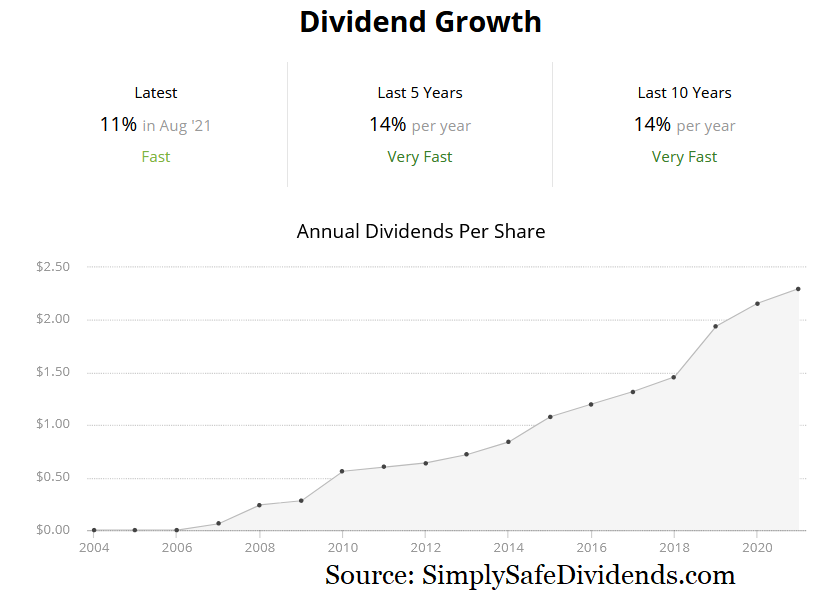 This is the 15th consecutive year of dividend increases for the corporate services company.
Their 10-year dividend growth rate is 14.4%, which pairs well with the stock's current yield of 1.5%. This is another compounder. And if a portfolio were full of high-quality compounders like this one, it's going to perform very well over the long run. Even after all of that double-digit dividend growth, the payout ratio remains moderate at 55%. That's because the company's underlying earnings have been keeping up and growing at a double-digit rate over the last decade, supporting that dividend growth.
After a nice 17% run this year, this is another stock with a valuation that looks a bit rich.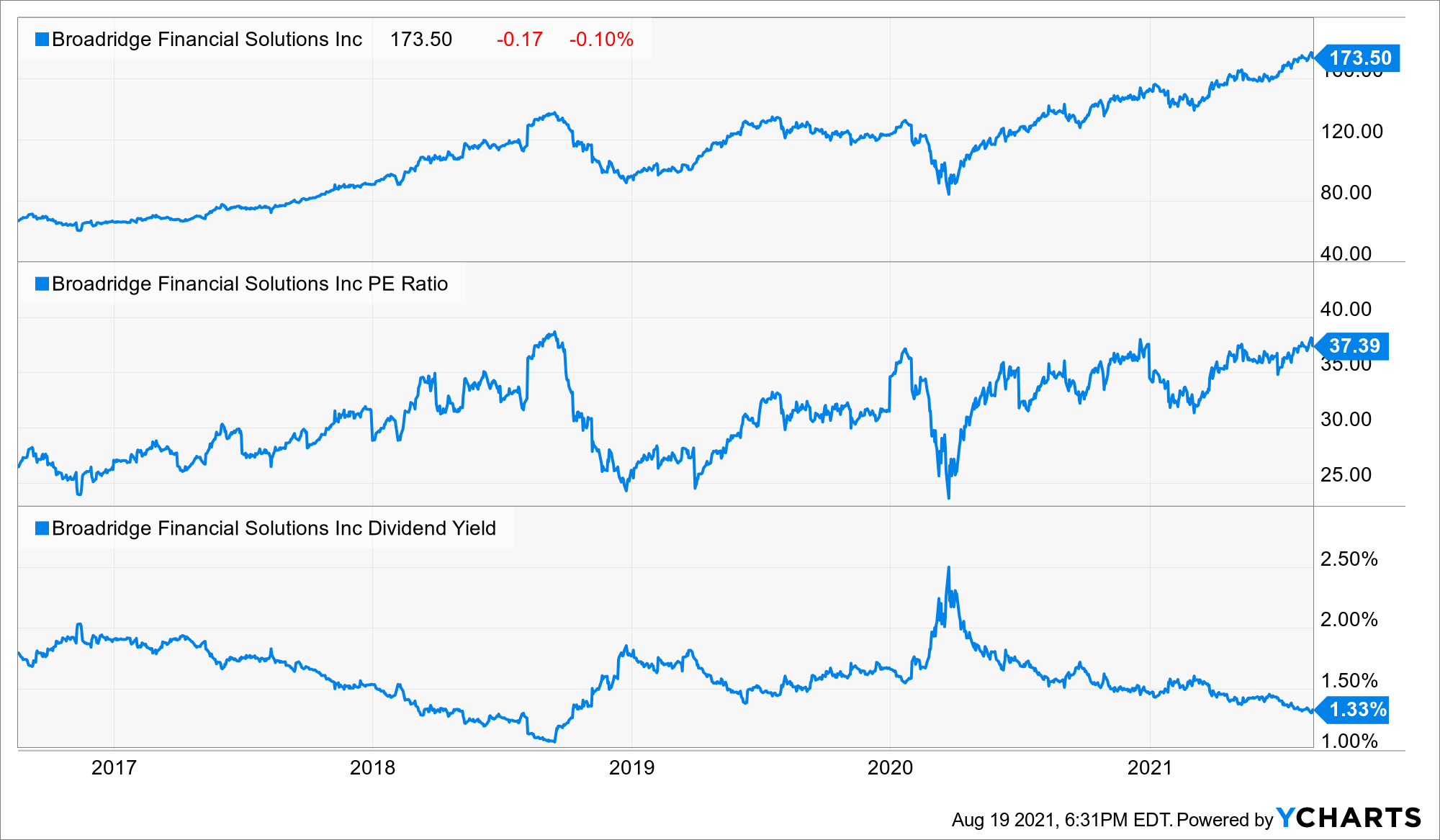 But as I've said many, many times, you get what you pay for. If you want quality, you have to pay up. And this thing has been an amazing performer for its investors who understood the compounding prowess. It's up – get this – 700% over the last decade. Wow. The P/E ratio is sitting near 38, so it's not cheap, even for a stock that's typically expensive – its five-year average P/E ratio is 30. Like with KLAC, a 10% or so correction in this name would make it a very interesting idea to consider.
More Money Stock #3: Nordson Corporation (NDSN)
Last but not least, let's talk about the dividend increase that came in from Nordson Corporation (NDSN).
Nordson just increased their dividend by a whopping 30.8%.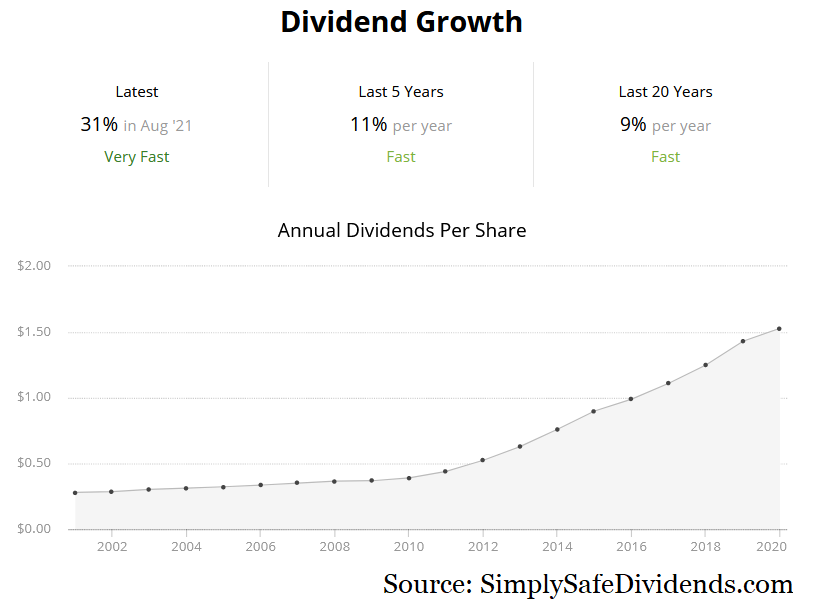 I don't think I ever got a 31% pay raise at my old day job, back when I still had it. And even if I would have gotten such a pay raise, it's something that would have required an incredible amount of work on my part. Yet Nordson shareholders get a near-31% increase in their income by simply keeping shares in a brokerage account. How awesome is that?
The manufacturing company has now increased its dividend for 58 consecutive years.
Talk about a reliable, rising dividend that's killing inflation. That's about as reliable and consistent as it gets. And inflation isn't anywhere near 30%. This dividend increase was quite large for Nordson, as their 10-year dividend growth rate is 14.6%. But I'm sure shareholders aren't complaining about that. This just proves that even 50 or 60 years into dividend growth, a stock can keep growing its dividend at a high rate. The stock only yields 0.9%, so it's another compounder. But I'm sure shareholders aren't complaining about that, either. The payout ratio, at 38.9%, is still low. So you already know where this dividend is going from here – up.
This stock is up 17% this year, and its strong performance has led to a strong valuation.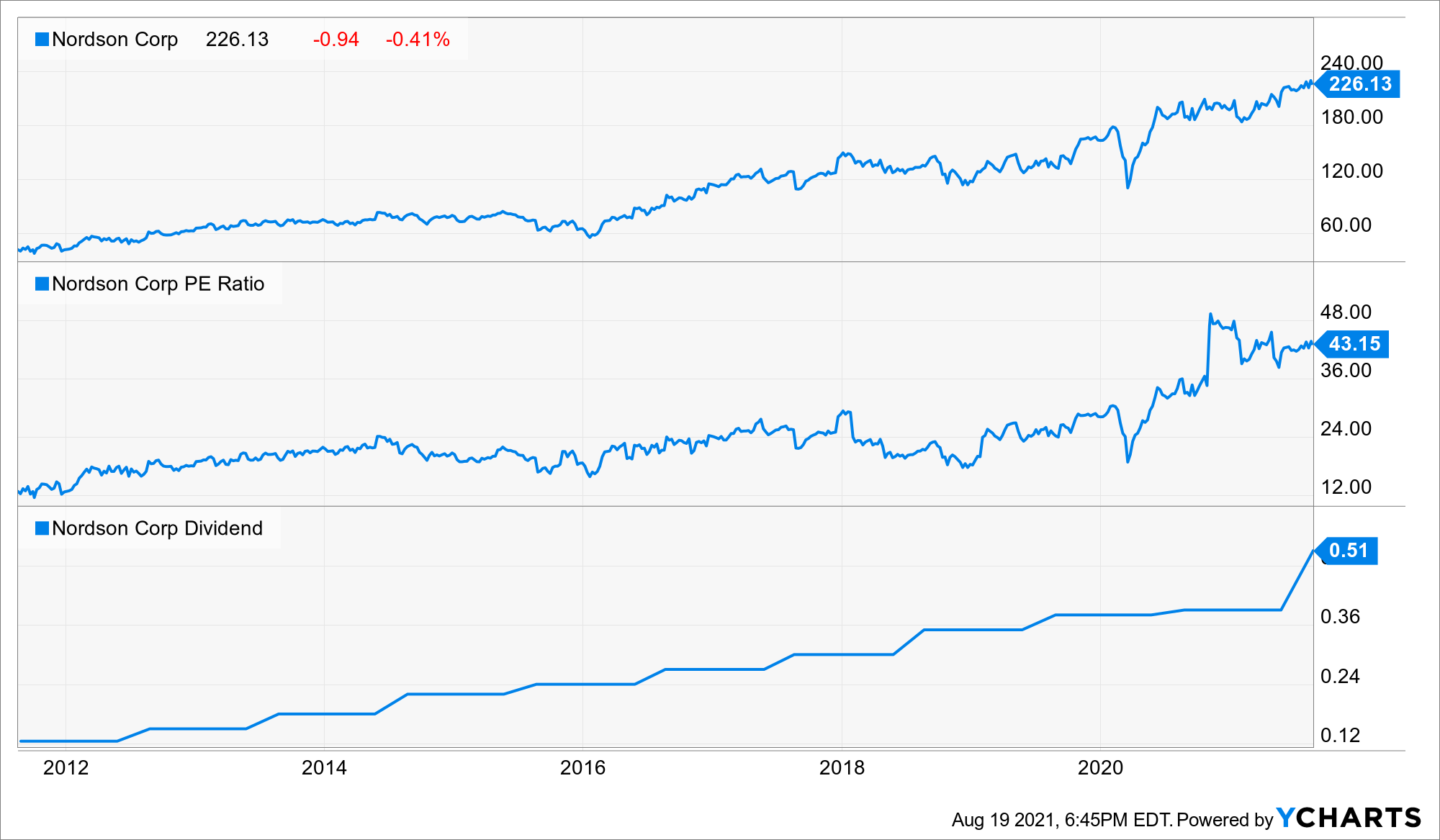 Yeah, that's kind of how it works with these high-quality compounders. The super cheap low-quality stocks are cheap because, drum roll, they haven't performed well. Stocks like one have gotten expensive because they've been blockbuster performers. This stock is up almost 420% over the last decade. Now sporting a P/E ratio of almost 44, the expensiveness has become a bit much, in my opinion. And some of the stock's performance over the last 10 years could be argued as simple multiple expansion. But if you get a correction in this name, I'd recommend taking a good look at it.
— Jason Fieber
Are You Paying Attention to Apple's Project Titan?
[sponsor]
The analyst who was ranked as America's #1 Stock Picker in 2020 by TipRanks details the 40X opportunity behind Apple's "Project Titan."
Click Here To Learn More.
Source: Dividend and Income