As a dividend growth investor, Dividend Aristocrats are some of my favorite stocks.
Why? These are stocks that have increased their dividends for at least the last 25 consecutive years.
This is the creme-de-la-creme of stocks. After all, it takes a special kind of business to be able to reliably and consistently pump out ever-higher dividends for decades on end. Those ever-higher dividends serve as the "proof in the pudding", if you will.
They prove out the consistent profit growth necessary to sustain those growing dividends. As you might imagine, special businesses like these tend to outperform the market over the long run.
Meanwhile, they pay out some of the safest possible dividends you can find. I think of high-quality dividend growth stocks as the golden geese that lay ever-more golden eggs.
Well, Dividend Aristocrats are some of the most radiant golden geese out there. Many of these stocks are very well-known by investors. But some fly under the radar, which could be your opportunity.
Today, I want to tell you about three under-the-radar Dividend Aristocrats that should definitely be on your radar.
Ready? Let's dig in.
Under the Radar Aristocrat #1: Chubb (CB)
The first under-the-radar Dividend Aristocrat I want to highlight is Chubb (CB).
Chubb is a property and casualty insurance company with a market cap of $80 billion.
When's the last time Chubb has come up in a conversation with someone? Probably never. Despite that, this Dividend Aristocrat keeps chugging – or is that chubbing – along higher, year after year. The stock has nearly tripled over the last 10 years. Meanwhile, their dividend keeps chugging along higher, too.
This company has increased its dividend for 28 consecutive years.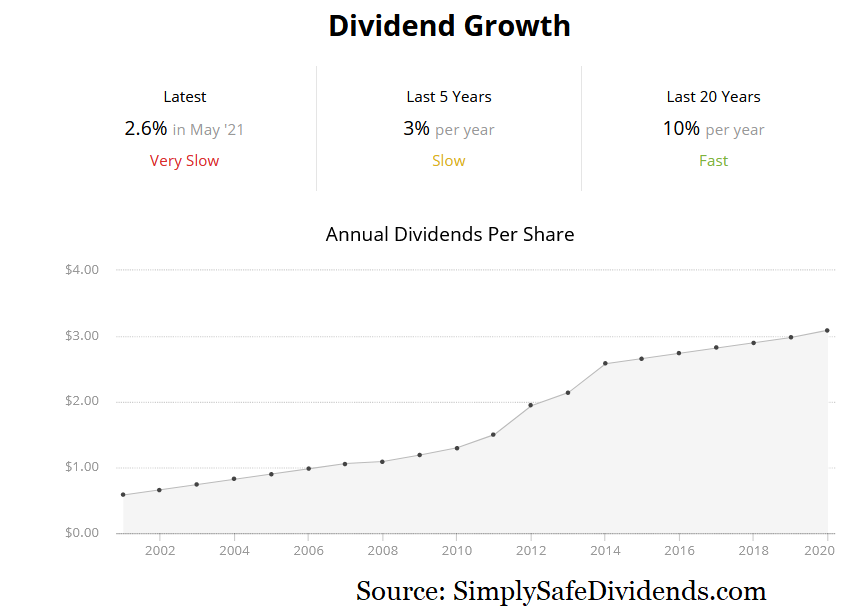 Their 10-year dividend growth rate is 9.1%, which is plenty of growth to go along with the yield of 1.8%. Recent dividend raises have been small, but I've noticed that insurance companies tend to have these bursts of huge dividend raises followed by a series of smaller ones. But things average out very nicely over the long run. Meanwhile, the very low payout ratio, at below 20%, shows you that this dividend is not gonna stop growing anytime soon.
Insurance is one of Warren Buffett's favorite industries, and I can see why.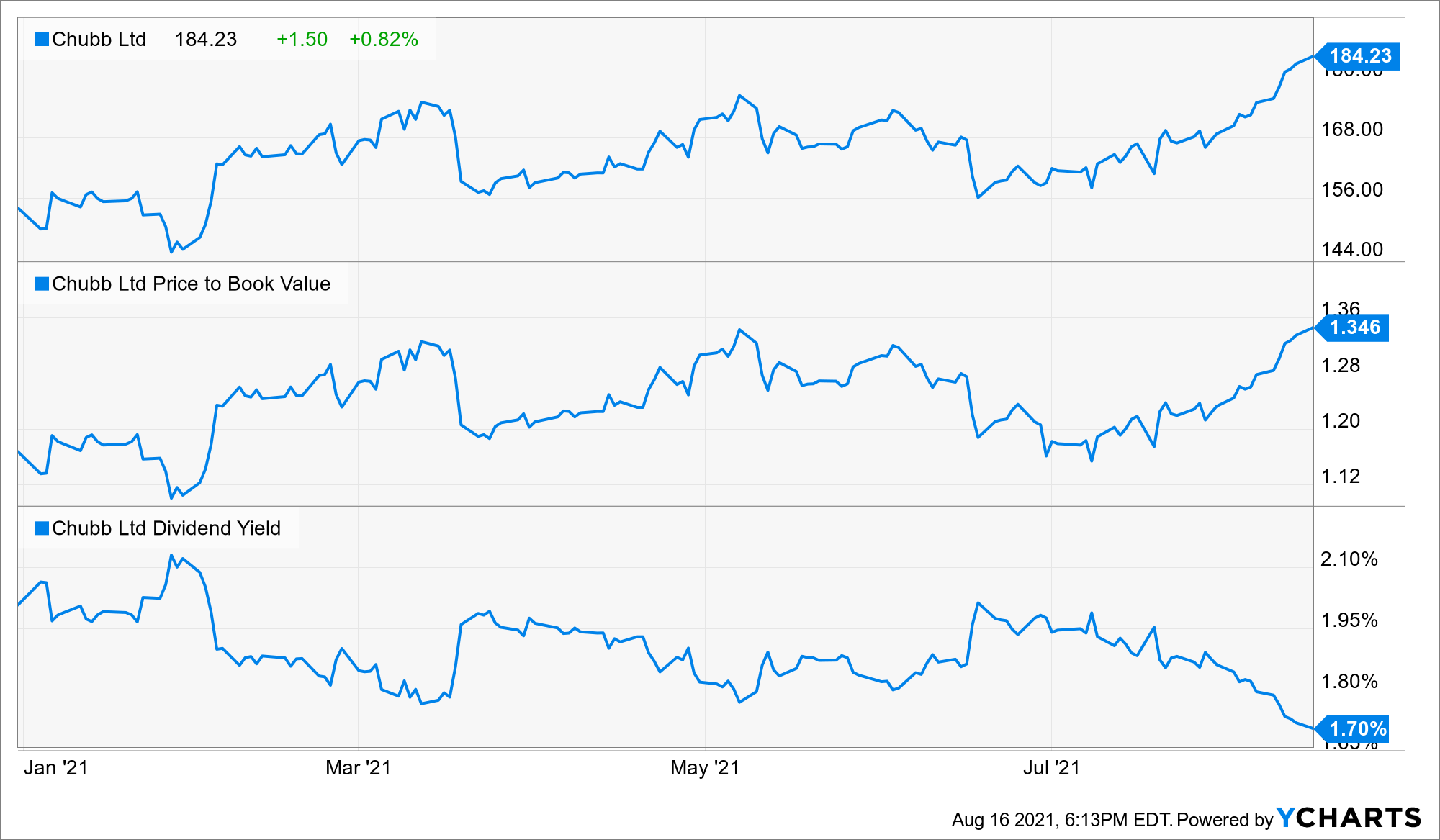 Insurance companies like Chubb build up a float, which is this low-risk source of capital that can be used to earn a nice return on. This float gets built up through the delay between premiums collected and claims paid. It's literally the definition of making money on OPP – other people's money. This stock is up 21% YTD, so some investors have clearly already caught on. But most of the basic valuation metrics show a reasonable valuation here. The P/B ratio of 1.3, for instance, is right in line with its five-year average. Take a look at Chubb if you haven't already.
Under the Radar Aristocrat #2: Genuine Parts (GPC)
Next up, let's talk about the Dividend Aristocrat that is Genuine Parts (GPC).
Genuine Parts Company is an automotive parts distributor with a market cap of $18 billion.
"Oh, you've just gotta get into Genuine Parts Company stock", said nobody ever. And that's why I'm talking about it today. It's a Dividend Aristocrat that flies way under the radar. I'd be willing to bet most people have never even heard of the company. But if they own a car, the odds are good that they've got a part somewhere on that car that came from GPC.
Genuine Parts Company has increased its dividend for 65 consecutive years.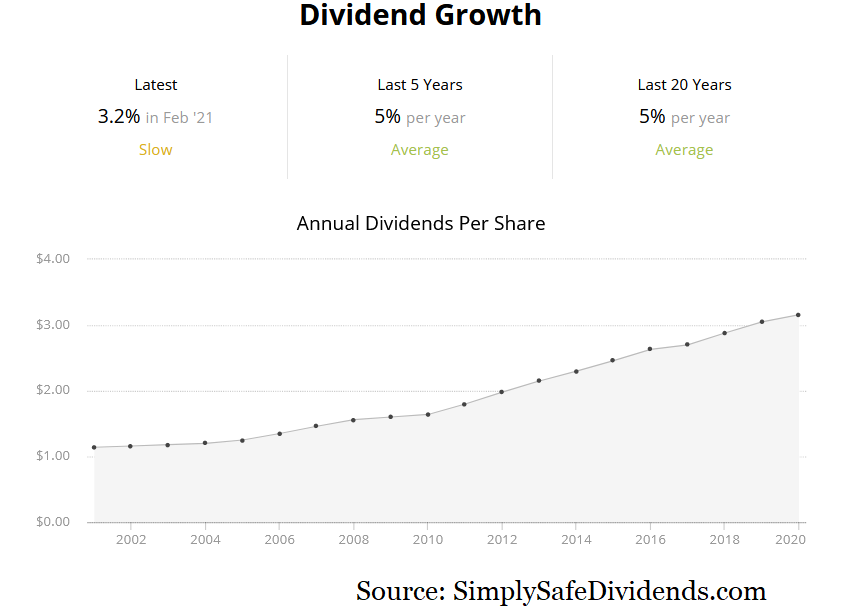 They're not just a Dividend Aristocrat. They're a Dividend Aristocrat more than twice over. Actually, once they hit 75 consecutive years of dividend increases, they'll be a Dividend Aristocrat three times over.
That's how reliable this dividend has been and continues to be. The 10-year dividend growth rate of 6.8% won't knock you dead. Neither will the stock's yield of 2.6%. But it's a steady-eddy dividend that continues to flow and grow like clockwork, making it a beautiful, reliable golden goose laying ever-more golden eggs. And with the payout ratio at less than 60%, the dividend remains well covered.
This stock is up almost 30% YTD, but the valuation is not stretched at all.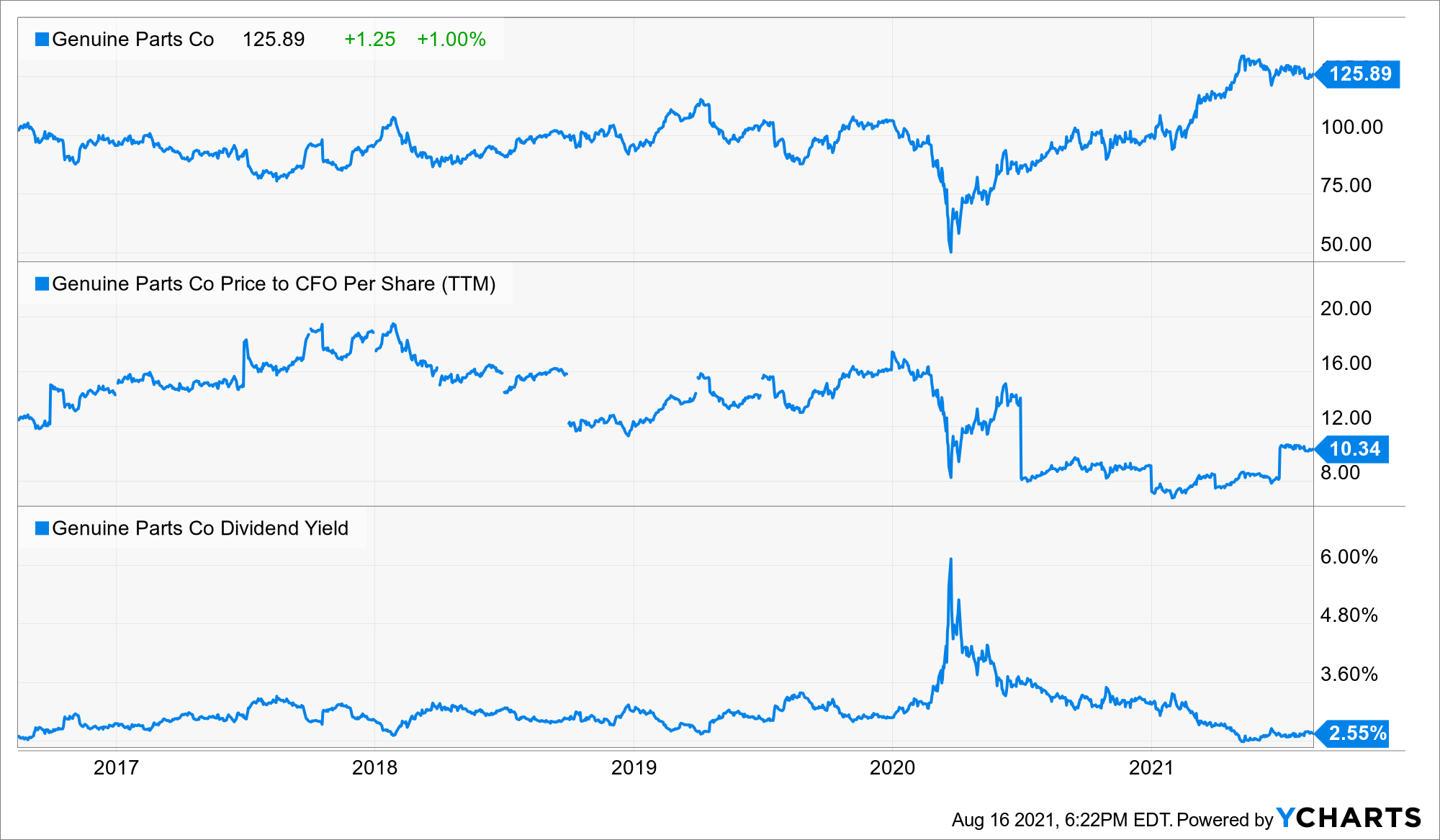 Consider that the P/CF ratio of 10.3 is well off of its five-year average of 13.5, so the multiple you're paying on the company's cash flow today isn't bad relative to what it typically is. I actually showed this stock's appeal and undervaluation in a video last year when it was $75/share (URL: https://youtu.be/9IGFhy8LuQE). Even though it's up about 65% since that video, this under-the-radar Dividend Aristocrat should definitely be on your radar.
Under the Radar Aristocrat #3: Illinois Tool Works (ITW)
Last but not least, let's talk about Dividend Aristocrat Illinois Tool Works (ITW).
Illinois Tool Works is a manufacturer with a market cap of $74 billion.
Illinois Tool Works is one of those classic Dividend Aristocrats that gets very little love in terms of wide coverage, yet it continues to quietly perform magic for those investors who understand and appreciate the business and own its shares for the long haul.
They've increased their dividend for 46 consecutive years.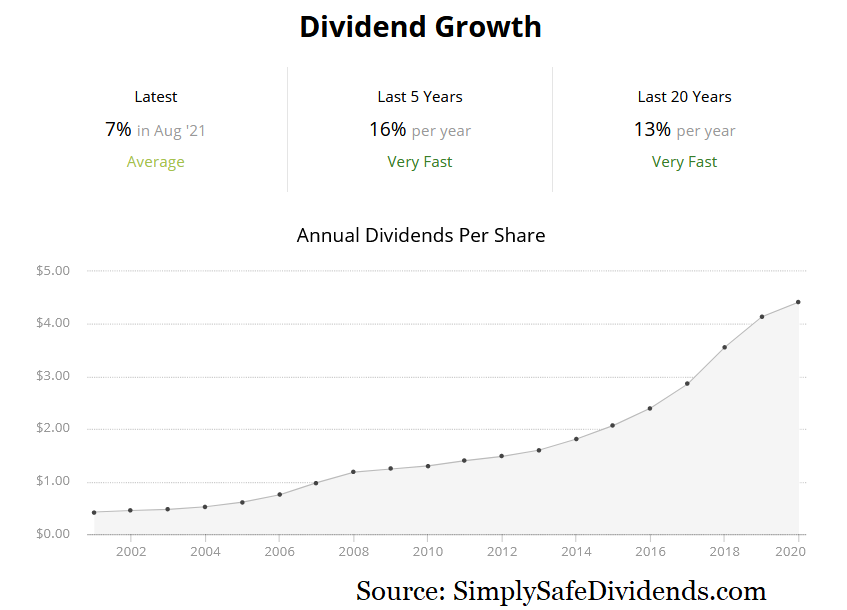 That's longer than I've been alive. When you have a company that can increase its dividend for more years than your lifetime, you know you've likely got a reliable winner on your hands. Their 10-year dividend growth rate of 13.1% is the highest of these three stocks, and the 2.1% market-beating yield is nothing to shake a stick at. Meantime, the dividend is handily covered with a payout ratio below 60%.
This stock is up more than 400% over the last 10 years.
Despite the fact that I almost never hear anyone talking about the stock, it's been a blockbuster performer. However, even though that huge run might make you think that the stock is way overpriced, I'd beg to differ. The stock's five-year average yield is 2.2%. So we're only 10 basis points away from that. And the P/E ratio of 28, while a bit up there, makes sense.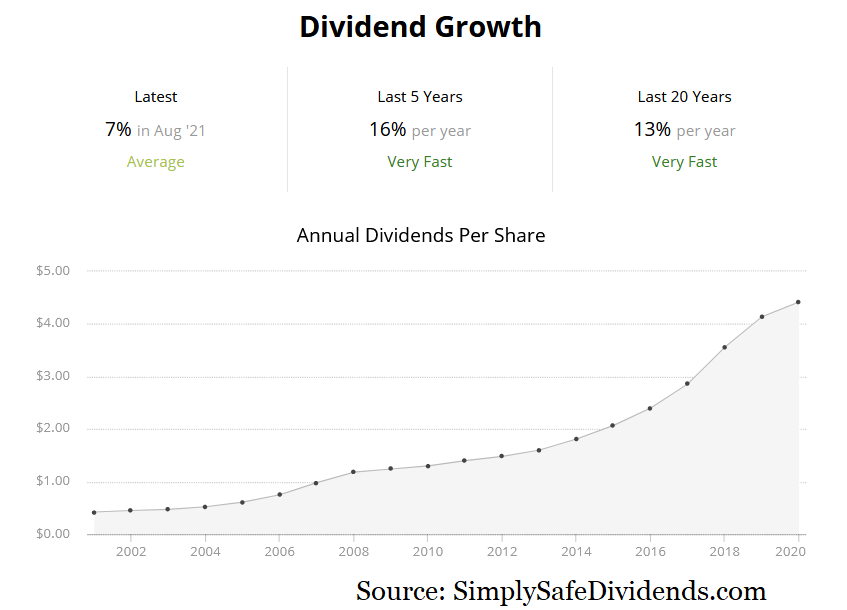 A high-quality company deserves a high earnings multiple. Keep in mind, this one typically gets a premium – its five-year average P/E ratio is 25. I think waiting for a dip might make sense, but don't let this under-the-radar Dividend Aristocrat slip from your fingers if the right opportunity to buy some presents itself. If it wasn't on your radar before, now it is.
— Jason Fieber
P.S. If you'd like access to my entire six-figure dividend growth stock portfolio, as well as stock trades I make with my own money, I've made all of that available exclusively through Patreon.
Where to Invest $99
[sponsor]
Motley Fool Stock Advisor's average stock pick is up over 350%*, beating the market by an incredible 4-1 margin. Here's what you get if you join up with us today: Two new stock recommendations each month. A short list of Best Buys Now. Stocks we feel present the most timely buying opportunity, so you know what to focus on today. There's so much more, including a membership-fee-back guarantee. New members can join today for only $99/year.
Source: DividendsAndIncome.com