Home values are at all time highs in most of the country right now, and a lot of investors think that double-digit annual yields (or "cash on cash returns" as we call them in the industry), are not possible on rental properties. That's simply not the case.
With the right neighborhood and property, 10%-plus yields are indeed possible with as little as $25k out of pocket.
To show you what I mean, consider this investment property I recently came across…
After a little digging, I found a 3 bedroom single family property on the market in Portsmouth, Virginia that's selling for $95,000.
A conventional loan for a property like this will require a 20% ($19,000) downpayment and have about $5,000 in closing costs.
In Virginia, the rule of thumb on closing costs for a residential purchase with a mortgage is that your closing costs will be 3% of the purchase price or $5,000 — whichever is greater. That holds true up to about $600k.
This puts you at $24,000 out of pocket to acquire the property, which leaves $1,000 left over to handle any deferred maintenance or repairs that you may have inherited with the property.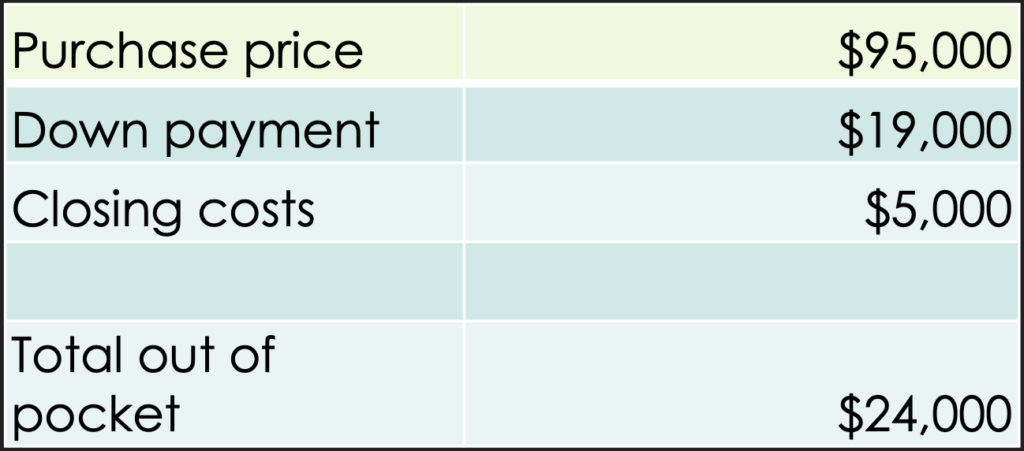 In my opinion, it's a good practice to meet with your tenants as soon as possible and ask them if they have any issues with the property that need to be addressed. If they do, you'll want to handle them quickly.
This will start your relationship off right and show your tenants that you're going to be a good, attentive landlord.
Interest rates on a conventional, non-owner occupied property are about 4.5% right now… so with $19,000 down, you would have a loan amount of $76,000.
Now, your mortgage payment is made up of four items we refer to as "PITI": Principal, Interest, Taxes and Insurance.
The principal and interest portion of your payment would be $385… the taxes on this property are $127 per month… and the insurance on a property like this would be about $100 per month. Added up, that brings your total monthly payment to $672.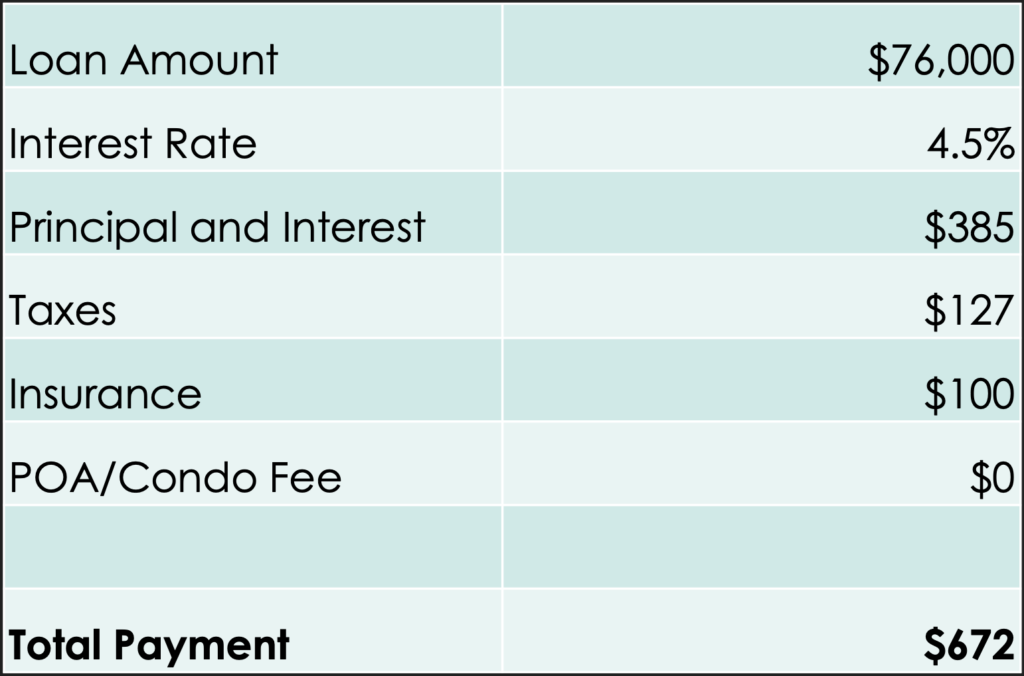 One of the reasons I selected this property is because 3 bedroom homes in this neighborhood and condition will rent for about $1,100 per month.
If you live near the property that you're purchasing, you can maximize your yield by managing the property yourself.  If you're purchasing remotely, you'll inevitably need property management… and while that will take a lot of work and stress off of your plate, it will also reduce the yield.
It's tempting to simply subtract the mortgage payment from the rent and assume that it will be the monthly cash flow, but it's critical to not overlook maintenance and repairs. The average property that my team and I manage here at Inlet Realty goes through about $1,000 worth of maintenance annually. Therefore, we need to factor in $85 per month for a maintenance budget.
Some properties will have a homeowners association (HOA) or condo association fee that needs to be part of the budget as well. There isn't one for this particular investment property.
With all expenses accounted for, this property will have a monthly cash flow of $343 ($4,116 annual), which results in a 16.4% cash on cash return on a $25,000 investment.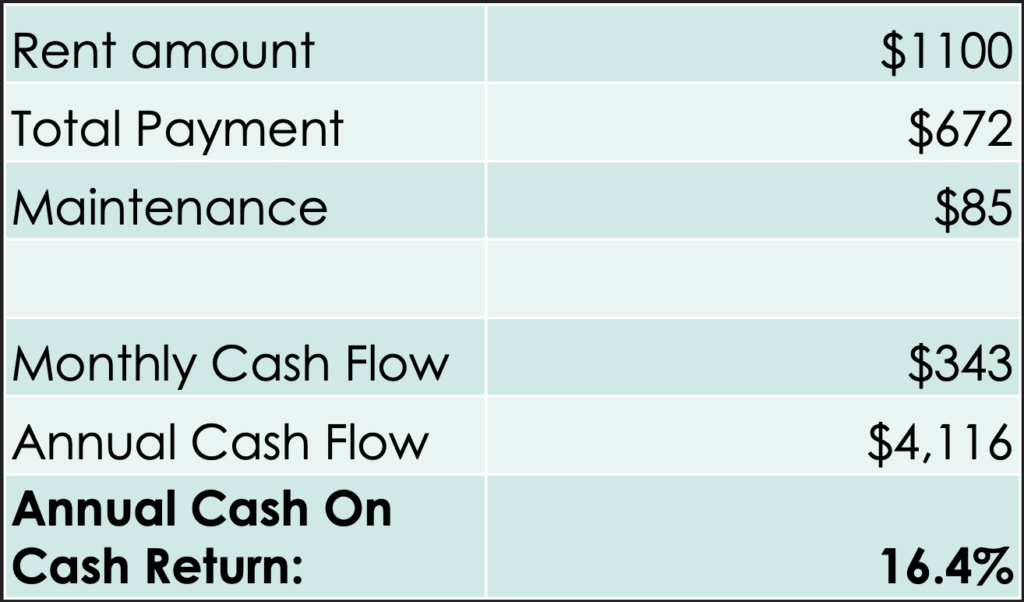 It's important to note that not all properties make good rentals, so it's critical that each property be underwritten carefully.  I like to look at three parts of the property up front. I call them "The Trifecta": the roof, the windows, and the HVAC.  When these items fail, replacing them adds little value to the home and nothing to the amount of the rent you receive. Yet you must do them, and none of them are cheap.
This particular property has a nice, architectural shingle roof in the middle of its life, and vinyl replacement windows.  The HVAC in this property is electric baseboard heat and window air conditioners. While they're not ideal for drawing the top of the market rent, they're inexpensive to maintain and replace when needed.
Not every property and not every city and neighborhood will make a good rental.  To see if you're close, the monthly rent should be about 1% of the purchase price.  If you're close to that number, it's worth the time to take a closer look at all of the expenses and see what the true projected return will be.
At the end of the day, I know investing in real estate remotely makes a lot of people nervous… but teamed up with the right Realtor and property manager, there's no better way to create long-term wealth and income.
Christian Phillips
Inlet Realty, Owner and Real Estate Broker
P.S. I just put together a video on this particular investment property that goes into a little more detail than what I covered in this article today. Check it out here if you're interested: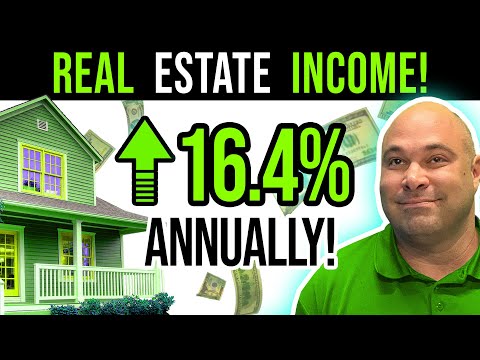 P.P.S. If you have any questions, or if you're interested in working with me to help you find and manage an investment property, feel free to reach out to me over at Inlet Realty. My team and I help walk our clients through every step of the process: from finding a property… to purchasing it… to renovating it (if needed)… to managing it. All of which can help you invest in property for both long-term wealth building and current passive income.
America's #1 Stock Picker: BUY "AMZN of Houses"
[sponsor]
Luke Lango, the analyst crowned America's #1 Stock Picker, reveals the one small tech stock he says every investor needs to know about RIGHT NOW... Free of charge.
Click here to see it.
Source: Dividends and Income