Dividend Aristocrats are stocks that have increased their dividends for 25 or more consecutive years. As of the end of 2020, there were 66 stocks in the S&P 500 Dividend Aristocrat index.
These is a highly exclusive list, limited to only some of the most successful businesses in existence. After all, you have to do so many things just right in order to pay out a growing dividend for decades on end. There are plenty of companies out there that aren't even profitable, let alone able to pay a dividend.
A dividend growing like clockwork year in and year out? Forget about it. As you might imagine, Dividend Aristocrats tend to be excellent long-term investments. So excellent, in fact, that some of them have attracted the attention and capital of Warren Buffett himself.
Warren Buffett built a fortune of over $100 billion purely through investing, and that's after giving away billions of dollars already. Buffett knows a thing or two about investing. And Dividend Aristocrats know a thing or two about consistently growing their profits and their dividends.
Today, I want to tell you about five Dividend Aristocrats that Warren Buffett is invested in via the common stock portfolio he manages within Berkshire Hathaway.
Ready? Let's dig in.
Buffet Owned Dividend Aristocrat #1: AbbVie (ABBV)
The first Dividend Aristocrat I want to tell you about is AbbVie (ABBV). Warren Buffett's got almost $3 billion invested in the biopharmaceutical company.
While AbbVie's dividend growth track record as an independent business is technically not yet 25 consecutive years, their dividend growth track record actually dates back to the legacy Abbott Laboratories company they used to be a part of before being spun off in 2013.
AbbVie is a phenomenal business with the #1 selling pharmaceutical in the world – Humira.
With the stock yielding 4.7% and pumping out growing dividends like clockwork, it's a fantastic long-term idea for dividend growth investors. We put out a video covering AbbVie and discussing its undervaluation back in November when the stock was $85/share.
It's now $110/share. But Buffett clearly believes in it. And so do I.
Buffet Owned Dividend Aristocrat #2: Chevron (CVX)
The second Buffett-backed Dividend Aristocrat is Chevron (CVX). Warren Buffett has backed the oil giant to the tune of almost $5 billion.
Berkshire Hathaway has put some serious money to work here. Their 33 consecutive years of dividend raises, 5% yield, and 10-year dividend growth rate of 6.2% might have something to do with it.
The stock's five-year average yield is just 4.3%, so there could still be an opportunity here.
Even after a run, Chevron remains a high-yielding Dividend Aristocrat gushing dividends almost as much as they gush oil.
Buffet Owned Dividend Aristocrat #3: Johnson & Johnson (JNJ)
Next up is Johnson & Johnson (JNJ).
Buffett has about $55 million invested in this healthcare machine.
Sure, that's a small position by Buffett's standards. But I tell you what. I'd be very happy to have $55 million worth of Johnson & Johnson stock in my portfolio. This is one of my very favorite high-quality dividend growth stocks for the long term.
Johnson & Johnson has a AAA-rated balance sheet and 59 consecutive years of dividend increases.
The company may as well be renamed Johnson & Quality. It does almost everything well. And with a 2.6% yield and an undemanding valuation, it's not hard to see why it's one of my top five stocks for 2021.
Buffet Owned Dividend Aristocrat #4: Coca-Cola (KO)
The fourth Buffett-backed Dividend Aristocrat is Coca-Cola (KO).
I'm not sure if Buffett loves drinking Coke or investing in Coke more – he's got more than $21 billion invested in the global beverage business.
Coca-Cola has 20 different billion-dollar brands. Buffett's got a billion invested for each one of them. Now, Coca-Cola won't blow your doors off with growth. It's instead just a consistent business that slowly plods along. That consistency bleeds down to the dividend.
This Dividend Aristocrat has increased its dividend for 59 consecutive years.
And the combination of yield and growth isn't too bad here. The stock yields 3.1%. And the 10-year dividend growth rate is 6.4%. The P/E ratio of over 30 is elevated, largely because of depressed GAAP EPS from the pandemic. But a dip in this stock could be a great opportunity to invest alongside Buffett in one of the most recognized businesses on the planet.
Buffet Owned Dividend Aristocrat #5: Procter & Gamble (PG)
Last but not least, let's discuss Procter & Gamble (PG).
Buffett's stake in the consumer products company is worth about $43 million.
Not a huge stake. But this is more than enough for us mere mortals. Procter & Gamble has 22 billion-dollar brands under its belt. Their products, ranging from toothpaste to razor blades, have a utility, necessity, and ubiquity that keep the profits and dividends flowing and growing.
Speaking of which, this Dividend Aristocrat has increased its dividend for 65 consecutive years.
With a 2.5% yield and a recent dividend increase to the tune of 10%, Procter & Gamble has a legendary reputation for rewarding shareholders. Almost as legendary as Buffett's investing prowess. Here, you combine both legends into one stock. The P/E ratio of 25 indicates an elevated valuation, but I can't see why this stock would be cheap. Keep an eye out for any dips.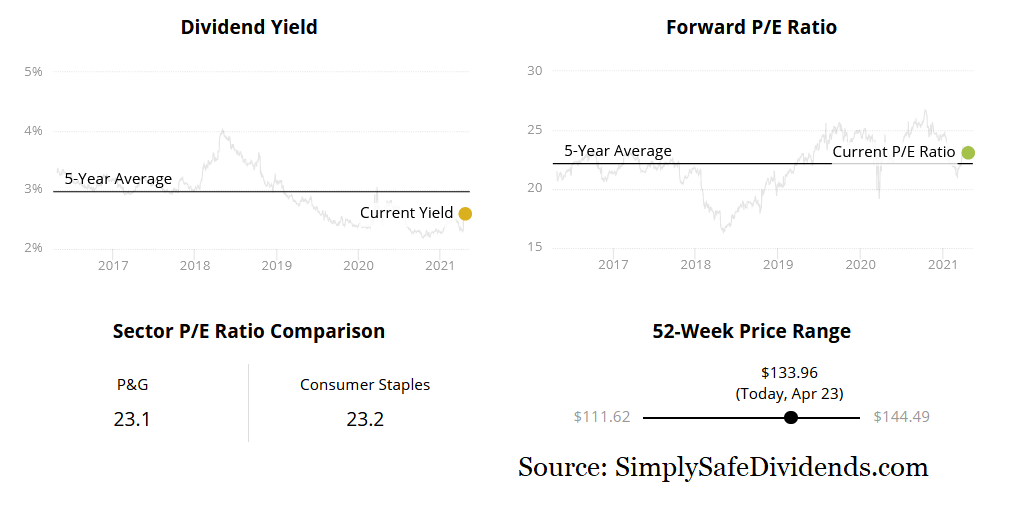 — Jason Fieber
P.S. If you'd like access to my entire six-figure dividend growth stock portfolio, as well as stock trades I make with my own money, I've made all of that available exclusively through Patreon.
This article first appeared on Dividends & Income
We're Putting $2,000 / Month into These Stocks
The goal? To build a reliable, growing income stream by making regular investments in high-quality dividend-paying companies.
Click here
to access our Income Builder Portfolio and see what we're buying this month.