Electric vehicles are the future. That's where transportation is going. Most major auto manufacturers are now bending over backwards to ramp up EV production.
Investors can choose to ignore this. Or they can get on board and make some money. I don't know about you, but I like that second idea a lot better.
Unfortunately, a lot of businesses in the EV space aren't great investments for dividend growth investors. That's because you're often looking at sky-high valuations, poor fundamentals, and no dividends.
Paying a super high price for no sign of profit anywhere on the horizon? And no dividends? And not even very much certainty that the business will actually survive?
No bueno.
However, there are some high-quality dividend growth stocks out there that can and will cater to the oncoming EV wave. These are wonderful businesses that earn a ton of profit and pay out safe, growing dividends.
I want to tell you about three high-quality dividend growth stocks that fit this mold. These stocks will do well no matter what, but they could do especially well in the EV future. And each of these businesses cater to a different aspect of this EV future.
Ready to profit and collect safe, growing dividends from EVs?
Let's dig in.
EV Boosted Stock #1: Albemarle Corporation (ALB)
The first stock I want to tell you about is Albemarle Corporation (ALB).
Albemarle is one of the world's largest lithium producers.
All of those EVs? They require batteries. And all of those batteries? They require lithium. That's where Albemarle steps in. And this isn't some new kid on the block.
This is a Dividend Aristocrat, with 27 consecutive years of dividend increases.
They've built this amazing track record of growing its profit and dividend on the back of high-quality chemicals and catalysts operations that steadily chugged higher and higher over time. Adding lithium to the mix a few years back was transformative at just the right time. They're perfectly positioned for the EV wave.
The stock yields a bit over 1%, so it's not an income stock. This is one that'll go to work for you and compound your wealth and passive income while you sleep.
While it might look expensive at first glance, the P/CF ratio of 19.2 isn't that much higher than its own three-year average of 18.5. Yet they're arguably in a more advantageous spot now than they've ever been. Put this stock on your shopping list if you want to be part of the future of transportation and energy.
EV Boosted Stock #2: Magna International (MGA)
The second stock I want to share with you is Magna International (MGA).
Magna is a major supplier of components to the auto industry.
Those EVs have doors, steering wheels, and seats just like all other cars. Magna has been making money with these components for a long time, and they'll continue to do so with EVs. Tesla, for example, is one of their customers.
Magna has increased its dividend for 12 consecutive years, and an EV future sets them up to continue growing that dividend like clockwork.
The yield is near 2%, and Magna has a 10-year dividend growth rate of 20.2%. Wow. This dividend growth is largely possible because Magna doubled its FCF over the last decade. Just keep in mind that this is a Canadian stock, so that dividend could have a foreign tax withholding for Americans that you'd have to claim back at tax time.
The only bummer? The stock's gone on a huge run.
It's up more than 160% over the last year. That's great if you bought in a while ago. Not so great if you want to buy now. But when a train is chugging along, you can either complain that you didn't get in at the start or jump on and enjoy the ride that's still to come. Look for any kind of pullback in Magna shares as an opportunity.
EV Boosted Stock #3: Algonquin Power & Utilities (AQN)
The third stock is Algonquin Power & Utilities (AQN).
Algonquin is a utility company that's heavily building out its green energy portfolio.
Those EVs don't run on air. They run on electricity. And it's companies like this one that'll produce the electricity those EVs need. Algonquin is a unique Canadian utility that has an extremely wide geographic footprint, reducing its regulatory exposure to any one municipality.
The company has increased its dividend for 12 consecutive years, with a 10-year dividend growth rate of 11.8%.
That double-digit dividend growth rate comes on top of the stock's current yield of 3.8%. Just keep in mind that what I said about Magna also applies to this stock in terms of the foreign tax withholding. In my view, this is an opportunity to get yield while you gain exposure to green energy and the oncoming shift to EVs. It's a one-two punch.
After all, how better to play clean transportation than with clean energy?
This isn't a stodgy utility, either. Revenue has sextupled and EPS has compounded at an annual rate of almost 24% over the last decade. Compared to other green energy utility stocks out there, I see AQN as an opportunity to sneak in at a lower valuation and snag a higher yield. Of the three stocks I'm talking about, I see this one as the most buyable right now.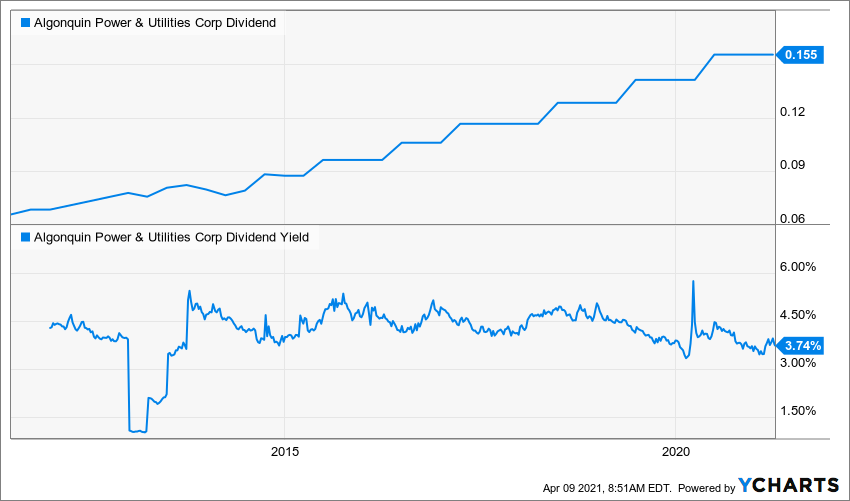 — Jason Fieber
P.S. If you'd like access to my entire six-figure dividend growth stock portfolio, as well as stock trades I make with my own money, I've made all of that available exclusively through Patreon.
Source: DividendsAndIncome.com