Dividends.
Doesn't that word just give you goosebumps? Dividends are great in so many ways. One thing that bothers some investors is that most US-based companies pay their dividends on a quarterly schedule. So that means there's a three-month gap between your dividend payments from a lot of stocks.
Now, that's not typically a big deal.
If you properly diversify your portfolio, you'll have a stable of businesses on different dividend payment schedules. This keeps things rotating in a way to where you're manufacturing a steady stream of monthly dividend income. If you aim to live off of dividends, you want to make sure you're getting that constant income to pay those constant bills.
Well, there are some special businesses out there that make this process even easier for investors.
That's because they pay monthly dividends.
Better yet, they pay safe, growing monthly dividends. You want a monthly passive income stream that's reliable and growing enough to keep up with the rising costs of life?
Then look no further.
I'm going to tell you about the top three dividend growth stocks that pay monthly dividends.
Let's dig in.
Monthly DGI Stock #1: Realty Income (O) 
Let's jump right into things with what is arguably the king of monthly dividend payers. I'm talking about Realty Income (O).
Realty Income is a legend. It takes its monthly dividend so seriously that it actually trademarked the phrase "The Monthly Dividend Company".
How can you not love that? And it isn't all bluster, either. They've paid 609 consecutive monthly dividends. This triple-net-lease retail REIT doesn't just talk the talk – they walk the walk.
Realty Income has increased its dividend for 28 consecutive years.
That dates back to its initial IPO. And they tend to increase their dividend as regularly as they pay it – that is, on a monthly schedule. What's better than a monthly dividend? One that's increasing monthly. And not just increasing a little bit, either – the 10-year dividend growth rate is 4.9%.
This monthly dividend is also one of the safest dividends out there.
The company is guiding for between $3.44 and $3.49 in adjusted funds from operations per share for this coming fiscal year, which easily covers the monthly dividend that adds up to $2.82/share annually. By the way, that dividend gives the stock a market-beating yield of 4.3%.
I view Realty Income as a must-own stock for serious dividend growth investors, and the monthly dividend is icing on the cake.  In fact, I recently listed it as one of the three dividend growth stocks to buy and hold forever.
Monthly DGI Stock #2: STAG Industrial (STAG)
The second stock I want to tell you about is STAG Industrial (STAG).
STAG is focused on single-tenant industrial properties, primarily in the logistics space.
All of that e-commerce? Yeah, all of that stuff whipping around requires a lot of logistics. Think warehouses and shipping facilities. STAG is meeting the demand for the future of real estate, which is why they collected 99.6% of base rental billings for last fiscal year.
This focus on the future of real estate is also helping to propel their monthly dividend. The stock offers a yield of 4.2%, with that dividend coming in every single month. And it's growing.
STAG has increased their dividend for 11 consecutive years. That dates back to their IPO. The five-year dividend growth rate of 1.1% is a bit disappointing, though. But this is a REIT that's aggressively building out the portfolio and positioning itself for the long run.
The market likes it, with the stock up 70% over the last five years. And the company generated $1.89 in core FFO/share last fiscal year, easily covering the monthly dividend that adds up to $1.45/share. That makes this dividend quite safe.
Monthly DGI Stock #3: Main Street Capital (MAIN)
Last but not least, let's discuss Main Street Capital (MAIN).
Main Street Capital kind of flies under the radar.
This business development company provides debt and equity financing to smaller businesses, and they've used those investments to fund internal growth and their juicy monthly dividend to shareholders.
Plus, this is a dividend that's grown for 10 consecutive years.
The 10-year dividend growth rate is 5.1%. And while BDC's are typically riskier investments due to their very business model, not even the pandemic could hurt Main Street Capital's monthly flow of dividends to their shareholders. That said, their distributable net investment income of $2.26/share for last fiscal year doesn't quite cover the monthly dividend that amounts to $2.46 per share per year.
To be honest, I view this dividend as the shakiest of the three I'm talking about today. But if you're an investor who's comfortable with being a bit more aggressive along the risk spectrum, MAIN can reward you.
How about a market-smashing 6.2% yield for a reward?
That's a massive dividend that's being paid monthly, and MAIN has a history of also paying out intermittent special dividends. I wouldn't bet the farm on a stock like this. But it could have a small place in a diversified dividend growth stock portfolio. Whereas the pandemic forced some former stalwarts like Walt Disney (DIS) and TJX Companies (TJX) to cut their dividends, MAIN is still standing. That speaks volumes.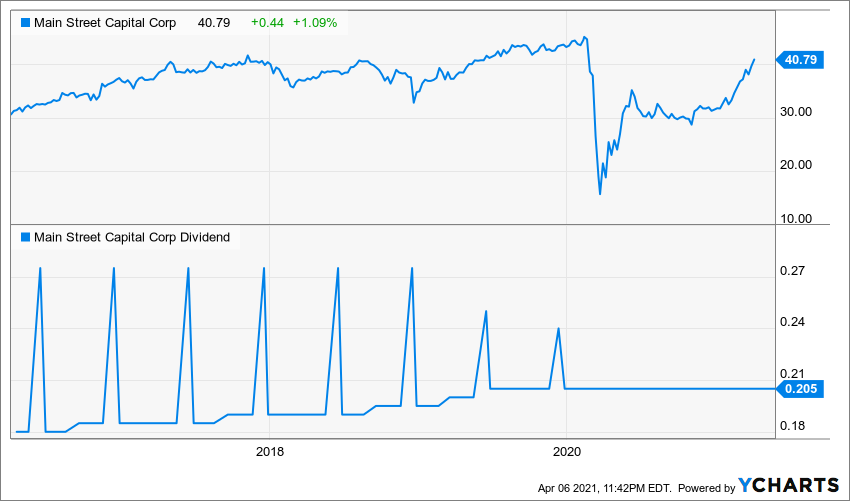 — Jason Fieber
P.S. If you'd like access to my entire six-figure dividend growth stock portfolio, as well as stock trades I make with my own money, I've made all of that available exclusively through Patreon.
Source: DividendsAndIncome.com
We're Putting $2,000 / Month into These Stocks
The goal? To build a reliable, growing income stream by making regular investments in high-quality dividend-paying companies.
Click here
to access our Income Builder Portfolio and see what we're buying this month.