President Joe Biden just unveiled a $2 trillion infrastructure plan. It's a very broad plan, impacting everything from housing to roads to technology. And while it'll likely change somewhat before it gets passed, we're talking about a lot money here.
No matter how the cookie ultimately crumbles, many, many companies are going to benefit from this plan. And that's where investors like you and I have an opportunity.
I want to share with you three stocks that could benefit directly from this plan. I picked these three stocks for three reasons.
First, they're all dividend growth stocks. As you readers know, I only make videos on and personally invest in dividend growth stocks. These are stocks that pay reliable, rising dividends because they're earning reliable, rising profits.
If you can't afford to pay a growing dividend or aren't willing to pay me my fair share of profits, I'm not interested.
Second, they're wonderful businesses that'll do well with or without this infrastructure plan.
That's right. These businesses are doing great already. And they'll continue to do well on their own volition. But they should see a nice boost from the infrastructure plan. Nothing wrong with some extra icing on an already delicious cake.
Third, each business is very different and will benefit from a different aspect of the infrastructure plan.
Want to know which three stocks I'm talking about? Let's dig in.
Infrastructure Stock #1: Caterpillar (CAT)
The first stock I want to bring to your attention is Caterpillar (CAT). Caterpillar has been doing great, is doing great, and will do great.
That's with or without more infrastructure spending.  But with a major part of Biden's plan allocating spending to the improvement of traditional infrastructure in things like roads and bridges, that infrastructure only gets built with the help of big machinery. And Caterpillar is a world-class machinery business.
By the way, those big machines cost big money. Caterpillar took in more than $4 billion in FCF last fiscal year. With $2 trillion about to rain down, that FCF likely goes up.
You know what else is going up? Caterpillar's dividend.
They've increased their dividend for 27 consecutive years, with a 10-year dividend growth rate of 9.1%. That growth makes up for some of the low yield, which is now below 2%.
The only bummer about Caterpillar stock? It's gotten expensive.
It's doubled over the last year, no doubt fueled by the anticipation of increased infrastructure spending. And the valuation, with a P/CF ratio of 20, looks rich. But Caterpillar is a long-term winner for sure, with or without Biden's plan.
Infrastructure Stock #2: Albemarle Corporation (ALB)
The second stock I want to tell you about is Albemarle Corporation (ALB). This company surprisingly flies a bit under the radar.
But I'd argue it shouldn't. It has a very solid set of legacy chemicals and catalysts businesses that helped propel it to Dividend Aristocrat status with 27 consecutive years of dividend increases. That's exciting in and of itself. But I'll tell you what's really exciting here.
After acquiring Rockwood Holdings in 2014, Albemarle became one of the world's largest lithium producers.  With Biden's plan specifically calling for additional infrastructure around electric vehicles and green energy, that translates to more batteries. And those batteries require, you guessed it, lithium.
With or without Biden's plan, the world is moving toward EVs. And Albemarle will almost surely benefit from that. It's just that Biden is trying to aid and accelerate this transition, which should aid and accelerate Albemarle's profit and dividend growth.
This stock, at under $150, is well off of its recent high of almost $190.
The valuation has become much more reasonable. With a yield of only 1%, it's not an income play. This is instead a long-term compounder – the stock would have turned $1,000 invested 10 years ago into almost $3,000 today.
Infrastructure Stock #3: Broadcom (AVGO)
Last but not least, let's talk about Broadcom (AVGO). A semiconductor company? Infrastructure? Huh? Hear me out.
Biden's plan allocates $50 billion for investment in semiconductor manufacturing and research. When you have billions of dollars sloshing around and headed toward semis, the main players will no doubt benefit from this.
But here's the thing: Broadcom has been hitting it out of the park.
Their FCF is up almost 20x over the last decade. If some extra spending gives them a boost, all the better. We're talking about a business that's already set to profit tremendously from the 5G megatrend. If they get a little extra love, that's all the more reason to own this name.
Broadcom is one of the very best semiconductor businesses out there, and it's a direct way to play 5G.
We put together a video analysis and valuation video back in July, highlighting how attractive this stock was at $300. It's now climbing toward $500, so it's definitely not as cheap as it was when I brought it to your attention last year.
But this stock sports 11 consecutive years of dividend increases, a five-year dividend growth rate of 52.1%, and a yield of 3.1%. I called it a "dream stock" in July. And I think it still is. Look for any opportunity to snag this fantastic dividend growth stock for your own portfolio, and plan on holding it for many years.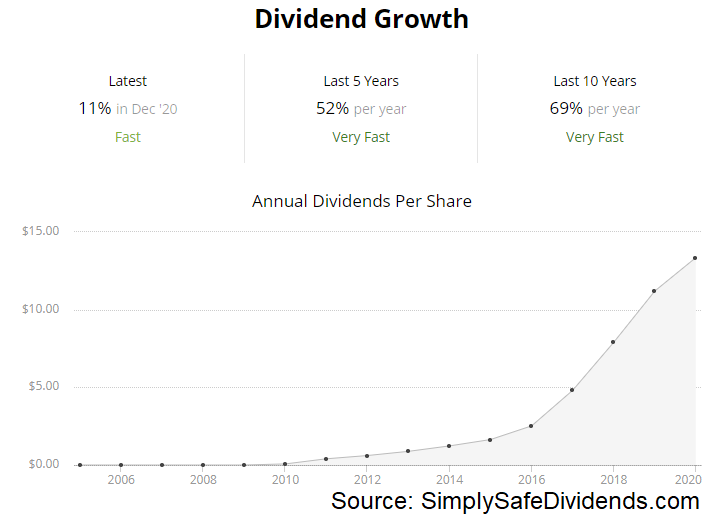 — Jason Fieber
P.S. If you'd like access to my entire six-figure dividend growth stock portfolio, as well as stock trades I make with my own money, I've made all of that available exclusively through Patreon
Source: DividendsAndIncome.com