Investing is a long-term pursuit. Despite what you might see sometimes on the internet, almost nobody successfully gets rich quickly and then stays rich. Most get-rich-quick schemes are just that – they're schemes.
What I propose instead is to get rich slowly but surely. This way, you also stay rich. Achieving financial freedom is like climbing a mountain. It's a long-term challenge that you grind out over a period of years of your life.
But let me tell you, the view from the top is totally worth it. So before you try to sprint up that mountain and risk falling all the way back down, develop a long-term mindset.
With that said, I'm going to tell you about three dividend growth stocks to buy and hold forever.
That's right. Forever. Once you buy them, hold on for dear life.
Because these are tremendous long-term wealth compounders that'll make that climb to the mountaintop so much easier than it'd otherwise be.
These stocks are like anti-gravity. They will lift you, your wealth, and passive income up.
I own all three of these stocks in my personal portfolio, and I can tell you I've never sold a single share of them. Want to know which three stocks I'm talking about?
Let's dig in.
Forever Stock #1: Johnson & Johnson (JNJ)
The first stock I want to share with you is Johnson & Johnson (JNJ). This is one of the highest-quality dividend growth stocks on the planet.
There's the storied corporate history dating back to the 1800s. The tremendous brands. The AAA-rated balance sheet. There's also the fact that this company sports 58 consecutive years of dividend increases – one of the longest dividend growth streaks in existence.
That kind of track record speaks for itself.
Meanwhile, the stock yields a market-beating 2.5% right now. So you get an attractive yield and almost-guaranteed dividend growth here.
Oh, you want wealth, too? Okay.
Johnson & Johnson is a healthcare machine that provides billions of people with pharmaceuticals, medical devices, and personal consumer products.
But they may as well be thought of as a wealth machine. The stock was around $2 in the early 1980s. It's now over $160. And it'll almost certainly be much, much higher another 40 years from now.
This is the kind of stock you buy, hold, and reinvest those growing dividends, then watch your wealth and passive income pile up.
By the way, this is one my top five stocks for 2021. If you buy it in 2021, plan on holding it forever. This was one of the very first stocks I bought in 2010. I still have those shares. And I probably always will.
Forever Stock #2: Apple (AAPL)
The second stock I want to tell you about is Apple Inc. (AAPL).
It seems like some investors forget that this is a dividend growth stock. Well, I'm here to remind you.
Apple has grown its dividend like clockwork over the last decade. In fact, we just put out a recent video highlighting why Apple is about to increase its dividend yet again in about a month.
Apple only yields 0.7%. But the yield is low in part because the stock has been such a monster – it's up almost 100% over just the last year.
Kind of hard to complain about the low yield when Apple is basically the stock market's version of Santa Claus. Except, in this case, Christmas is every day.
That's because they're making the whole world like Christmas every day, providing incredible electronic devices and services within a sought-after ecosystem.
You don't get to a $2 trillion market cap by accident. This company is highly adept at giving the people exactly what they want – even when they didn't know they wanted it.
With Apple making money faster than I can put out a video detailing how much money they're making, the stock is likely headed much higher over the long run.
This isn't the kind of stock you buy for income today. It's the kind of stock you buy to compound your wealth and passive income over the long term.
Apple is one of the best in the world at doing just that for its investors.
If you're in it to win it for the long term, don't leave your portfolio devoid of Apple. This stock will  greatly help you to reach the financial freedom mountaintop and, more importantly, stay there.
Forever Stock #3: Realty Income (O)
The third stock I want to share with you is Realty Income Corp. (O).
Realty who? This isn't a household name like the other two, but long-term dividend growth investors should know exactly what I'm talking about.
Realty Income has been a dividend growth workhorse, increasing its dividend consistently ever since its 1994 IPO. In fact, they tend to increase their dividend multiple times per year.
You know what else happens multiple times per year?
This company's dividend hitting its shareholders accounts. That's because it pays a monthly dividend. And it's not just a monthly dividend but a large monthly dividend – the stock yields a mouth-watering 4.5%.
It pays that large monthly dividend because its real estate portfolio of thousands of properties generate monthly rents, which they pass on to their very happy shareholders in the form of that big monthly dividend.
Realty Income gives you yield. They give you dividend growth. They give you a monthly dividend. But wait, there's more. This is also an underrated wealth compounder, which is unusual for a stock offering generous income.
It has provided a compound annual rate of return of 15.3% between its 1994 IPO and the end of 2020. This stock gives you the opportunity to be a commercial real estate "landlord" and collect monthly "rent checks" without doing any of the hard work.
We recently put out a video highlighting the great fundamentals and attractive valuation of the stock.
There's nothing quite like a monthly stream of large, safe, growing dividend income to give you you, your wealth, and your passive income a boost as you climb the mountain to financial freedom.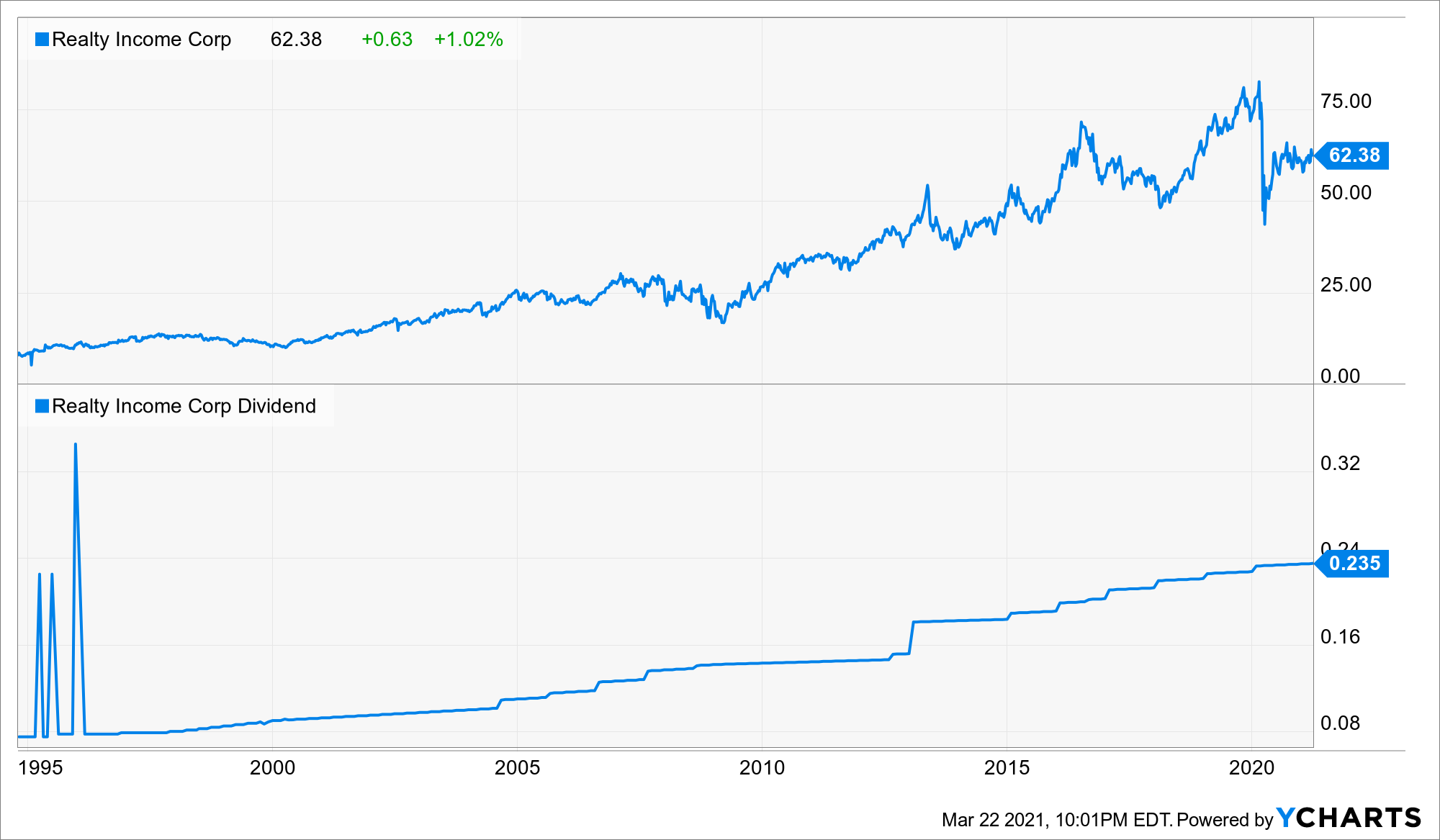 — Jason Fieber
P.S. If you'd like access to my entire six-figure dividend growth stock portfolio, as well as stock trades I make with my own money, I've made all of that available exclusively through Patreon.
Source: DividendsAndIncome.com