As part of the American Rescue Plan Act of 2021, millions of Americans are getting direct $1,400 stimulus checks. Almost 100 million of those stimulus checks already went out on March 17.
You hear that sound? Yeah, that sound right there? Yep. That's the sound of money.
The US government is spending about $400 billion on these checks. And we investors have the opportunity to take advantage of this. There are certain stocks out there that are sure to benefit big time from these checks.
Especially retailers.
These businesses are almost guaranteed to see additional revenue because of consumers' higher purchasing power. I know of three high-quality stocks that clearly fall into this category.
Better yet, these are dividend growth stocks. That means it's not just the retailers set to benefit from the stimulus checks. You can benefit, too, by virtue of the growing dividends these stocks are sending shareholders way.
Want to know which three high-quality dividend growth stocks I'm talking about?
Let's dig in.
Dividend Growth Stock #1: Home Depot Inc. (HD)
The first stock I want to tell you about is Home Depot Inc. (HD).
Home Depot is a super high-quality business that's rings up the profits and pays out increasing dividends like clockwork.
This home improvement retailer is an obvious beneficiary of a sudden boost in consumer spending. We're in the middle of a housing boom.
A pandemic, low interest rates, and structural issues with big American cities have motivated people to buy homes. And guess what those houses require? Yep. Lots of products and services from the likes of Home Depot.
We recently put out a video on Home Depot highlighting how attractive it is as a long-term dividend growth investment. The stock was a bit over $250 then. It's now at $280. But this thing could go much higher, in part because of those stimulus checks.
Home Depot is a no-brainer right now. It would do great without stimulus checks. With extra spending, it's that much better.
Dividend Growth Stock #2: Target Corporation (TGT)
The second stock I want to tell you about is Target Corporation (TGT).
This is one of the best retailers in the world.
Selection, footprint, service, speed, convenience, etc. You name it, they offer it.
After somewhat losing their way about 10 years ago, they've come roaring back as a stylish, preeminent retailer. They're once again known as "Tarjay".
We haven't done a video on this stock yet. Between its challenging valuation and the availability of competing ideas, the stars haven't yet aligned for coverage. But that makes it no less worthy as a long-term investment. It's a world-class dividend growth stock that has increased its dividend for 53 consecutive years.
I personally bought some Target stock in late 2018 for around $70/share. My big mistake? I didn't buy enough.
Target is practically a lock for seeing more spending from consumers who want to pick up everything from laundry detergent to yoga pants.
The stock doesn't look super cheap here with a P/E ratio of over 20. But why would it be cheap when it's firing on all cylinders and about to get a slice of $400 billion?
Target should definitely be on your shopping list if it isn't already. This is the kind of stock that you stock up on when you're given the opportunity.
Dividend Growth Stock #3: Williams-Sonoma (WSM)
The third stock I want to share with you is Williams-Sonoma (WSM).
Fundamentally, this is one of the highest-quality retailers I've ever seen.  You know that whole narrative about how legacy retailers are gonna get crushed by e-commerce?
Well, think again. Williams-Sonoma leaned hard into e-commerce years ago.  E-commerce makes up more than 50% of this company's sales. And it continues to drive a significant portion of their overall sales growth.
Williams-Sonoma printed an outstanding Q4 report on March 17 – their full-year EPS almost doubled YOY.
And that was before the latest round of stimulus checks. That was also during a pandemic. Just imagine what this business can do with full foot traffic back in their stores.
Our October analysis and valuation video on Williams-Sonoma highlighted the stock as a great long-term investment opportunity when it was still below $100.
It's now at $160 and climbing.
With the numbers they're printing, you might not ever see this stock below $100 again.
As with Home Depot, this is a housing play. But it's broader than that. Whether you own a house or rent an apartment, you need to furnish your space. And this retailer offers some of the best furnishings out there. It's a long-term winner.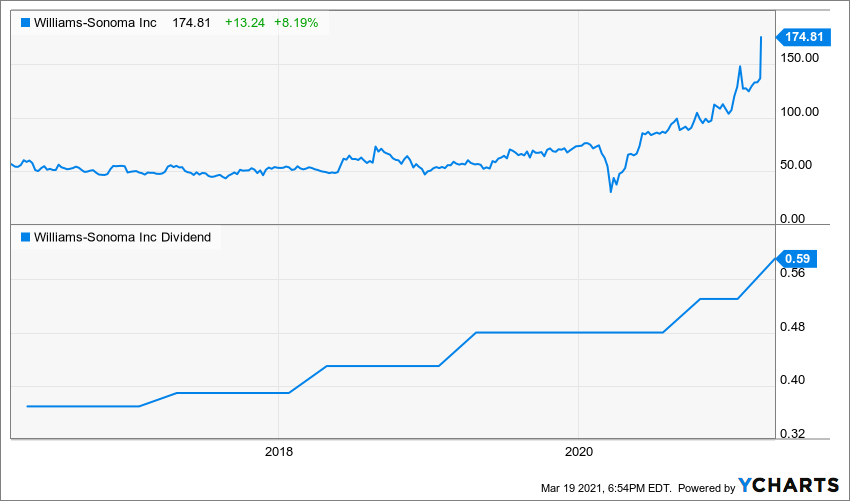 — Jason Fieber
P.S. If you'd like access to my entire six-figure dividend growth stock portfolio, as well as stock trades I make with my own money, I've made all of that available exclusively through Patreon.
Source: DividendsAndIncome.com
We're Putting $2,000 / Month into These Stocks
The goal? To build a reliable, growing income stream by making regular investments in high-quality dividend-paying companies.
Click here
to access our Income Builder Portfolio and see what we're buying this month.