Dividends. There's something about that word that gives me warm and fuzzy feelings. Dividends aren't just passive income. They're the passive income.
What I mean is, they're the most passive form of income. You do nothing other than own stock and literally wake up to fresh, new money you didn't go to sleep with. It doesn't get any better than that.
Actually, it does. Because high-quality dividend growth stocks are growing their dividends like clockwork. That means you don't just look forward to dividends. You look forward to dividend raises, which means more dividends.
After all, what's better than dividends? More dividends. And what's what today's article is all about.
I'm going to tell you about three high-quality dividend growth stocks that recently announced dividend increases.
These companies' shareholders are now collecting even more passive dividend income without lifting a finger.
Let's dig in.
Dividend Increase #1: W.P. Carey Inc. (WPC)
The first dividend increase comes courtesy of W.P. Carey Inc. (WPC).
W.P. Carey just increased their dividend by 0.2%. I know. Sounds paltry. But keep two things in mind. W.P. Carey tends to increase their dividend every quarter. There's almost certainly another dividend increase coming next quarter… and every quarter after that.
How can I be so sure? How about their sparkling track record? The company has increased its dividend for 24 consecutive years.
Also, keep in mind that this REIT offers a market-smashing 6% yield right now. You shouldn't expect, and don't need, huge dividend growth when a stock is offering up a yield that's four times higher than the broader market. This stock is perfect for income seekers.
By the way, W.P. Carey is one of my top five stocks for 2021.
Dividend Increase #2: Colgate-Palmolive Company (CL)
The second dividend increase came from Colgate-Palmolive Company (CL).
Colgate-Palmolive just gave their shareholders a 2.3% pay raise via their recent dividend increase. It's not a massive boost to the dividend. But it is more money. And easy money, at that. This dividend increase came after shareholders did, well, nothing… other than hold stock.
That's about the easiest "pay raise" you could possibly ask for. Passive income. Passive pay raise. Got to love it. This marks 58 consecutive years of dividend increases for Colgate-Palmolive.
This consumer products company's dividend is almost as reliable as the sun rising. If you want a dividend that's as close to guaranteed as it gets, this is it.
Dividend Increase #3: Qualcomm, Inc. (QCOM)
The third dividend increase I want to tell you about came from Qualcomm, Inc. (QCOM).
Qualcomm just announced a 4.6% dividend increase.
This semiconductor and IP company is a wonderful business that's poised to benefit big time from the rollout of 5G. In fact, one of our recent videos highlighted this stock as one of the best 5G stocks to buy now.
This is the 19th consecutive year of dividend increases for Qualcomm.
Truth be told, this dividend increase was smaller than what Qualcomm shareholders have enjoyed in the past. But when a 5% dividend increase is disappointing, you know you've got a great investment on your hands.
I think Qualcomm's long-term growth prospects are fantastic, and I imagine future dividend increases will be much, much larger. If you haven't already bought Qualcomm for your portfolio, make sure to circle it as a strong long-term investment idea.
This business, in many ways, is just getting warmed up.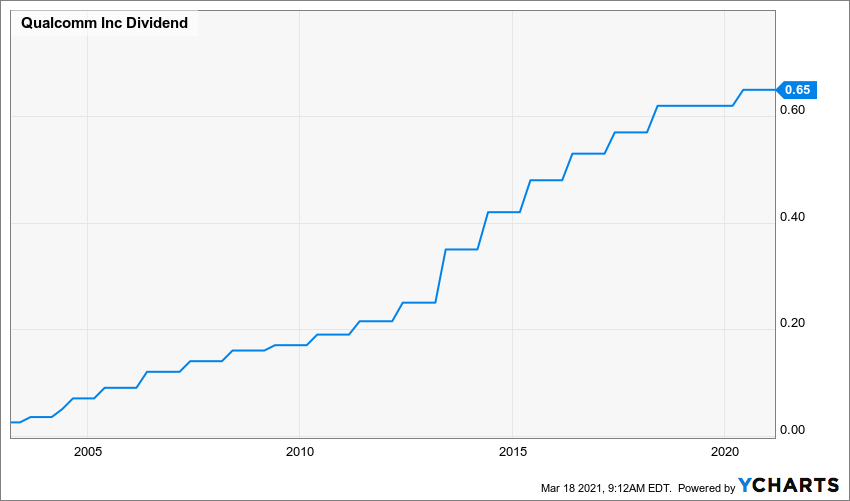 — Jason Fieber
P.S. If you'd like access to my entire six-figure dividend growth stock portfolio, as well as stock trades I make with my own money, I've made all of that available exclusively through Patreon.
Source: DividendsAndIncome.com
We're Putting $2,000 / Month into These Stocks
The goal? To build a reliable, growing income stream by making regular investments in high-quality dividend-paying companies.
Click here
to access our Income Builder Portfolio and see what we're buying this month.