The market has gotten a lot of attention lately, with many wondering if the rally is sustainable. While there are pockets of euphoria, I would like to remind everyone that there are opportunities too.
Just look at
Alibaba (NYSE:BABA)
. BABA stock has been swept off its highs, with shares recently down 34% from its peak.
Why was this stock hit so hard?
An unfortunate culmination of events have occurred, allowing this well-run conglomerate to fall out of favor.
Unfortunately, some of this decline can be attributed to political actions as well, with China's government cracking down.
But before we get into some of these details, investors have to recognize opportunity when it's right in front of them.
Sizing Up BABA Stock
Source: Chart courtesy of TrendSpider
Alibaba topped out in late October, hitting almost $320 per share. Last week, it was down near $220 a share and at its low in December, BABA stock was at $211-and-change.
Friends, these are opportunities. When the overall market is at all-time highs and we have a big dip in a premium name, that's when we start to accumulate shares, not distribute them.
As the old saying goes, "buy when there is blood in the streets."
Admittedly, the story at Alibaba is not perfect right now. However, that's exactly why investors are getting such a good discount. To be able to buy this stock down 25% to 35% below its high is a great multi-quarter or multi-year opportunity.
I'm not sure how long it will take for the stock to retest its highs. However, I'm confident that BABA stock will eventually do so, because the market in China is just too large to ignore and some risks have been overblown.
Now let's look at those risks.
Recent News Wreaks Havoc
Let's start with the October dip and address why shares sold off in the first place. BABA stock took it on the chin in the days leading up to the Ant IPO. Ant was supposed to have a record IPO, kicking off its public debut in Hong Kong and Shanghai.
Slated to go public with a market cap of $300 billion or more, this was a gigantic offering. With Alibaba owning a one-third stake in Ant, the stage was set for it to see one of its largest assets blossom.
Then the Chinese government stepped in.
By now it's old news, but it stepped in just days before the IPO, waving regulatory flags all around. It ended up nixing the Ant IPO and dealing a serious blow to Alibaba in the process.
Then there were concerns that the government would crack down on Alibaba for monopolistic practices. That was followed by this odd story line of Alibaba founder Jack Ma not making any public appearances, fanning the flames of pure speculation. Finally, there were concerns that the U.S. would blacklist Alibaba and several of its mega-cap Chinese peers from U.S. stocks exchanges.
The whole thing seemed so over the top.
Of course, shares are now rallying because Ma has made a public appearance, while reports of delisting BABA stock in the U.S. seem to be false as well. Neither development is shocking in the least bit.
Use these selloffs as an opportunity to rotate into high-quality holdings like Alibaba.
Here's Why We Like Alibaba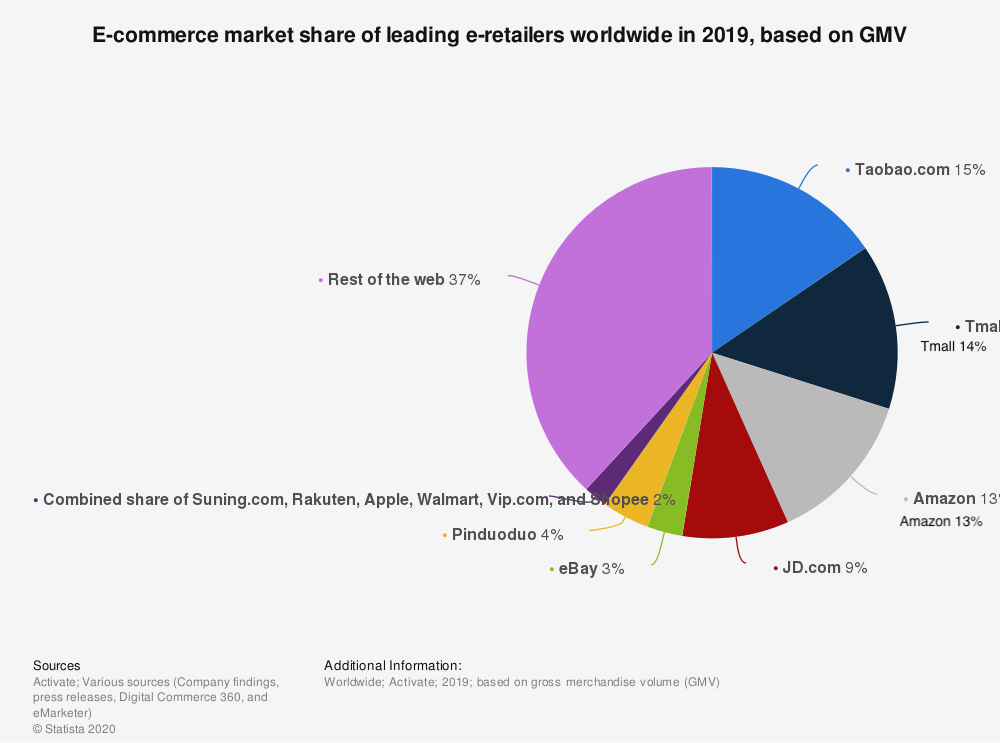 There are a lot of reasons to like Alibaba, the first of which are the long-term secular trends it's in. Specifically, Alibaba is operating in cloud-computing, digital entertainment and e-commerce.
Regarding that last one, its various websites are the biggest in China, as you can see from the image above. Tmall.com and Taobao.com are the biggest online retailers in China and Alibaba owns them both.
Let's also not forget that China's population is north of 1.4 billion people. That's four times the size of the U.S., with China's middle class — which is booming — being larger than the entire U.S. population. The size of China is very difficult for U.S. investors to truly comprehend.
As if it weren't enough to just say that Alibaba owns these premiere e-commerce websites, they are also some of the busiest sites in the world. Specifically, Tmall.com is the third most-popular site in the world, trailing Google.com and YouTube.com, while Taobao is 8th.
Cut out all the noise and boil it down to this: Alibaba is a conglomerate operating across multiple mediums in one of the biggest markets in the world. It mostly boils down to robust and well-run e-commerce platforms, with Alibaba's hands in multiple other arenas. In America, that gets you a $1 trillion market cap or more.
In this case, not so much. Or should I say, not yet.
BABA stock has a $680 billion market capitalization. I think eventually that "B" turns into a "T" as investors properly value this entity. Despite estimates calling for 47% revenue growth this year and 30% growth next year, this stock trades at just 24.5 times earnings.
That's cheap in my view, particularly for what we're getting in return.
— Matt McCall and the InvestorPlace Research Staff
America's #1 Stock Picker: BUY "AMZN of Houses"
[sponsor]
Luke Lango, the analyst crowned America's #1 Stock Picker, reveals the one small tech stock he says every investor needs to know about RIGHT NOW... Free of charge.
Click here to see it.
Source: Investor Place