As a contrarian investor, I take a lot of pride in a "go my own way" mentality that fosters independent thinking and an outright avoidance of decisions made by "the crowd."
But I'm also my father's son, meaning I take pride in my honesty and candor.
So I'll be completely honest with you folks here: Thanks to the coronavirus pandemic and the work-at-home wave the crisis ignited, I've joined the millions of other folks who are using the collaborative software created by Zoom Video Communications Inc. (NASDAQ: ZM).
Thanks to that stampede, the stock went vertical: It's nearly doubled in the last year.
Here's why I'm telling you this.
The "COVID-19 Trigger Effect" is igniting other opportunities, too. The impact has caused:
A big surge in e-commerce – as consumers eschew the risk of brick-and-mortar stores.
A huge migration into plant-based meat replacements – which I predicted two years ago and continue to tell my Private Briefing subscribers about.
An accelerating adoption of "telemedicine" apps – which my mom, son, and I have all experienced firsthand.
A hefty spike in video streaming – an opportunity that made Private Briefing subscribers 50% just last month, with more to come.
A way-before-expected move into e-sports – we brought Money Morning readers a beneficiary pick, Nvidia Corp. (NASDAQ: NVDA), which is up 10% in less than three weeks, an annualized equivalent of 148%.
Today we've got another COVID-19 Trigger Beneficiary trend.
I'm calling this one the "Cash-Is-Trash Effect" – that comes with a possible Bitcoin tailwind…
And I've got the winner for you…
Wastepaper (Money) Basket
In the early days of the global pandemic, reports emerged that the World Health Organization (WHO) was advising consumers to avoid handling paper money – and to switch to "contactless" payment systems – to minimize transmission of COVID-19.
Like so many things during the pandemic, this report – and the worries it triggered – was overblown.
Even so, the coronavirus has had a big impact on the nature of payments.
In Great Britain, for instance, cash usage halved in just a few days – though the government's movement-restricting nationwide lockdown most certainly played a big role in this, researcher FinExtra says.
Here at Patalon Farms, I made sure we had a swath of cash to hold us through the pandemic – and it's largely untouched.
We've been using credit cards, PayPal, and in-the-house gift cards to finance our buying.
And I'm sure you folks are doing much the same things.
Going forward, expect more of the same.
Central banks should issue a digital version of cash to prevent the "privatization" of money and trust in the monetary system disappearing, according to a new report from research and campaign group Positive Money.
With Facebook's Libra looming and the pandemic squeezing the use of coins and paper money, experts are pushing for the creation of a Central Bank Digital Currency (CBDC).
Such a move could give policymakers better tools to support their economies and maintain financial stability – particularly during crises like the global coronavirus pandemic. The CBDC initiative was the subject of a new report last week by Positive Money, a research-and-policy advocacy group.
"Money cannot exist without trust and neither can the monetary system," says economist Konstantin Bikas, author of the report. "As a public form of money, cash provides the trusted foundation our whole economy relies on, and its rapid decline, especially in light of the COVID crisis, could lead to the whole system falling down. Policymakers must introduce a digital version of cash as soon as possible if we are to avoid the privatization of money itself."
There will be plenty of beneficiaries from this "Cash Is Trash" trend.
But a "foundational play" – which has tremendous long-term potential – is longtime Private Briefing favorite Visa Inc. (NYSE: V).
Don't Be Snookered by a "Pandemic Quarter"
Before you respond by saying – "Bill, a credit card company? That's boring" – let me set the record straight.
This is not your father's charge-plate firm.
It's a payment facilitator.
It's an innovator.
Its latest earnings report – released last Thursday – supports that.
With the global slowdowns in travel and mobility – coupled with massive job losses we've seen here in the United States – analysts had a near-unanimous view that Visa's business would take a hit. According to Zacks Equity Research, cross-border business – about 34% of Visa's proprietary volumes last year – was likely to drop "substantially."
Now let me tell you that – because this isn't a "normalized" stretch in the global economy – I wasn't worried about a drop in performance. As a dedicated contrarian investor, I view "dark" periods like this as a chance to grab good companies on the cheap. At the same time, if a company beats expectations during a tough stretch, that's proof that my belief in the firm's strength is right on target.
Visa didn't let me down. It actually beat estimates, with second-quarter fiscal 2020 earnings of $1.39 per share on revenue of $5.85 billion. That clipped the Zacks Consensus Estimate by 2.96% and represented a year-over-year increase of 9%.
Cross-border volume was down 2%. But Visa's processed transactions were still up 7% year over year.
Revenue was also up for services (9% year over year), data processing (up 11%), and international transactions (up 2%).
But here's the "one number" that pretty much tells the story: Contactless payment usage – which includes a Visa contactless card or digital wallet – was up 150% from March 2019.
That's the "proof point" of my "Cash Is Trash" investing premise – that consumers and companies are slashing the use of physical bills in favor of transaction technology that reduces the number of physical contacts folks have to make. That's representative of the health concerns of today. But it also speaks to the migration to technologies that are easier to use – a migration that's long-term in nature and that's not going to go away.
The "Bitcoin Tailwind"
Like I said, I wasn't too concerned about what Visa reported in earnings last week – barring a completely unforeseen disaster, of course.
It's the long run that matters.
I'm interested in what Visa does going forward.
When we first brought Visa to you, it was trading at less than $100 a share. It's been as high as $214 in the last 52 weeks, and it currently trades at about $180.
The stock has remained above its 50-day moving average, so it's not breaking down right here.
Over the past several years, it's delivered average earnings growth of 24% – a rate that would have profits (and, presumably, the stock price) double in three years.
In a "normalized" market, of course.
As my good friend and and Money Map Press colleague Michael Robinson reminds us, you need to look at Visa as a "fintech" firm – and not just a credit-card company.
In short, it's an innovator.
As editor of the Radical Technology Profits advisory here at Money Map, Michael is our resident tech guru. Indeed, he's one of the smartest tech experts I've ever known.
The fact that he, too, favors Visa tells me it's a long-term winner.
As a case in point, Michael told us to look at what Visa is doing with Bitcoin, the bellwether of the cryptocurrency market.
In February, Coinbase and Visa announced the Coinbase Card, which allows users to spend Bitcoin using a Visa debit card.
Earlier this month, Visa teamed up with Fold, a San Francisco startup, to offer a card that earns rewards denominated in Bitcoin instead of cash or airline miles.
As much as 10% of cash purchases made with the co-branded debit card will be credited to users in Bitcoin, said Fold CEO Will Reeves.
"People are not interested in spending Bitcoin right now, but are interested in accumulating it," Reeves said, noting the card could help attract new consumers to the cryptocurrency. "If people don't understand Bitcoin as money yet, they certainly will understand it as a better reward."
According to Bloomberg News, the Fold partnership is part of Visa's Fast Track program, which encourages fintech firms to work with the card giant.
And with Bitcoin's block reward – the amount of Bitcoin the "miners" earn – scheduled to "halve" on May 12, the timing is excellent. Expect the cryptocurrency to make new headlines – and to move higher.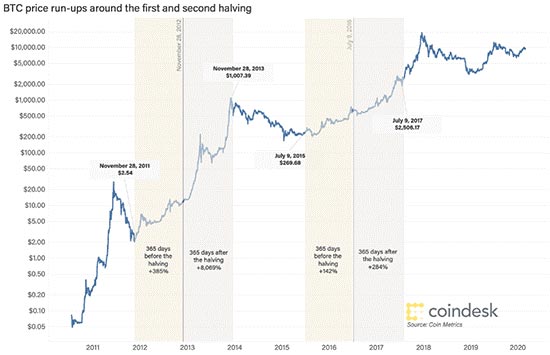 Source: Coindesk
The bottom line: Visa is a stock you want to start "Accumulating" here. Buy some now, and look to add to your stake on pullbacks. We love the long-term view.
— William Patalon III
30 years ago, back when this Atlanta hardware store had only 4 locations, a clerk proposed a brilliant solution to the store's biggest issue... not being able to project future sales and inventory needs. Within two years from that day, the store had opened 100 new locations. But the employee didn't stop with predicting store demand, he used the same principles and applied it to the stock market. Based on 10 years of data, this strategy gives you the chance to circle a date on a calendar and know, with at least 90% certainty, you could cash in on that day.
Source: Money Morning