A few weeks back, I told you about an opportunity hiding beneath the festering U.S.-China trade war.
Since then, the situation has gotten worse as both sides continue to up the ante.
That triggered serious talk about China using its domination of a small but crucial resource subsector.
You see, China dominates the production, refinement, and supply of rare earths. These are obscure, scarce elements – like praseodymium, neodymium, and gadolinium, to name a few – that play an increasingly important role in 21st-century life.
In fact, rare earths are essential to nearly every aspect of our daily lives now, found in everything from electronics to transportation, defense, and medical and industrial applications.
China has already used its power once over this sector to "punish" the United States.
And right now, it's looking increasingly like China will do it again, causing rare earths companies to soar.
The non-Chinese producer I recently recommended was up 33% in a day and is up 46% in the last three weeks.
But there are more players that stand to do as well – or better – in the coming weeks and months…
China Has the Upper Hand in Rare Earth Metals
As you can see from the following chart, the United States sources about 80% of its rare earths from China.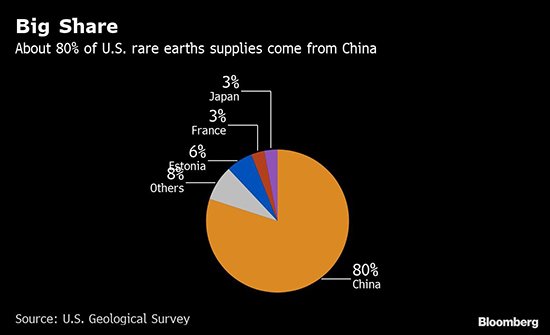 As much as it's a fact, it's certainly not ideal, and it's definitely become uncomfortable.
Since the specter of dramatically limiting supplies to the United States has been raised, a number of Chinese rare earths producers have already rallied recently.
But it's hard to imagine that will last unless rare earths prices jump in response to limited supplies. In fact, I'd expect Chinese producers to suffer, thanks to reduced sales.
Instead, I've been looking especially at North American explorers and producers in this space. They're likely to be bid higher on the expectation that they will need to make up any Chinese shortfall.
Two Speculative Small Caps to Play the Surge
Ucore Rare Metals Inc. (TSXV: UCU) is a development-phase company with a two-pronged approach to rare metals through resource development and separation technologies. It has a $38 million market cap.
Ucore boasts 100% control of the Bokan-Dotson Ridge REE Project; the highest-grade heavy rare earth elements deposit on U.S. soil, located in Alaska. Additionally, Ucore has exclusive rights to SuperLig technology for metals separation.
The Bokan-Dotson Ridge REE Project is near Ketchikan, Alaska, and has direct ocean access to the western seaboard and the Pacific Rim. The Bokan property is endowed with heavy rare earth elements such as dysprosium, terbium, and yttrium, which are required for sophisticated magnets. With the property being located in the United States, I believe this fact will help Ucore command a higher premium as U.S. investors bid it higher.
What sets Ucore apart from most of its competition is a technology called SuperLig that it will be applying to separate rare earth elements. It's a proprietary process that creates minimal waste and uses few chemicals and minimal energy. Plus, the entire operation is relatively simple and low-cost, requiring fewer personnel and equipment. Thanks to all of these benefits, it should easily meet stringent U.S. environmental standards.
There is, however, one small fly in the ointment. Ucore has a valid and enforceable option agreement to acquire IBC Advanced Technologies, located in Utah. In the years the two companies have been collaborating, IBC has likely gained significant value due to its proprietary technologies. IBC has been resisting acquisition by Ucore, but even the most recent legal move by IBC was dismissed by a Utah court.
I expect Ucore to ultimately prevail. Besides the potential upside of producing and selling rare earths, Ucore could also license out the SuperLig system to others. This could unlock a second source of strong growth.
As for our second player, NioCorp Developments Ltd. (TSX: NB) is an advanced-stage niobium, scandium, and titanium development company. It's based out of Centennial, Colo., and its flagship property is the Elk Creek Critical Minerals Mine in Nebraska.
Each of its three critical metals has particular applications. Ferroniobium is used in mega-steel infrastructure, oil and gas pipelines, vehicles, commercial aviation, aerospace, and defense systems. Scandium trioxide is alloyed with aluminum in transportation, defense commercial aviation, and other industries. And finally, titanium dioxide is used in commercial and defense markets, pigments, thin films, cosmetics, armor, and ships.
NioCorp is the most advanced of my three recommendations, with a completed positive definitive feasibility study, secured key U.S. federal permits, along with strong state and local support. Elk Creek boasts the highest-grade Niobium resource in North America and the only such resource under development in the United States.
The company has already locked up offtake agreements, with 75% of ferroniobium under sales contract for the first 10 years, 50% of which has been sold to ThyssenKrupp, enabling a German government loan guarantee of approximately $130 million. In addition, about 10% of the scandium production over 10 years has been sold to Traxys North America, a leader in specialty metals.
Elk Creek's highlights are as follows:
A pre-tax net present value (NPV) of $2.3 billion and internal rate of return (IRR) of 24.3%; after-tax NPV of $1.7 billion and IRR of 21.7%.
Thirty-two-year mine life with 3.4 year pre-tax payback period from production.
Average EBITDA of $389.6 million over operating life; average EBITDA margin over operating life of 69.5%.
Considering the estimated after-tax NPV is $1.7 billion, while its current market cap is around $98 million, the upside here is tremendous.
Remember, the trade wars are far from over. And with a trade balance heavily in favor of the United States, China is likely scrambling to show it won't be bullied.
That means rare earths companies are the likely beneficiaries – a theory already starting to prove itself out.
— Peter Krauth
Source: Money Morning