It was an ugly October for investors. Major indexes lost about 10% over the course of the month. And some big-name tech stocks, such as Amazon.com Inc. (NASDAQ: AMZN), got hit even harder.
In the wake of the carnage, it might be time to reallocate your portfolio – especially if some of your holdings hit their trailing stops along the way. Or, if you've been waiting on the sidelines for the right time to buy, now's your opportunity.
So we've got a selection of investments with an eye toward building – or re­-building – your portfolio, uncovering blind spots you might have had before the sell-off, and tapping into the most unshakeable industries of the future.
Here's a glimpse at what we'll be sharing with you today:
We'll start out with not one, not two, but three picks that will ground your portfolio in the most important tech trends of this generation.
A company known for making video game graphics cards is now at the forefront of the self-driving vehicle revolution.
Another cannabis grower has graduated to the New York Stock Exchange and could be the rocket stock that carries your whole portfolio.
It's been 95 straight months of job growth in the United States, and one tech company is turning that into big gains for its investors.
You've been hearing about the "FANG" stocks for years, but now it's time to get acquainted with a new group of giant tech stocks that are generating loads of cash.
Now for our five latest best stocks to buy now…
Best Stocks to Buy Now, No. 5: Three Tech ETFs to Get Your Portfolio on Track
Of course, we love buying individual stocks, but exchange-traded funds can be a great way to begin rebuilding your portfolio.
Gaining broad exposure to a major growth sector gives you a solid foundation to build on.
And if you did already own any ETFs, now is a great time to fill in those gaps.
So today we've got three tech-oriented ETFs that Money Morning Defense and Tech Specialist Michael Robinson says are great for building wealth.
iShares North American Tech ETF (NYSE: IGM) gives you nearly 300 of the top U.S. tech stocks in a package that costs less than $200 per share.
That includes all the "Fab Five" tech stocks, which are each weighted between 5 and 9% of the total portfolio. Plus, it includes stocks that represent every aspect of the tech world: cybersecurity, self-driving cars, digital entertainment, hardware manufacturing, the Internet of Things (IoT), mobile apps, and more.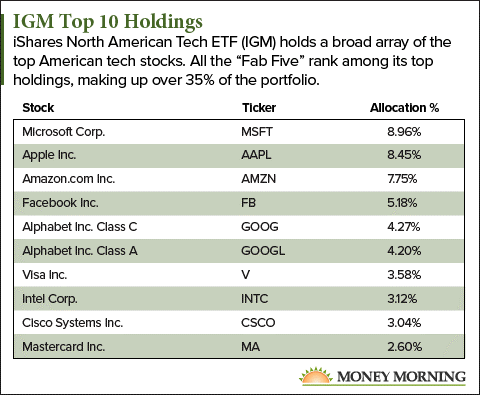 No doubt you'll want to bolster this ETF by picking a few of your favorite tech companies. But IGM is a great way to cover all your bases when it comes to profiting off American tech.
From there, you'll want to identify some of the most profitable tech niches. That's where an ETF like First Trust Cloud Computing ETF (NYSE: SKYY) is a great opportunity.
The days of storing information on local hardware are rapidly disappearing. Cloud computing offers efficiency, security, and accessibility in our increasingly mobile world. And at less than $60 per share, SKYY gives you 29 of the most important players in the industry.
That includes previous "Best Stocks to Buy" picks like Intuit Inc. (NASDAQ: INTU) and Adobe Systems Inc. (NASDAQ: ADBE), as well as leading cloud providers like Amazon and NetApp Inc. (NASDAQ: NTAP).
Since SKYY is strictly focused on holding cloud companies, it's an ETF that lets you narrow down exactly what subsector you want to invest in, without having to pick individual companies. As cloud computing becomes the standard for every single organization and individual on the planet, this is an ETF that is sure to deliver solid gains year after year.
But the sector that's being most profoundly changed by tech might be medicine, and particularly medical devices. That's only going to be more important as an aging demographic puts more demand on the healthcare system. Innovation in medical devices lets the industry serve more patients more effectively at a lower cost.
The United States accounts for 40% of the global medical device market, which makes iShares U.S. Medical Devices ETF (NYSE: IHI) an ideal way to play this lucrative sector.
Among the roughly 60 picks in IHI's portfolio are Money Morning favorites like Becton Dickinson & Co. (NYSE: BDX) and Abiomed Inc. (NASDAQ: ABMD). It also includes heavy hitters like Abbott Laboratories (NYSE: ABT), Boston Scientific Corp. (NYSE: BSX), and Baxter International Inc. (NYSE: BAX).
If these three ETFs were the only investments you owned, you'd be well on your way to building a well-rounded, profitable portfolio. You can use these as a starting point or to add a stronger foundation to your existing investments.
And if you're ready to add some more exciting stocks, keep reading…
Best Stocks to Buy, No. 4: Your Best Play on Self-Driving Cars Is Not an Auto Company
Another tech sector that will deliver supercharged growth over the next decade is self-driving vehicles.
According to Allied Market Research, autonomous vehicles will be a $54.2 billion market in 2019. By 2026, it will be more than 10 times that.
We've got a great pick in this red-hot market. But it's not an auto company.
It's a graphics company.
Or rather, it has traditionally been known for manufacturing graphics cards for video game consoles. But NVIDIA Corp. (NASDAQ: NVDA) has been transforming itself in recent years. Now it's a leader in all kinds of game-changing technologies, from cryptocurrency mining to virtual reality to artificial intelligence.
But perhaps most exciting is its NVIDIA Drive AGX, a self-driving platform being installed in many auto models currently on their way to sales lots around the world.
We're not yet at the point of fully autonomous vehicles, but within the next few years, almost every car produced will include self-driving features.
The typical ones we see more of today include adaptive cruise control to maintain a safe distance on the highway, as well as low-speed controls to move you safely through downtown traffic. It's now possible to make some trips while barely touching the brakes or steering wheel.
All this means enormous growth on the way for companies like NVIDIA.
Volkswagen AG (OTCMKTS: VLKAF) has put self-driving capabilities for all its cars in NVIDIA's hands. And Drive AGX-equipped cars will be coming soon from Audi AG (OTCMKTS: AUDVF), Volvo AB (OTCMKTS: VLVLY), and Tesla Inc. (NASDAQ: TSLA).
NVIDIA self-driving is not just for cars either. Trucks made by PACCAR Inc. (NASDAQ: PCAR) are sporting Drive AGX, and so are fleet vehicles deployed by Deutsche Post AG (OTCMKTS: DPSGY).
A partnership with Daimler AG (OTCMKTS: DDAIF), which makes Mercedes-Benz autos, shows off even more of what NVIDIA can do. It developed an AI-based 3D user interface, unveiled earlier this year, called the Mercedes-Benz User Experience (MBUX). This voice-activated system learns a driver's preferences over time and can make smart suggestions about music, directions, and various other settings in the car. It converses in plain language and features a beautiful touchscreen display.
It's no surprise then that NVIDIA's fortunes are skyrocketing. Sales have nearly doubled since 2016, and profits are on pace to jump more than 50% this year.
But as Michael Robinson says, NVIDIA "hasn't even hit its stride yet." He sees shares rising 65% over the next 12 months. And as self-driving technology takes over the automotive world, Michael says, "the sky is truly the limit."
Best Stocks to Buy, No. 3: When Cannabis Companies "Uplist" – as This One Did – Big Profits Follow
We can't talk about major growth industries of the next decade without mentioning legal cannabis. And as Canadian legalization goes into full effect along with some big-name acquisitions, this industry is rapidly moving into the mainstream.
So maybe it's not surprising that another major grower got a listing on the New York Stock Exchange in late October.
As it happens, it's a pick Michael Robinson recommended to Nova-X Report subscribers back in September 2016. And it has returned 1,190% gains since then.
Now that Aurora Cannabis Inc. (NYSE: ACB) has graduated to the "big boards," Michael says even more big gains are on the way.
A big reason for those coming gains is the acquisition in September of ICC Labs Inc. (OTCMKTS: ICCLF), which is focused largely on South American markets. That includes a dominant presence in Uruguay, the only country other than Canada to fully legalize cannabis so far. That $290 million deal gives Aurora a total of 1.2 million pounds in annual growing capacity, and operations in 14 different countries.
Aurora's revenue for the fiscal year ending in June was more than triple what it was the year before. And its net income jumped from a $4.8 million loss to a nearly $80 million profit.
Any time we're talking about pot stocks like Aurora, some caution is in order. This is a young industry, and growers don't usually have a strong track record.
Your best bet is to have a few potential rocket stocks like this one, as well as one or two pick-and-shovel plays like Microsoft Corp. (NASDAQ: MSFT) or Scotts Miracle-Gro Co. (NYSE: SMG).
So Aurora probably shouldn't take up more than 2% of your portfolio – at least not at the start. But when you consider its skyrocketing profits, its new presence in a critical South American market, and its "uplisting" to the world's largest stock exchange – as well as the general tailwinds in this booming industry – this is a stock that could easily be the driving engine in your portfolio.
In other words, before long, you might find yourself having to take some profits off the table in order to keep ACB from taking up too much room on your brokerage statement.
Best Stocks to Buy, No. 2: This Tech Company Is Turning Strong Job Growth into Mega Profits
With the economy humming along at about 4% growth, it's a good time to be a human resources company.
But it's a lot better if you're using technology to simplify the HR process for all the companies that are hiring.
That's why Workday Inc. (NASDAQ: WDAY) of Silicon Valley is growing seven times faster than the economy in general.
Workday software can handle just about every aspect of Human Resources Management. That includes local tasks like payroll, tax forms, health benefits, and overtime sheets. But it also includes global, big-picture issues like workforce planning, performance management, and compensation planning and strategy.
This is another one that Michael Robinson has recommended before. Since he brought it to Money Morning readers' attention in late 2017, Workday has outperformed the S&P 500 by 192%.
"But if you're thinking that's it for this firm, don't worry," he says. "I still see plenty of gains ahead."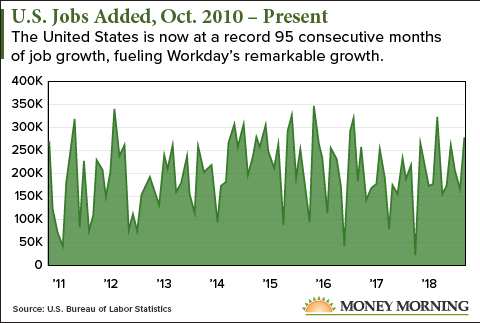 That's because every new hire comes with a host of tasks and expenses that traditionally were done in-house. But the larger the workforce grows, the more it makes sense to outsource those tasks to a company like Workday. Hence, research firm Gartner Inc. says the HCM market is growing more than 8% every year and will be worth $12.6 billion by next year.
And Workday is the choice of more than 35% of the Fortune 500. In total, the company has more than 1,000 clients and nearly $3 billion in annual sales.
But the company hasn't been standing pat. This past summer, Workday acquired Adaptive Insights for $1.55 billion, adding advanced cloud-based business planning and financial modeling tools to its repertoire.
Then it bought analytics firm Stories.bi, which uses artificial intelligence and machine learning to provide insights for businesses looking to run more efficiently.
And finally, Workday acquired Rallyteam, a platform meant to challenge workers according to their strengths and interests and therefore boost both productivity and employee satisfaction.
These deals take an already successful business and give it a major competitive edge. Even if we use a conservative earnings estimate, Michael says we can expect Workday's share price to double in the next three years.
"The firm has enough new tools in its toolbox to fuel its move into lucrative new fields," he says. "And more importantly, it's set for a long-term rally, even if the amazing jobs growth we've seen of late slows a bit."
Best Stocks to Buy, No. 1: Forget the FANG Stocks – Here Are the Tech Giants of the Future
The "FANG" stocks took a major beating in the recent downturn. Those are Facebook Inc. (NASDAQ: FB), Amazon, Apple Inc. (NASDAQ: AAPL), Netflix Inc. (NASDAQ: NFLX), and Google, a.k.a. Alphabet Inc. (NASDAQ: GOOGL).
That doesn't mean their profitable runs are over – not by a long shot.
But if you haven't already, now would be a great time to look at another group of big tech stocks that are sure to make waves and turn heads in the coming years: the "BAIT" stocks.
The BAIT stocks, Money Morning Chief Investment Strategist Keith Fitz-Gerald explains, are four of the top tech stocks in China:
Baidu Inc. (NASDAQ: BIDU) – the Google of China – is the country's top search engine, with a nearly 70% market share.
Alibaba Group Holding Ltd.(NYSE: BABA) – the Amazon of China – is the go-to e-commerce site in China, and it owns the most used mobile payments system to boot.
IQIYI Inc. (NASDAQ: IQ) – the YouTube of China – is one of the largest online video sites in the world, counting more than a half-billion monthly active users.
Tencent Holdings Ltd.(OTCMKTS: TCEHY) is a bit of everything: gaming, video, Internet services, and more. It has been trading places back and forth with Alibaba as the most valuable Chinese company by market cap.
The fact that all these companies are operating in a country with 1.4 billion people and 6.9% GDP growth is enough to make them worth paying attention to.
But make no mistake: The BAIT stocks aren't just Chinese knock-offs of American companies. They all bring their own value to the table – so much so that U.S. tech companies are all looking over their shoulders in anticipation of competition from these upstarts.
Alibaba, for example, runs a very lean operation, preferring to work with third party sellers rather than stock the products itself. Unlike Amazon, it doesn't compete with its sellers. That could eventually make it a more attractive option for U.S. merchants who currently account for 40% of Amazon's revenue.
We've written about these stocks already, and we'll be writing about them more in the future. But now may be the perfect time to buy at least one or two of them – if not all of them. That's because, like the FANG stocks, they are all down significantly from their all-time highs.
But they are still "generating a ton of cash," as Keith puts it.
So if you ever wondered what it would be like to get shares of Amazon or Apple in the early 2000s – or even, say, in 2010 – now may be your chance.
"China can't be stopped any more than a newly industrialized America could be back in the day," Keith says.
Now's the time to hop on that train.
— Stephen Mack
Source: Money Morning