Last week, I discussed the "other" FAANG stocks that comprise the recently created FANG+ Index (NYFANG).
Based on my Best in Breed (BIB) analysis, I am most bullish on Nvidia Corp. (Nasdaq: NVDA), while I consider Baidu Inc. (Nasdaq: BIDU) to be the less attractive of the two.
Today, we turn our attention to the other three –
Alibaba Group Holding Ltd. (NYSE: BABA)
,
Tesla Inc. (Nasdaq: TSLA)
, and
Twitter Inc. (NYSE: TWTR)
.
Let's get into it…
This 800-Pound Gorilla Has a Problem with the Spotlight
Let's get Tesla out of the way first.
For a company that has a market cap of just $60 billion – putting it in the mid-30s among Nasdaq 100 stocks ranked by market cap – Tesla sure gets a lot of coverage.
But that's what happens when you're led by someone who likes to command the spotlight. And that's part of the problem with this stock.
Its price is dictated largely by the latest Elon Musk tweet. The most recent, of course, is his musing about taking the company private for $420 per share, which sent the stock soaring.
But the shares have declined sharply since then, as the market digests the feasibility of the move and the legality of the tweet itself.
I'm going to make this simple: I am avoiding this stock for now. And I think every investor should, because of the raft of regulatory and legal trouble in the mail for Musk.
It simply does not adhere to the analysis I use. It makes no attempt to obey trendline analysis, its short interest is unimpressive, and analytical coverage is unreliable.
In fact, no form of analysis will work when you have uncertain variables such as tweets from a brazen CEO that create undue volatility. I'm not interested in Tesla as a tradable stock right now.
The Pressure Is On for This Currently Flat Stock
Let's turn to a stock that we can make more sense of – Alibaba.
Often considered (perhaps incorrectly) the Amazon of China, Alibaba was white-hot in 2017, nearly doubling in price.
With a charismatic leader like Jack Ma and sporting a market cap of $460 billion (it would rank No. 7 in the Nasdaq 100), it's easy to see why investors and analysts fawned over the stock.
But 2018 has been a different story.
The stock has been largely flat for the year, with just a 4% increase compared to the Nasdaq's 14%.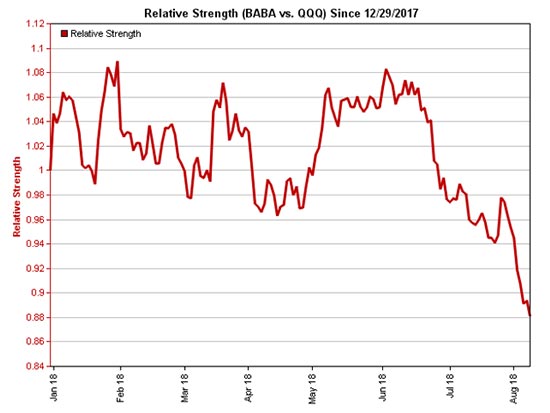 After hitting an all-time high in early June, the shares have slipped sharply, dropping around 15% and pulling the stock below all major trendlines.
More importantly, the 50-day moving average is in a pronounced decline, while the 200-day moving average is on the verge of rolling over for the first time in the stock's history.
Additionally, the next area of chart support is in the 165-170 area, the site of several bottoms within the past year. That's another 7% drop below the current share price.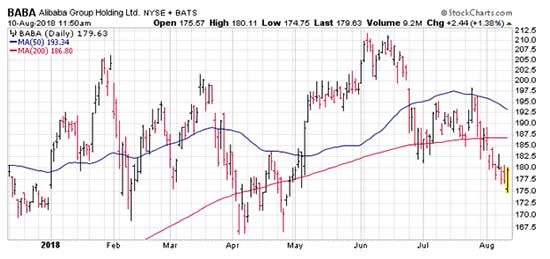 Beyond the weak technicals, what I find most disturbing about Alibaba is that an astounding 47 of 48 covering analysts consider the stock a "Buy." It seems the glow from 2017's performance hasn't faded. But to me, it says there is virtually no room for upgrades and plenty of space on the downside.
Alibaba reports earnings on Aug. 23 and needs to impress to reverse the current slide. The shares have done reasonably well following recent reports, averaging a 3% gain by the Friday after the report.
But just hitting that average won't even reclaim the 200-day trendline. The pressure is on Mr. Ma and company.
A Potential Bullish Play Down the Road
Our final FANG+ entry is Twitter, a company that gets more free publicity every day than almost any other name.
Twitter got hammered after reporting a decline in users in its July 27 earnings report, plunging 27% in just two days. But the stock has since righted itself above its 200-day moving average, an encouraging sign.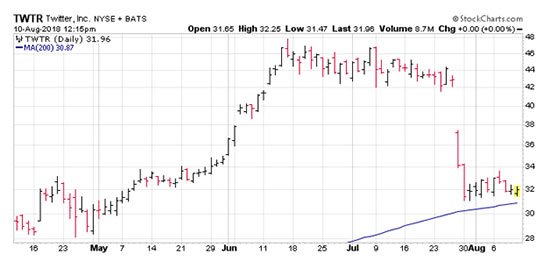 I find Twitter to be an interesting potential bullish play for a few reasons.
The stock appears to have found a floor in the 31-32 area with the ascending 200-day providing support. Short interest has been rising for the past five months, which could lead to a short-covering rally. And analysts largely dislike the stock, as only four of 36 covering brokerages rate Twitter a "Buy."
That leaves ample room for upgrades. In fact, we're seeing some warming up to the stock, as a few brokers raised their price targets following the earnings debacle.
It's too soon to jump on Twitter as a bullish play. However, with support in place and a potential shift in sentiment, Twitter could turn out to be a bargain.
The bottom line on Tesla, Alibaba, and Twitter is that I'm not ready to jump into any of them on either the bullish or bearish side just yet.
Whether it's a case of too many unknowns for Tesla, upcoming earnings for Alibaba, and Twitter still finding its sea legs, these stocks aren't as attractive as Nvidia and Baidu for trading right now. But when they are, I'll be sure to let you know.
— Chris Johnson
20 Stocks That Benefit from 5G Technology and Could Soar in 2021
[sponsor]
Forget AT&T, T-Mobile, or Verizon – the truth is, you're too late to profit by investing in 5G directly. A better route is to focus on the $1.4 trillion aftershock market that 5G will create – and the 20 companies Michael Robinson has identified. Each is projected to return 10X by the end of the year and could dwarf the 5G gains we've seen already.
Get the details here.
Source: Money Morning