Gold prices have taken a real beating over the last few months.
After hitting a high in April of $1,360, gold prices have fallen over 11%, breaking into correction territory and shattering December's low of $1,248.
However, the precious metal is about to stage a dramatic turnaround – and make a killing for gold investors in the process.
You see, after months of falling due to pressure from the U.S. dollar, there are clear indicators that the dollar is about to ease off, creating a tremendous upside for gold.
Here's a close look at the factors driving gold's bottom and why it's heading higher next…
Gold Prices Indicate a Rally Is About to Begin
Gold moved very little in the beginning of [last] week. On Monday and Tuesday, the precious metal traded between $1,218 and $1,225.
However, prices really moved following the Federal Open Market Committee (FOMC) meeting.
As expected, the Fed kept its benchmark rate range between 1.75% and 2%. Its statement cited continued labor-market strength and rising economic activity since its last meeting in June.
According to the meeting's minutes, "Job gains have been strong, on average, in recent months, and the unemployment rate has stayed low. Household spending and business fixed investment have grown strongly."
Despite the meeting's positive outlook, markets reacted negatively to the FOMC's commentary – stocks, bonds, and gold all fell that day. The all-important 10-year Treasury yield crossed 3%.
However, the U.S. Dollar Index (DXY) rose to 94.65 following the release of the minutes, pushing gold from $1,217 to $1,221.
You can see the DXY's rise in the chart below: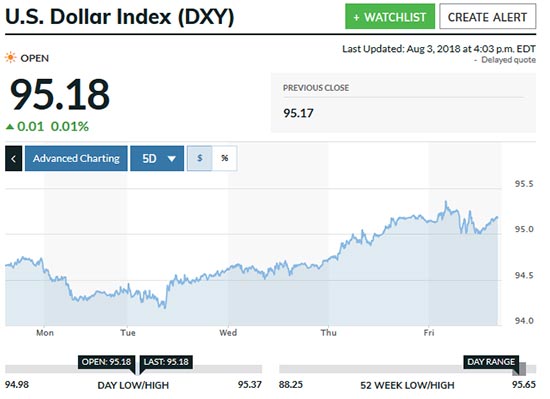 On Thursday (Aug. 2), the dollar index momentarily broke above 95 as news emerged that the United States was threatening to impose additional tariffs on upward of $200 billion worth of Chinese goods.
While this buoyed gold prices for a while, the precious metal ended Thursday at $1,217, pushing gold futures to a one-year low.
On Friday (Aug. 3), wage inflation and an underwhelming jobs report pushed gold down to $1,204. While gold staged a small rebound and closed at $1,213, the metal's overall performance last week doesn't give investors much to celebrate.
However, there was one key indicator that gold's dog days are on their way out – and profits are about to return…
This Indicator Shows Gold Prices Climbing in 2018
The most recent Commodity Futures Trading Commission report indicated that short gold positions had reached a record high. But such extreme short positions come with a high risk of strong buying to cover short positions.
This kind of action emerged last December, when gold staged a 10% rally as strong buying by short sellers pushed the gold market up. The same occurred in 2016, with similar conditions prompting a 10% rally.
And the end of the multi-year correction, which came in December 2015 with gold down at $1,050, led to a blistering gain of 20% in about eight weeks.
In addition to increasing cover buying, it's often the case that when hyper-bearish predictions emerge, the bottom tends to be near.
Just last week, John Kosar, chief market strategist at Asbury Research, told Kitco News that he could see gold testing $1,100 or even falling below $1,000.
He said, "Gold is a momentum market… I can really only be bearish on gold as it comes out of a sideways congestion to break old lows. This is a bearish chart that has taken seven to eight years to evolve."
Now, I certainly don't pretend to know the future, but after falling so much, I think that sort of path for gold's price is highly unlikely.
With all these factors in mind, I think odds are still good gold's headed higher over the next couple of months.
A rally to about $1,235 would help shift sentiment and likely lead to a lot of short covering.
That's likely to send the precious metal as high at $1,265.
— Peter Krauth
Pot stocks are riding a huge wave of wealth -- more than $6.7 billion. And with 7 more states set to legalize marijuana in 2017, the time to invest in marijuana stocks is right now. And we've made it very simple for you to learn how to get started - with a unique "pot investment" plan that gives you a chance to make a fortune with just a tiny stake - of $100 or less. In fact, this opportunity is so huge, you could make a fortune just by investing the loose change in your penny jar.
Get the details here.
Source: Money Morning