Among the dozens of cloud computing companies, Athenahealth Inc. (Nasdaq: ATHN) might not seem like an obvious top stock to buy.
But investors lured to the big tech firms of Silicon Valley are missing one of the most compelling plays in this rapidly growing sector.
Athenahealth sells software-based cloud solutions to 114,000 healthcare providers, including hospitals, pharmacies, labs, and practices. The goal is to automate and simplify record-keeping to make providers more efficient.
ATHN is entirely focused on the healthcare cloud solutions for these providers and doesn't have a lot of exposure to the public.
That's why you may not be familiar with it.
But unlike many of the companies most often mentioned as top cloud computing stocks – Amazon.com Inc. (Nasdaq: AMZN), Cisco Systems Inc. (Nasdaq: CSCO), Microsoft Corp. (Nasdaq: MSFT) – Athenahealth is a pure play.
It gets all or nearly all of its revenue from the cloud, as opposed to just a portion of it as those big names do.
And the pure plays stand to profit the most from the explosive growth in cloud services expected over the next few years.
Take a look at these numbers…
Why Cloud Computing Stocks Are in a Sweet Spot
Cloud computing stocks already have an impressive track record of growth.
Bessemer Venture Partners, a tech-focused venture capital firm, created an index to measure the performance of 50 top cloud stocks.
Since January 2011 the BVP Cloud Index (which includes Athenahealth) is up 592%, quadrupling the S&P 500's gain of 121%.
And forecasts for the cloud computing market suggest this kind of growth won't slow down any time soon.
The area of healthcare cloud computing, the segment in which Athenahealth operates, looks especially promising.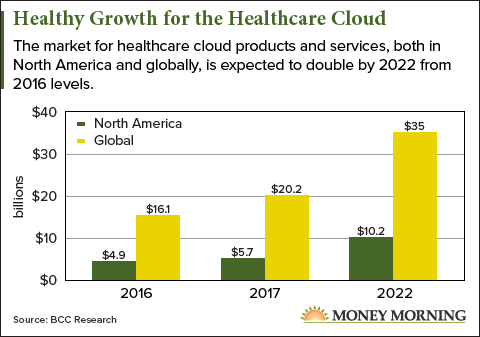 According to BCC Research, the market in North America for healthcare cloud computing will more than double from $4.9 billion in 2016 to $10.2 billion by 2022. Athenaheath operates exclusively in the United States.
This represents a lot of opportunity for Athenahealth in its home market, and even more if it decides to branch out beyond the United States.
And the company is well-positioned now to take advantage of this opportunity, despite some negative noise over the past year…
Why Wall Street Is Down on Athenahealth Stock
As a medtech company, Athenahealth has struggled to bring change to an industry resistant to technological disruption. Since 2014 the business has foundered, with ATHN stock going mostly sideways.
After peaking at just over $200 a share in February 2014, Athenahealth stock has zigzagged. It fell as low as $96 in December 2016 before recovering to $150 last summer. Today, ATHN stock trades at $160.90.
That's frustrated Wall Street. Private equity company Elliott Management, which bought a 9.2% stake in Athenahealth in May 2017, has tried to buy out the company several times. Athenahealth management has rejected the offers, including the most recent one this past May of $160 a share.
The company instead started to reorganize under CEO Jonathan Bush, who founded Athenahealth in 1997 to better exploit the growing market for its products.
But Bush – who happens to be the nephew of former U.S. President George H.W. Bush – was forced out earlier this month following allegations of physical abuse of his ex-wife and improper behavior toward female employees.
Those recent struggles have helped keep a lid on ATHN stock, despite being well positioned in the fast-growing cloud computing sector.
And the focus on the past doesn't give enough weight to the changes the company is making to exploit the vast potential before it.
One of the best clues we have that ATHN is a top stock to buy is its Money Morning VQScore™ of 4 – the highest possible score.
And there's plenty of evidence to back that up…
Why ATHN Is a Top Stock to Buy
Before Bush left Athenahealth, he put in place a plan to restructure the company to make its products more useful to customers by creating systems that unify the data on patients. His vision was to transform the company into a "platform-as-a-service."
He also debuted a Big Data-type product in March called "Epocrates Connect," which uses machine learning to give healthcare providers more comprehensive information on patient care and how to coordinate it.
"It's exciting for an antiquated industry like healthcare," Bush said in a March 23 post on LinkedIn. "We absolutely need to better loop patients into the cycle of healthcare and there's great opportunity for big tech to splash here – and splash big."
Though Bush is gone, the company is not without veteran leadership. Former General Electric Co. (NYSE: GE) CEO Jeffrey Immelt, brought in earlier this year to serve as Athenahealth's chair of the board, is now executive chair.
Bush's changes combined with Immelt's seasoned leadership will pay off in a big way over the next several years.
Growth projections are impressive, and much higher than what Athenahealth has experienced in its recent history.
According to FactSet, earnings per share (EPS) grew modestly, from $1.31 in 2014 to $1.35 in 2015 to $1.90 in 2016.
But the company's changes to its business mean it is starting to earn much more profit. EPS hit $2.48 last year, are expected to rise to $4.04 this year, and jump to $6.69 by 2022.
Assuming Immelt can keep Elliott Management at bay, the leap in earnings should propel ATHN stock back to its 2014 high of $200 and beyond.
The other wild card is that another suitor steps in with a much higher bid for Athenahealth. Such a deal will have less upside, but investors wouldn't have to wait for their gains.
Piper Jaffray analyst Sean Wieland, who has a one-year price target on ATHN of $179, thinks other bidders would be willing to pay more than the $160 Elliott has offered.
Possible buyers include such giants as Microsoft, Salesforce Inc. (Nasdaq: CRM), International Business Machines Corp. (NYSE: IBM), or Oracle Inc. (Nasdaq: ORCL).
"I think there's better growth days ahead for the space as a whole, and in particular that there's better growth days for Athena," Wieland said in a note earlier this month. "They're a disruptive software company in an industry ripe for disruption."
— David Zeiler
Source: Money Morning