Just because April Fool's Day fell on a Sunday this year, it didn't stop Wall Street from marking the occasion anyway.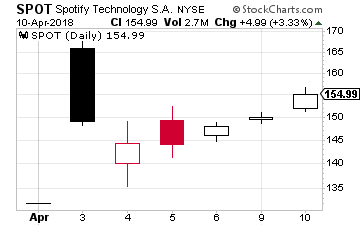 It just chose 48 hours later to do so when Spotify Technology (Nasdaq: SPOT) debuted on the market.
Despite the company being unprofitable, the high-profile-low-profile launch saw shares open at $165.90 and trade as high as $169 – significantly higher than the pre-IPO high of $132.50
At a current price around $150, it gives Spotify a crazy valuation just under $27 billion.
That makes Spotify worth about as much as Hewlett-Packard Enterprise (NYSE: HPE)… despite a huge gulf between the two companies' annual revenue – $4.6 billion and $29.6 billion, respectively.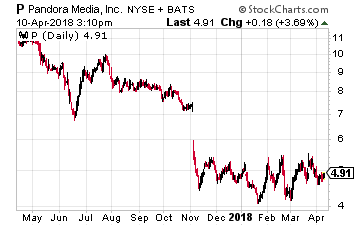 Even more significantly, close rival Pandora Media Inc. (NYSE: P) is worth $1.2 billion, having hit Wall Street in June 2011.
Both Spotify and Pandora provide very popular streaming music services… but that doesn't mean they make for good investments.
Exhibit A: Neither company has turned a profit yet.
Because Spotify has only just launched, I'll use Pandora as a better example.
Investors Are Tuning Out
Founded in 2000, Pandora used to be the go-to streaming music service.
Today, the market has become a crowded mass of offerings, with Spotify, Apple, Amazon, Alphabet's YouTube, and others all on the scene.
In fact, Pandora is now only the ninth-largest service by subscriber numbers.
And if the firm hasn't made money by now, it doesn't bode well for them… or investors.
Indeed, since topping out over $40 in March 2014, the stock has collapsed to under $5. And with more competition in the market, there aren't many catalysts for a rebound.
Pandora certainly doesn't have any sort of solid fundamentals…
Sales growth in the last quarter was a piddly 0.7%. And having lost $558 million over the past 12 months, the current profit margin is -35.3%, compared with the industry average of 10%.
Return-on-assets and return-on-equity are a shocking -18% and -86%, respectively.
A debt/equity ratio of 42.4 versus the industry average of just 2.5.
Almost one-third of the float is sold short, indicating the level of pessimism on the company.
Lots of Listeners… But Who's Paying?
Pandora's streaming music service hit the market in 2005, touting its ability to identify similar songs and deliver playlists to listeners, depending on their tastes.
It's popular, too.
In the last quarter, the company reported 74.7 million active listeners. However, that was a 6% year-over-year decline. And with more choices in the market, listener hours fell by 6.5%.
More importantly, only 5.5 million of those listeners are paying subscribers, who contribute to $395 million in quarterly revenue.
That seriously lags Spotify, which boasts 157 million active users, 71 million paid subscribers (projected to rise to 96 million by the end of this year), and $1.2 billion in revenue in the last quarter. Apple and Amazon also beat Pandora, with 38 million and 16 million paying customers, respectively.
While Pandora's fourth-quarter subscription revenue growth rose by 25% to $97.7 million, the company grabs most of its sales from advertising, rather than subscribers.
However, quarterly ad revenue dropped from $313 million to $297.7 million.
Pandora's response?
$145 Million Well Spent?
In an attempt to beef up its advertising capabilities, Pandora just bought audio advertising firm AdsWizz for $145 million.
The move fits with CEO Roger Lynch's aim when he took the job seven months ago: To prioritize advertising technology. AdsWizz specializes in personalizing ads according to listeners' interests. When injected into streaming music or podcasts, it's a more effective way of selling.
The numbers prove it. The Internet Advertising Bureau says digital audio advertising sales shot up by 42% to $603 million over the first half of 2017.
So Pandora provides the music; AdsWizz provides the ads.
Will it help turn Pandora's fortunes? One analyst thinks so…
Justin Patterson at Raymond James has slapped an $8 price target on Pandora shares, arguing that the AdsWizz deal will double the company's market opportunity to $28 billion and help it turn ordinary customers into cash cows through advertising.
I think that's overly optimistic.
Music Wars
On the plus side, the deal does give Pandora more advertising options – both in terms of expanding its reach and the ability to customize ads to its listeners. In addition, AdsWizz works with Spotify and SoundCloud, so it levels the audio advertising playing field for Pandora. If that translates to more revenue from both its non-paying and paying customers, it's a winner.
But even though digital advertising is growing, Pandora is slap-bang in the midst of a ferociously competitive streaming music market (not to mention huge competition within the advertising industry itself). And having once been an industry pioneer, Pandora dozed off and now lags its rivals. It's also late to the party when it comes to on-demand subscription services.
Consider also that the AdsWizz acquisition won't be an immediate game-changer. The deal won't close until the current quarter and Pandora has said it doesn't alter its full-year guidance. This is a longer-term strategy.
In addition, Motley Fool notes that Pandora's last supposed "game-changing" deal – its $450-million acquisition of event ticketing company Ticketfly in October 2015 – was a disaster. The buyout seemed like a sound idea – to connect Pandora listeners with relevant live concerts and promote artists' events through Ticketfly.
Alas, revenue from Ticketfly totaled a meager $86.6 million in 2016 – not even close to justifying the acquisition price.
In June 2017, Pandora cut its losses and sold Ticketfly to Eventbrite for $200 million.
While Pandora's management team has changed since then, I'm always wary of companies who boldly tout the benefits of a buyout before the two companies have even started working together and any results are known.
And while Pandora isn't paying as much for AdsWizz, it's also a smaller company now and is struggling to compete with rivals.
And that's the bottom line…
If "video killed the radio star," as The Buggles once sang, then competition has killed Pandora's star.
Pandora had its chance to make money before rivals (including several much larger companies like Apple, Alphabet, Amazon, and Spotify) bulldozed into the market.
It didn't… and still hasn't. And there's little reason to see why that would change now.
— Martin Denholm
The Most Perfect Dividend Stock
[sponsor]
This stock checks all the boxes. Pays a high dividend (8%), has a record of increasing that yield (an average of 37.5% throughout company history), and is set up perfectly to profit from continued Fed rate hikes.
Click here for the name and ticker
of the most perfect dividend stock on the market right now.
Source: Investors Alley