Today's chart shows how one brick-and-mortar company has seized a competitive edge…
"Retail isn't dying," according to Business Insider, "it's evolving."
And while many traditional retailers are struggling as e-commerce takes over, some are bucking the trend.
Today, we can see this with discount retailer Burlington Stores (BURL)…
Burlington once relied on its brand-name coats to bring strong winter sales.
But in recent years, the company has expanded its business into handbags, accessories, and home goods.
Now, it's a "one-stop shop," not unlike online-retail giant Amazon (AMZN).
In 2016, as global e-commerce sales hit a record $1.8 trillion, Burlington joined the Fortune 500 – the largest U.S. companies by total revenue. And its new strategy is still working today… Total revenue increased 9% in 2017, and it's projected to increase another 9%-10% this year.
As you can see below, Burlington's stock is soaring as well. Shares recently hit a new all-time high, after climbing around 141% over the past two years alone. It looks like the "one-stop shop" model can work for physical retailers, too…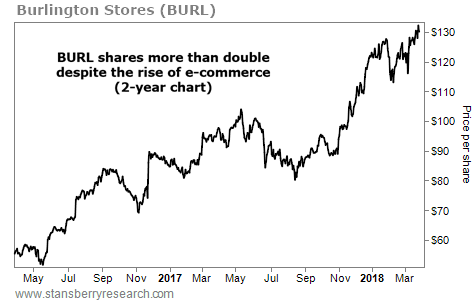 Source: Daily Wealth