It's true… Stocks have gone up for nine years in a row.
It's true… Stocks hit all-time record highs earlier this year.
But it's NOT true that stocks are expensive today…
I'm not kidding.
Thanks in part to two things, stocks are not expensive anymore. Let me explain…
Two things directly cut down the main measure of "value" in the stock market – the price-to-earnings ratio…
The correction in the markets, and
The tax cuts from President Trump.
The price of stocks – the top half of the ratio – went down in the correction.
Meanwhile, earnings – the bottom half of the ratio – are expected to go up dramatically, largely thanks to the tax cuts.
(Over the next 12 months, the earnings of companies in the S&P 500 Index are expected to rise by 27%.)
Both the numerator and the denominator in the world's main measure of value have improved dramatically – in a short amount of time.
So contrary to what you might think, or what you might be hearing in the media, stocks are no longer expensive.
Specifically, the price-to-earnings ratio has now fallen exactly in line with its 25-year average. (This is based on next year's estimated earnings, to include the impact of the tax cuts.) Take a look…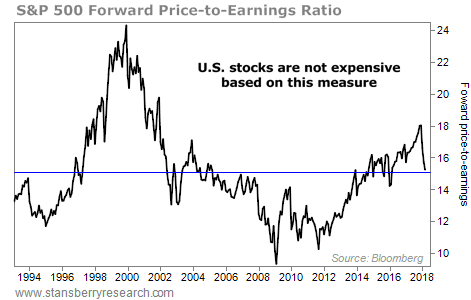 You can easily see the great peak in valuations around the time of the dot-com frenzy. Stocks were the most expensive they've been in the last 25 years. (Actually, ever.)
And you can easily see the great bottom in valuations in 2009. Stocks were the cheapest they've been in the last 25 years.
So what does this measure of stock market value tell us now?
Today, we are exactly in the middle… Stocks are trading right at their average valuation over the last 25 years. They are not cheap – but they're not expensive.
Keep in mind, this is looking at earnings estimates for the next year. If you only look in the rearview mirror at trailing earnings, you will come to a different conclusion today.
These forward earnings estimates aren't guaranteed to come true. However, I want to make decisions based on all available information, not just based on looking in the rearview mirror.
I'm sure you can list plenty of reasons why stocks could keep falling. But now you'll have to take the main measure of value off your list…
Prices have fallen. Earnings are rising. Therefore, the price-to-earnings ratio is much lower today than it was at the start of this year.
Can stocks soar from today's valuation?
Absolutely! It happened just a couple of years ago…
Stocks are now trading at the same forward P/E ratio they were trading for in March 2016. The S&P 500 soared 46% (in total return) between then and January this year. That's 46% in less than two years… from the same starting point in valuation we have today.
As of today, stocks are neither expensive nor cheap, based on the most classic measure value.
Don't let 'em tell you any different… And don't let valuation be the reason that you are not invested. That reason is now no longer valid…
Good investing,
Steve
Your One-Step Inflation Survival Guide
[sponsor]
With accelerating inflation and declining stocks, you likely need a different investing approach. A 20-year market veteran shares an easy one-step plan, including details on his No. 1 GOLD recommendation today, right here.
Source: Daily Wealth