THE BIG BANK RALLY MARCHES ON
Today's chart highlights the strength of the banking industry…
Longtime readers know we like to check in on America's big banks from time to time. Firms like JPMorgan Chase (JPM), Wells Fargo (WFC), and Bank of America (BAC) are America's "financial backbone."
They rise and fall with our country's ability to make money, save money, service debts, and generally "just get along."
Today, we look at another major player in the industry…
Morgan Stanley (MS) is one of the biggest banks in the U.S.
For more than 80 years, it has been a wealth-management leader – and it's still going strong.
Last week, the company beat analysts' expectations for quarterly sales and profits… Plus, clients are entrusting it with more of their hard-earned cash. Its Wealth Management business now oversees $2.4 trillion in assets… And revenues for that division grew nearly 10% since last year.
As you can see in the chart below, shares are now up around 40% from their May lows. They recently hit a fresh 52-week high. This banking giant is more proof that money is flowing in America…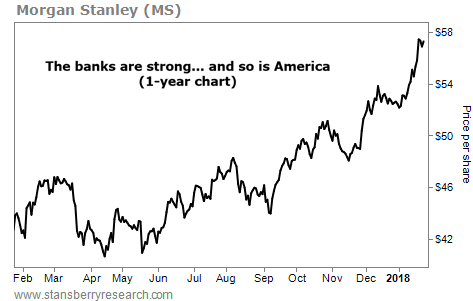 Your One-Step Inflation Survival Guide [sponsor]
With accelerating inflation and declining stocks, you likely need a different investing approach. A 20-year market veteran shares an easy one-step plan, including details on his No. 1 GOLD recommendation today, right here.
Source: Daily Wealth's Market Notes