And investors' No. 1 worry going into 2018 is…
Geopolitical risks.
In a poll on MarketWatch's Twitter site last week, such concerns narrowly edged out the possibility of a bitcoin crash as the top reason for investor angst.
If you listen to market experts, though, they're more concerned with the current bull market hitting the buffers… a potential tech sector bubble… and, according to Vanguard founder John Bogle, that overall U.S. market returns are set to halve by the end of the decade, compared with the average return in recent decades.
But I suppose it's not too surprising to see geopolitical risks top the list, given recent comments from North Korea's Kim Jong Un that his finger is poised to hit the nuclear button at any moment.
Add that to an increasingly divided Europe, U.S. tensions with China, Middle East conflicts, the ongoing threat of terrorism, and constant cyber-security breaches to businesses and consumers alike, and you can see why non-market factors pose a serious headache.
With that in mind, I thought I'd mark your New Year watchlist with a couple of companies that should be able to ride out the risks…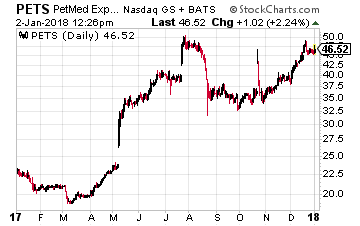 PetMedExpress Inc. (Nasdaq: PETS): No matter what's happening in the world or the markets, people will still love their pets.
And as such, there will always be a need for pet medication.
Founded in 1996, PetMed Express is an online pet pharmacy, selling prescription medication, non-prescription products such as flea and tick control, health and nutritional products like vitamins and supplements for bones and joints, plus other regular pet supplies like food, crates, and beds.
The company sits at the heart of a booming market, with total spending on pets hitting $67 billion in 2016 – up almost 11% year-over-year. And the pet medication market is worth $4.3 billion, according to the American Pet Products Manufacturers Association.
With PetMeds' 9.5 million customers spending an average of $85 per order, the company notched sales of $249 million in fiscal 2016 and net income of $23.8 million – up 6% and 15%, respectively.
The most recent quarter highlighted the company's strong position even further. Sales rose 10% from a year earlier, to $66.7 million. That produced a profit of $8.8 million – up 79%.
Needless to say, such a strong profit comes from the fact that as an online business, the company has very little overheads from physical locations. Indeed, the overall net profit margin is a solid 11.5% – almost four times higher than its industry average. The return on assets over the past 12 months is 26%.
With those profits in mind, plus $68 million in cash as of the last quarter (up 17% from a year earlier), PetMeds is one of the rare small-cap companies ($958 million market cap) that can afford to pay a dividend. Shareholders receive $0.80 per share annually (a 1.7% yield). But PetMeds doesn't over-extend itself here, with the payout ratio sitting at a comfortable 52%.
The stock also boasts a beta of just 0.52 – meaning it's less volatile than the overall market: perfect for more conservative investors.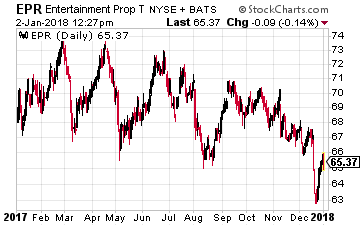 EPR Properties (NYSE: EPR): If you've ever seen George Carlin's famous standup routine about "Stuff," EPR is the "anti-stuff."
While many of us spend our lives collecting "stuff," an increasing number of people actually just want to do stuff.
In other words, we want to travel to places and do activities that bring us pleasure, rather than buying material things.
And EPR owns the places where we can do just that.
My colleague Tim Plaehn highlighted this company a month ago and I like it as a solid stock for 2018, too. The firm owns multiplex movie theaters, golf and ski resorts, and water parks. And the value of such activities is reflected in the company's beefy 46% profit margin, as fiscal 2016 sales and net income rose by 16% and 15%, respectively.
But it's not all entertainment. EPR is diversified and also owns private schools, public charter schools, and early learning centers. In total, the company owns almost 400 properties across 43 states.
Movie theaters, resorts, parks, schools… all businesses that can't be "Amazoned."
Best of all… as a real estate investment trust (REIT), EPR is required to pay at least 90% of its taxable income to shareholders via dividends. As a result, REITs also pay no corporate tax.
So if you're looking for steady income, look no further. In fact, EPR recently announced its seventh straight year of rising dividend payments. The monthly dividend of $0.34 per share results in $4.08 annually (6.2% yield) – a 6.25% hike over 2017.
— Martin Denholm
[ad#ia-tim]
Source: Investors Alley