Amazon is stretching its tentacles across the globe during the busy holiday shopping season.
The undisputed king of online retail in the U.S. is now making a push to win over Asian markets. Just yesterday, Amazon launched its Prime subscription service in Singapore, rolling out the full offerings we enjoy here in the Western Hemisphere.
The move into Southeast Asia is a calculated attempt to ramp up competition with Alibaba. Reuters notes that Amazon was already testing the waters back in the summer when it launched a free two-hour delivery service in Singapore in its first "head-on battle" with its Chinese rival.
With world domination in Amazon's sights, there isn't anywhere left for brick and mortar retail to hide. At least that's what we're told…
In reality, we can think of several niches that have managed to stay out of Amazon's grasp. There's more to the "death of retail" story than struggling big-box retailers and dead malls.
Earlier this year, we pointed to some interesting statistics that completely contradict the "death of retail" market meme.
For instance, brick and mortar retail is actually expanding this year.
According to IHL Group, U.S. retailers will open 1,326 more locations than they will close in 2017. So much for a shrinking sector.
As we've said from the start, the best businesses will adapt and survive, whether we're talking online start-ups or brick and mortar retailers. Despite the endless talk of store closings paraded on our television sets this year, some traditional retailers are booming because they're offering goods and services that are out of Amazon's reach.
In fact, the Wall Street Journal just blew the lid off a story we've been quietly covering all year…
While many major retailers are struggling, extreme discounters and dollar stores are finding a key foothold in low-income rural America. Dollar General Corp. (NYSE:DG) is a top contender, making a push to open 1,000 new stores this year.
"Dollar General is expanding because rural America is struggling," The Wall Street Journal concludes. "With its convenient locations for frugal shoppers, it has become one of the most profitable retailers in the U.S. and a lifeline for lower-income customers bypassed by other major chains."
Investors are finally starting to catch onto this trend. Dollar General stock has even managed to outperform Amazon over the past six months…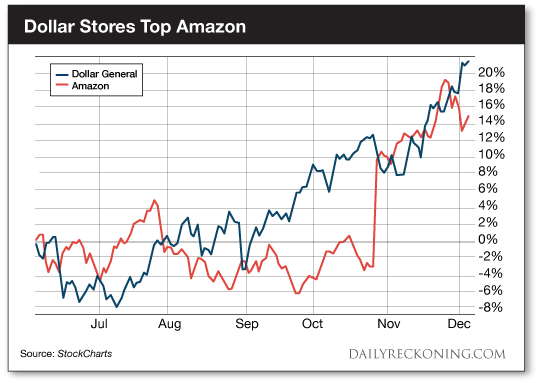 How is this possible?
For starters, the dollar stores have tapped into the market of America's forgotten low-income families. That's how Dollar General has managed to book more than double the profit of struggling retailer Macy's over the past year, the WSJ notes.
We've been bulled up on the "cheap junk" sector for a while now. Our theory is that these lean dollar store operations have what it takes to survive alongside Amazon. They fill an important retail niche and don't have to worry about price-matching gimmicks the big box retailers use to compete. While other retailers are focused on higher income consumers, the dollar stores are getting a majority of their business from the folks the economy left behind…
Dollar General continues to push new highs this week. The company just beat earnings estimates this morning and is streaking higher in pre-market trade. Shares are up nearly 25% since July.
The same goes for one of its main competitors: Dollar Tree Inc. (NASDAQ:DLTR). Shares are up almost 40% over the past six months. The formula is simple. Good deals in small stores make it easy for shoppers to get in and out. That's why dollar stores are bucking the trend and expanding in this dismal retail environment.
As you can probably guess, extreme discounters and dollar stores are anything but fancy. But they're growing. That's a big deal as Amazon continues to expand its reach.
The merchandise might be cheap, but the potential gains are huge…
Sincerely,
Greg Guenthner
[ad#agora]
Source: Daily Reckoning