With the wind at its proverbial back both off and on the price chart, Alphabet Inc (NASDAQ:GOOG, NASDAQ:GOOGL) is undoubtedly a stock to go long in. But if you're like me, you appreciate hedging your risk to increase your chances of success, and a bull call spread on GOOGL stock is the favored strategy once again.
Let me explain.
I think a recent article by InvestorPlace's Luke Lango does a good enough job of summing up why GOOGL stock should be on investors' radars for the long-term game.
Alphabet delivered in spades on the bottom- and top-line metrics last week when it announced its Q3 results.
GOOGL saw improved and strengthening growth prospects from mobile and YouTube advertising, as well as increased traction in the company's cloud business as it flexes some muscle against Amazon.com, Inc. (NASDAQ:AMZN) and its AWS unit.
But Alphabet also has other growth initiatives underway ranging from Nest and the Pixel smartphone, to the company's autonomous vehicle unit Waymo.
These are exciting times for Alphabet and the future looks terrific as well.
Furthermore, with GOOGL stock attractively priced relative to its peers, the broader market and by those "wiggly lines" on the price chart, it's also a good time to get long with increased confidence and reduced risk.
GOOGL Stock Daily Chart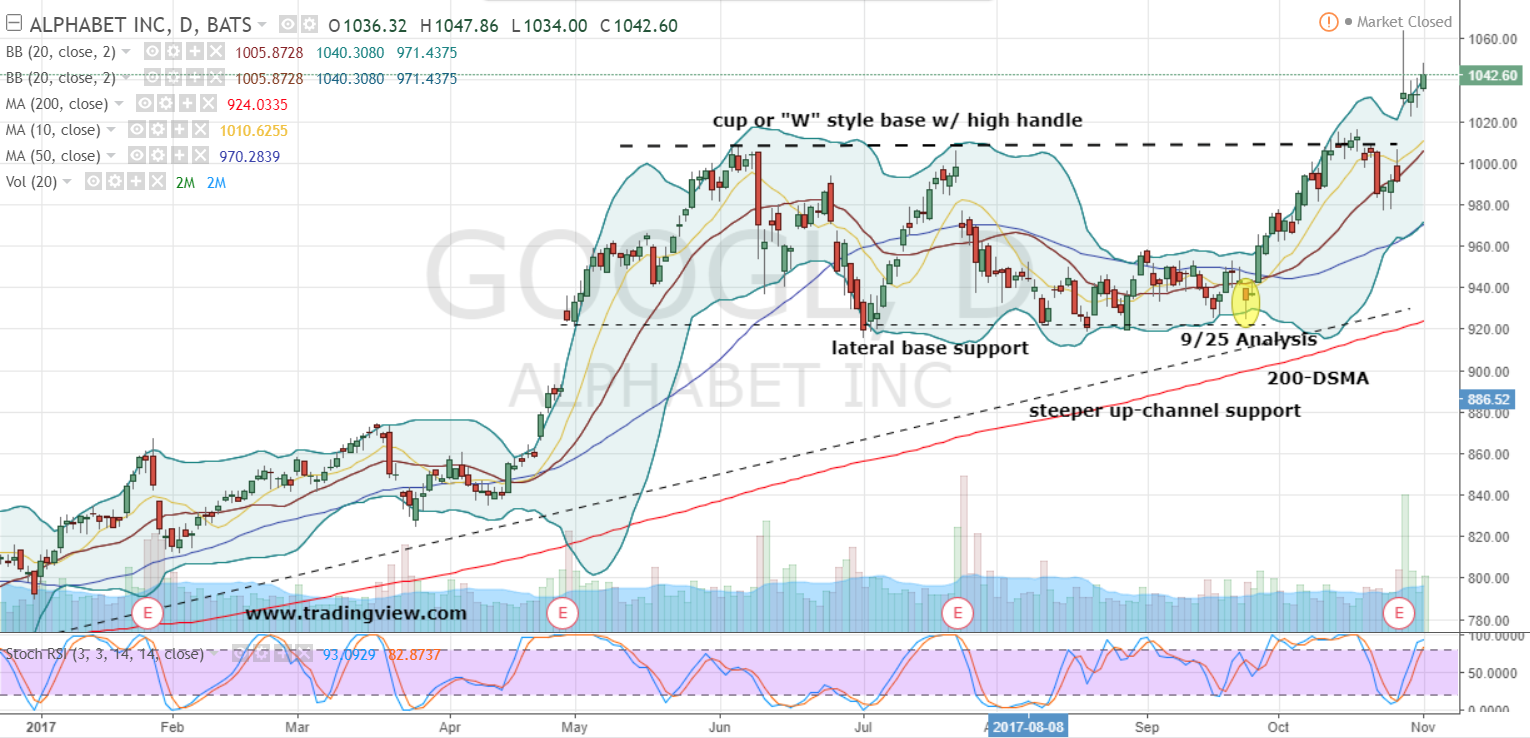 It has been just over a month since I last wrote about GOOGL stock. In the process, a constructive-looking base produced an even better-looking breakout to all-time-highs from a cup-shaped or "W" style base following earnings.
Looking forward, and with Alphabet shares confirming a strong position off the price chart, my view is to take advantage of an overall solid situation. As a bullish options trader this means designing a strategy to capitalize on higher prices as GOOGL stock is just marginally above the breakout level and in strong position to rally to new highs.
GOOGL Stock Bull Call Spread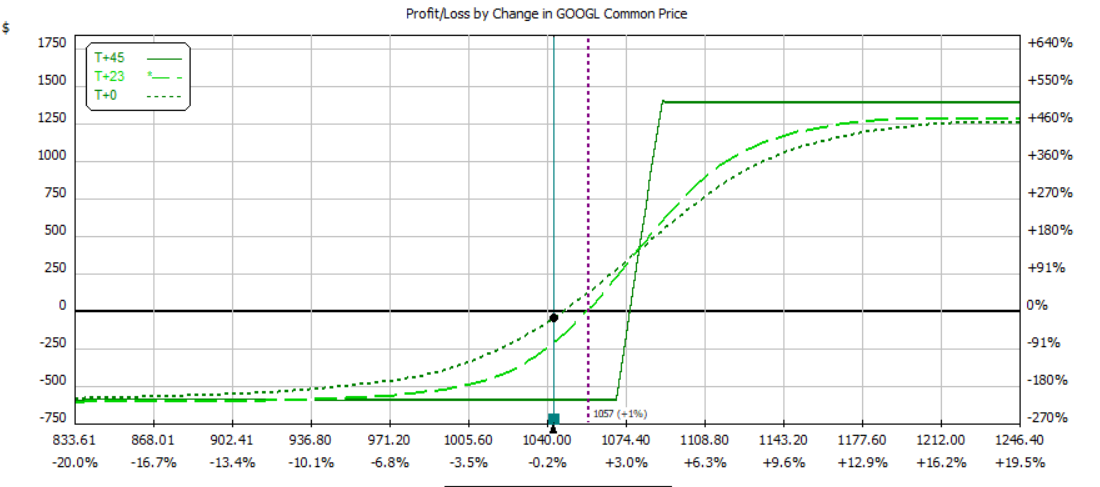 Courtesy of OptionVue.com
A proffered Nov $1000 / $1015 bull call spread from our last analysis has done quite well for itself by ballooning from $2.75 to $12.50 for a profit of $9.75 and return in excess of 350%.
In reviewing the board Wednesday evening, I continue to like this type of spread as additional upside in GOOGL stock appears favorable and verticals can significantly reduce risks associated with options Greeks while limiting the trader's absolute dollar exposure.
With shares of Alphabet at $1042.60, the Dec $1070 / $1090 bull call spread for about $6.00 or less than 0.60% of GOOGL stock risk is a favored combination.
The vertical offers bullish traders the opportunity to capture a max profit of $14.00 if the stock can rally at least 4.55% and remain stationed above $1090 at expiration.
— Chris Tyler
[ad#IPM-article]
Source: Investor Place