Investors fled Russia stocks once the Russian recession started in 2014. But that's exactly what could make them an excellent play right now…
In 2014, an international coalition – including the United States, Canada, France, and the European Union – placed economic sanctions on Russia. Russia's GDP fell by 34%, and investors pulled over $152.5 billion out of Russia's economy that same year.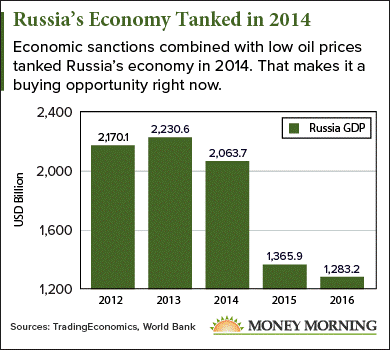 Unsurprisingly, Russian stocks tanked.
The SPDR S&P Russia ETF (NYSE Arca: RBL) is down 32% since 2014, while the Dow Jones in the United States is up 42% in the same span. But the fact that these Russian stocks have been so beaten down is precisely the reason they could provide investors extraordinary profits.
"Now is precisely the moment to invest in Russia," Money Morning Chief Investment Strategist Keith Fitz-Gerald said in 2015, just after the collapse.
Plus, investing in emerging market stocks like Russia's couldn't be easier. In fact, the Russia stock we'll show you lists on an American exchange and can be purchased just like any other stock.
The potential here is so great Keith's even calling it "an extraordinary profit opportunity" for investors who get in early…
How to Crush the Market in Russia
Keith knows investors' emotions can get the better of them, leading them to miss major profit opportunities.
You see, investors are often lulled into following the crowd. Think about investors who bought into internet stocks in the 1990s.
The tech-heavy Nasdaq skyrocketed 285% between 1997 and its peak in 2000. As investors bought up tech stocks, the prices rose, leading to more investors to buy in. But these stocks were overvalued and were only being bought because their prices were rising.
That herd mentality fueled a speculative bubble. When the dot-com bubble popped in 2001, investors saw their profits wiped out. The Nasdaq crumbled in March 2000, losing 77% of its value between 2000 and 2002.
Of course, that wasn't the only time the herd mentality led investors astray.
Consider 1939…
Europe was on the verge of total war. U.S. stocks were entering a bear market as uncertainty reigned.
But as Keith explains, "in one of the greatest investing moves of all time," one man started to buy every stock on the New York Stock Exchange…
John Templeton borrowed $10,000 and bought shares of every company on the NYSE for less than $1. Templeton's investment paid off. He created his own mutual fund in 1947, where he would turn every $10,000 invested into $2 million. He died a billionaire.
His strategy was simple. He bought when the crowd was selling…
Why Russia Stocks Could Unlock Extraordinary Profits for Investors
Keith says we're seeing a very similar situation to the one John Templeton identified back in 1939. Except this time, it's in Russia.
The Shiller P/E ratio – also called the cyclically adjusted price-earnings (CAPE) ratio – is a tool used to determine stock market valuations. In other words, it helps us see when stocks are overvalued or undervalued, and it was developed by the Nobel Prize-winning economist Robert Shiller.
The ratio currently shows U.S. stocks are the most overvalued in the world.
And it shows Russian stocks are the most undervalued in the world…
The "herd" has rushed out of Russia stocks, which means you can now buy them for less than they are worth.
"The fact that most global traders and the mainstream media are almost universally against Russia right now is a glaring signal that emotions are running high," says Keith. "Given that we know they are almost always wrong, the logical move is to take the other side of the trade."
This is like selling in the middle of the tech surge in 1999, or buying into U.S. stocks on the verge of a world war in 1939…
"Investing in Russia now means that you are significantly likely to outperform more expensive global markets for the next decade," according to Keith.
And for investors ready to beat the crowd, we've got one of the top Russia stocks with the most potential to bounce back…
One of the Best Russia Stocks to Buy Right Now to Beat the Herd
Before getting into the best way to play this situation, we want readers to know how to invest in Russia stocks safely.
Keith recommends investors use less than 2% of their investable capital in Russian stocks. Because Russia is an emerging economy, these stocks are still speculative plays, even if they have high upside potential.
Keith also recommends using trailing stops to protect your money. He says a 25% trailing stop below your purchase price is a good way to protect yourself in case the stock falls drastically.
One of the top Russian stocks to buy is Yandex NV (Nasdaq: YNDX).
Yandex is essentially Russia's version of Google. And just like Google, Yandex trades on the Nasdaq, so American buyers can purchase it through a typical brokerage, just like any other American stock.
Yandex is the leading search engine in Russia – in fact, it's the most popular website in Russia – and it earns revenue primarily through e-commerce and marketing.
And being the dominant website in Russia has been lucrative for Yandex
The digital company's revenue jumped 45% between 2014 and 2016, which translated into a profit growth of 52%. Now Wall Street analysts are projecting Yandex's revenue could surge as much as 55% by 2018.
That would make any company an attractive buy right now, but the fact that Yandex can be bought at a discount makes it even better.
YNDX fell 75% from its 2014 high of $44.00 a share to a low of $10.69 in 2015 – the same time Russia's economy collapsed.
Now, it's rallying back.
In fact, Yandex is up 116% since Keith recommended it as a way to play the Russia recovery back in 2015. But Yandex has more room to rise…
Yandex shares are up to $32.60 a share this year, and they're going even higher. In fact, Wall Street analysts are projecting a return to their 2014 highs.
Deutsche Bank is giving Yandex a one-year price target of $42 a share; that's a 32% jump from today's price.
But that estimate could be conservative.
You see, besides being one of the Russia stocks Keith has identified as a bounce-back candidate, it's also plugged into the Unstoppable Trend of technology.
The key to making huge profits is to find "must-have" companies that fall into what Fitz-Gerald calls the six "Unstoppable Trends": medicine, technology, demographics, scarcity and allocation, energy, and war, terrorism, and ugliness (also known as defense). The Unstoppable Trends are backed by trillions of dollars that Washington cannot derail, the Fed cannot meddle with, and Wall Street cannot hijack.
And that perfectly positions investors to grow their money even beyond Yandex's return to 2014 levels.
— Dustin Parrett
[ad#mmpress]
Source: Money Morning